New in­fla­tion-linked drug re­bates go in­to ef­fect on Sat­ur­day
Be­gin­ning to­mor­row, bio­phar­ma com­pa­nies can be charged re­bates for any new drug price in­creas­es ris­ing faster than the rate of in­fla­tion.
The new re­bates are part of the new­ly signed In­fla­tion Re­duc­tion Act, which in­tro­duces this new re­quire­ment that man­u­fac­tur­ers pay re­bates to Medicare for Part D drugs whose price in­creas­es ex­ceed in­fla­tion, and in Jan­u­ary 2023, the same will oc­cur with Part B drugs.
The re­bate sys­tem "was de­signed to re­duce the fre­quen­cy and size of drug price in­creas­es," HHS says. The IRA al­so in­cludes a pro­vi­sion that al­lows CMS to ne­go­ti­ate and/or cap the prices of 10 of the most ex­pen­sive drugs.
While those ne­go­ti­a­tions will be lim­it­ed, the re­bates paid by the in­dus­try may be sig­nif­i­cant. HHS re­leased a new re­port on Fri­day out­lin­ing what the IRA could do as more than 1,200 drug price in­creas­es from Ju­ly 2021 to Ju­ly 2022 ex­ceed­ed the in­fla­tion rate of 8.5% for that time pe­ri­od. The re­port notes:
Most price in­creas­es oc­cur at the be­gin­ning of Jan­u­ary, with more than 3000 drugs ex­pe­ri­enc­ing a price in­crease in 2022, up from 2650 in 2016. The num­ber of Ju­ly price in­creas­es trend­ed down­ward from 613 ND­Cs in 2016 to 203 in 2021, but in Ju­ly of 2022, the num­ber of in­creas­es rose to a lev­el sim­i­lar to that ob­served in 2016, with 601 in­creas­es.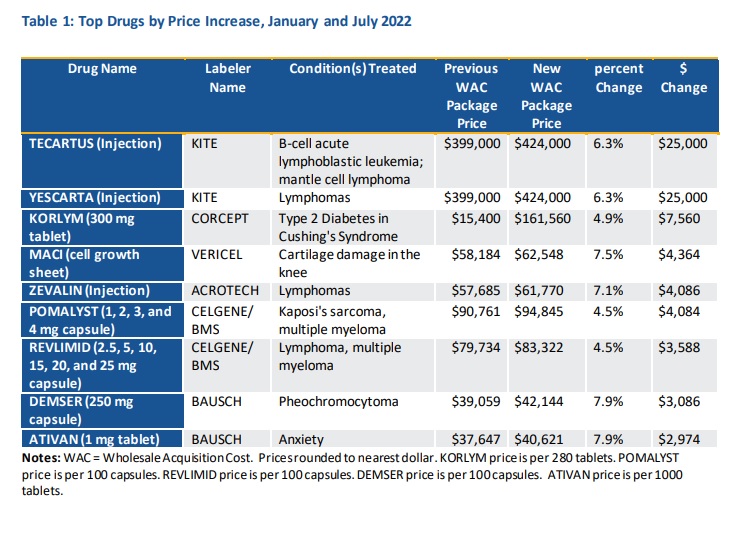 HHS on Fri­day al­so re­leased an­oth­er re­port that "found a steady in­crease in pre­scrip­tion drug spend­ing from $520 bil­lion in 2016 to $603 bil­lion in 2021. This in­crease was dri­ven by in­creas­es in spend­ing per pre­scrip­tion, and less so by in­creas­es in the num­ber of pre­scrip­tions."
And while the in­fla­tion-linked re­bates will hit all phar­ma com­pa­nies, HHS notes that drug spend­ing "is heav­i­ly dri­ven by a rel­a­tive­ly small num­ber of high-cost prod­ucts. The cost of spe­cial­ty drugs has con­tin­ued to grow, to­tal­ing $301 bil­lion in 2021, an in­crease of 43% since 2016."