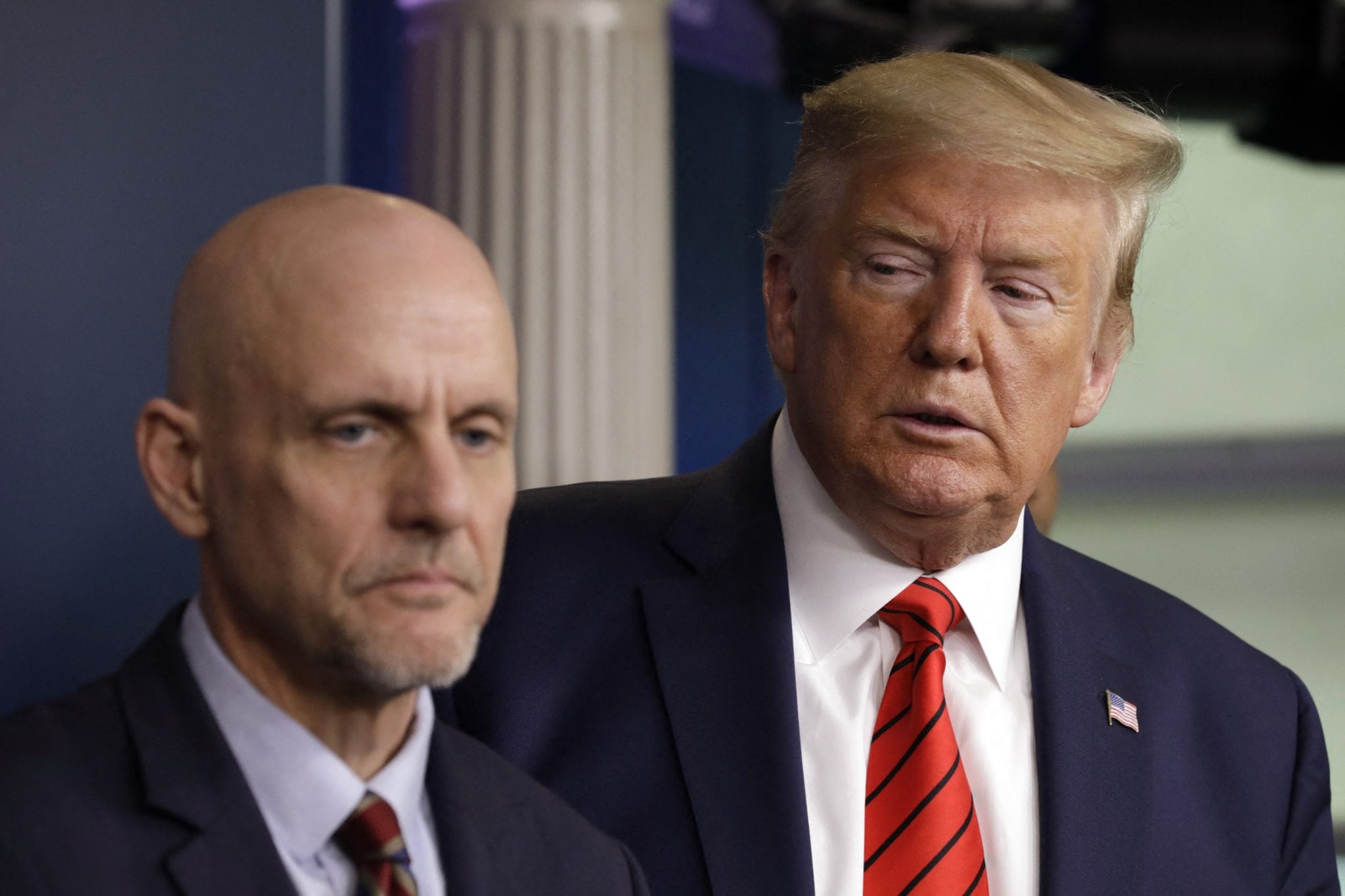 President Trump listens to FDA Commissioner Stephen Hahn speaking at a press briefing on the Covid-19 pandemic with members of the Coronavirus Task Force at the White House in Washington on March 19, 2020. Photo by Yuri Gripas/Abaca/Sipa USA(Sipa via AP Images)
Drug­mak­er re­thinks its de­ci­sion to dou­ble price of a gener­ic af­ter Trump calls it a coro­n­avirus life­saver — re­ports
Af­ter Pres­i­dent Trump on Thurs­day im­plied a decades-old malar­ia drug was sanc­tioned by the FDA to fight the new coro­n­avirus, re­ports emerged that late last year the drug's mak­er dou­bled the price of the com­pound, but has now re­stored the orig­i­nal price tag as the virus en­velops much of the globe.
Made by New Jer­sey-based Ris­ing Phar­ma­ceu­ti­cals — the drug, called chloro­quine phos­phate — saw a hike of rough­ly 98% to $7.66 for a 250 mg tablet, STAT and the Fi­nan­cial Times re­port­ed, cit­ing da­ta from re­search and pub­lish­ing firm El­se­vi­er.
As FDA com­mis­sion­er Stephen Hahn was forced to clar­i­fy that the drug was still be­ing eval­u­at­ed for use against coro­n­avirus on Thurs­day, the com­pa­ny sug­gest­ed the price hike came months ahead of the out­break snow­balled in­to a pan­dem­ic, and be­fore re­searchers be­gan to spec­u­late it might help in­fect­ed pa­tients.
The com­pa­ny — which in De­cem­ber agreed to pay a fine of more than $3 mil­lion af­ter be­ing charged with con­spir­ing to fix prices for a gener­ic hy­per­ten­sion drug — has re­vert­ed back to chloro­quine phos­phate's orig­i­nal price set in 2015.
"As soon as we saw the in­crease in de­mand and the po­ten­tial that this was go­ing to be uti­lized in the way some folks are pro­ject­ing it to be, we re­scind­ed that price in­crease to the same price it has been on the mar­ket for since 2015," an ex­ec­u­tive told the FT.
Al­though the drug is be­ing used as part of com­pas­sion­ate use pro­grams in some coun­tries, there is no de­fin­i­tive ev­i­dence sug­gest­ing it helps pa­tients in­fect­ed with the new coro­n­avirus, al­though even Tes­la founder Elon Musk — who has pre­vi­ous­ly sug­gest­ed the "dan­ger of pan­ic" still far ex­ceeds the dan­ger of coro­n­avirus — has tak­en no­tice of its promise.
Maybe worth con­sid­er­ing chloro­quine for C19 https://t.co/LEY­ob7Jofr

— Elon Musk (@elon­musk) March 16, 2020
The drug, now a gener­ic, is de­rived from the bark of the chin­chona tree and has been in use since World War II. It is un­der­stood to be gen­er­al­ly safe in mild-to-mod­er­ate cas­es, but can be tox­ic at high dos­es. Apart from its use against malar­ia, an ill­ness caused by a par­a­site and spread to hu­mans via mos­qui­to bites, the med­i­cine is al­so de­ployed for use in cer­tain au­toim­mune con­di­tions.
Ear­ly da­ta emerg­ing out of France, test­ing a less tox­ic de­riv­a­tive of chloro­quine — hy­drox­y­chloro­quine — on a few dozen pa­tients with Covid-19, sug­gest it may help curb the pe­ri­od that peo­ple with the dis­ease are in­fec­tious. Mean­while, Chi­na's Min­istry of Sci­ence and Tech­nol­o­gy has al­so sug­gest­ed that chloro­quine phos­phate should be in­clud­ed in the stan­dard Covid-19 reg­i­men, af­ter show­ing promis­ing re­sults in tri­als across 10 hos­pi­tals.
On Thurs­day, Ger­man drug­mak­er Bay­er an­nounced in a press re­lease that it was do­nat­ing 3 mil­lion tablets of its ver­sion of chloro­quine phos­phate for use in US pa­tients.
For a look at all End­points News coro­n­avirus sto­ries, check out our spe­cial news chan­nel.