There's a revolution playing out in cancer R&D.
Over the last decade drug developers focused on oncology have teamed with regulators on designing a shorter R&D path for new cancer drugs, using trial designs that have sped clinical work and slashed the number of patients needed to demonstrate safety and efficacy.
With the number of new checkpoint combos in the clinic escalating rapidly, the late-stage pipeline of new cancer drugs has exploded, growing 7.7% in just the last year to 631 new molecules. The two initial PD-1 approvals of Opdivo and Keytruda alone spawned 135 combination studies. And the work overall is changing the standard of care in the field — at a high cost for the payers footing the bill.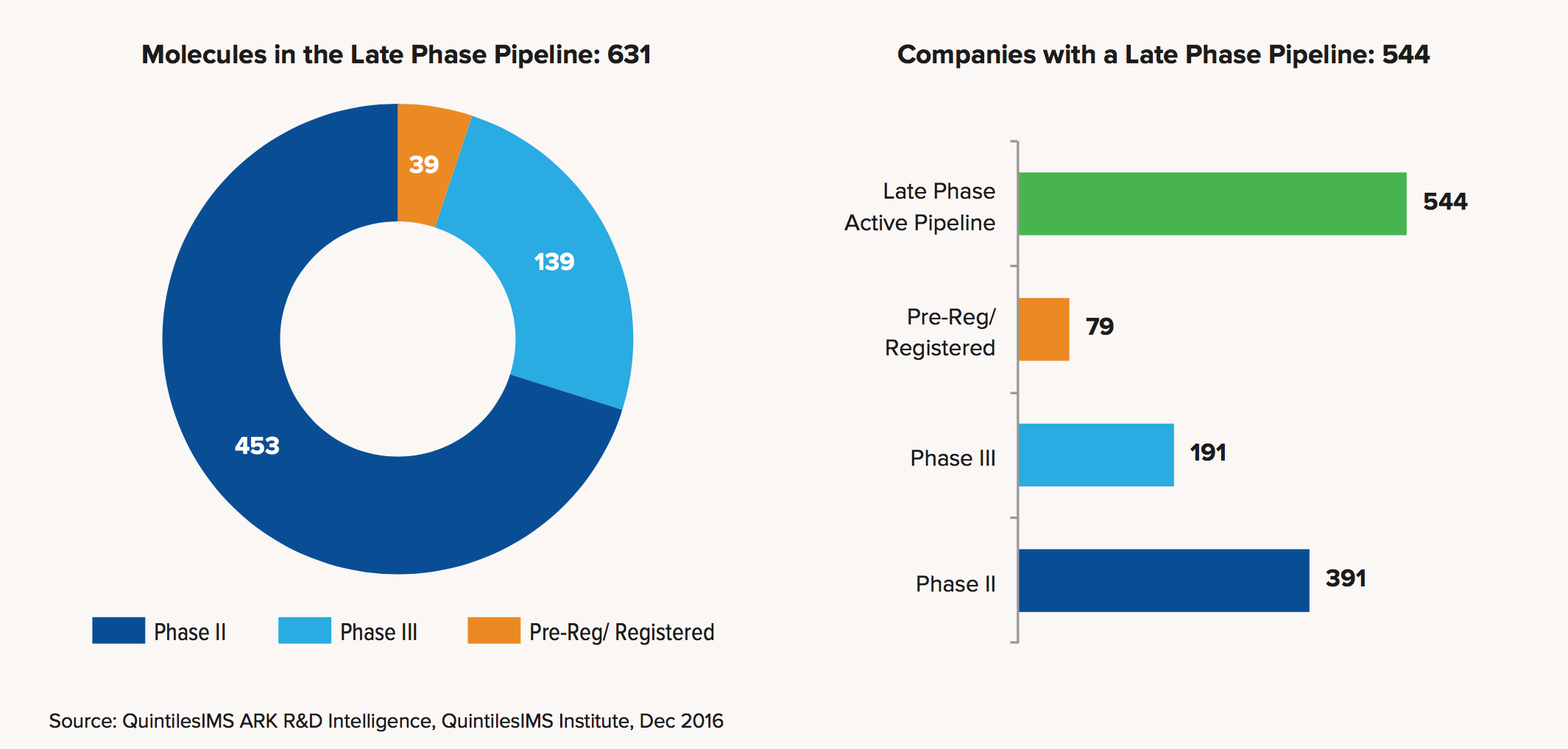 ---
Those are all conclusions laid out in a new report from QuintilesIMS, which conveniently detailed the major trends in cancer R&D just a couple of days ahead of the bellwether ASCO conference in Chicago.
Over the past 5 years, 68 new cancer drugs have been approved, marking a significant improvement in outcomes for patients, particularly in the area of metastatic disease, notes Murray Aitken, the author of the report and executive director of the QuintilesIMS Institute.
Aitken highlights the role of the FDA's 2012 Breakthrough Therapy Designation initiative in helping change the path of cancer drug R&D, along with readier use of fast track status and priority reviews. With regulators willing to assist rapid drug development plans, the number of patients enrolled in Phase III studies dropped from 671 18 years ago to 188 in 2016 as investigators focused on smaller subpopulations.
Trial duration in Phase III has been halved, dropping from 2000 days in the late '90s to a little more than 1000.
Drug developers haven't overlooked the opportunity. The number of new drugs in the cancer pipeline has swelled by 45% over the past decade, with a growing number of these experimental drugs using biomarkers to predict patient responses; 87% of these drugs count as targeted therapies.
None of this is free.
Global spending on cancer drugs swelled from $107 billion to $113 billion in just one year. Over the past 5 years the annual growth rate in spending on cancer therapies has been 8.7% per year, significantly higher than the 4.9% rate of the 5 years prior to that. And by 2021 total global spending on cancer drugs and supportive care will hit $147 billion.
"We are seeing pricing concessions," Aitken told reporters in a conference call on Wednesday, introducing the report. Those concessions have reduced the level of net price growth for cancer drugs to 3.6% last year, down from the 5% rate they recorded in 2014 and 2015.
As new combination drugs wind their way through the clinic, there's been considerable unease in biopharma about the cost implications of melding expensive new therapies into one powerful cocktail. That debate is just beginning.
---
The best place to read
Endpoints News

? In your inbox.

Comprehensive daily news report for those who discover, develop, and market drugs. Join 47,400+ biopharma pros who read Endpoints News by email every day.

Free Subscription
---
---
---