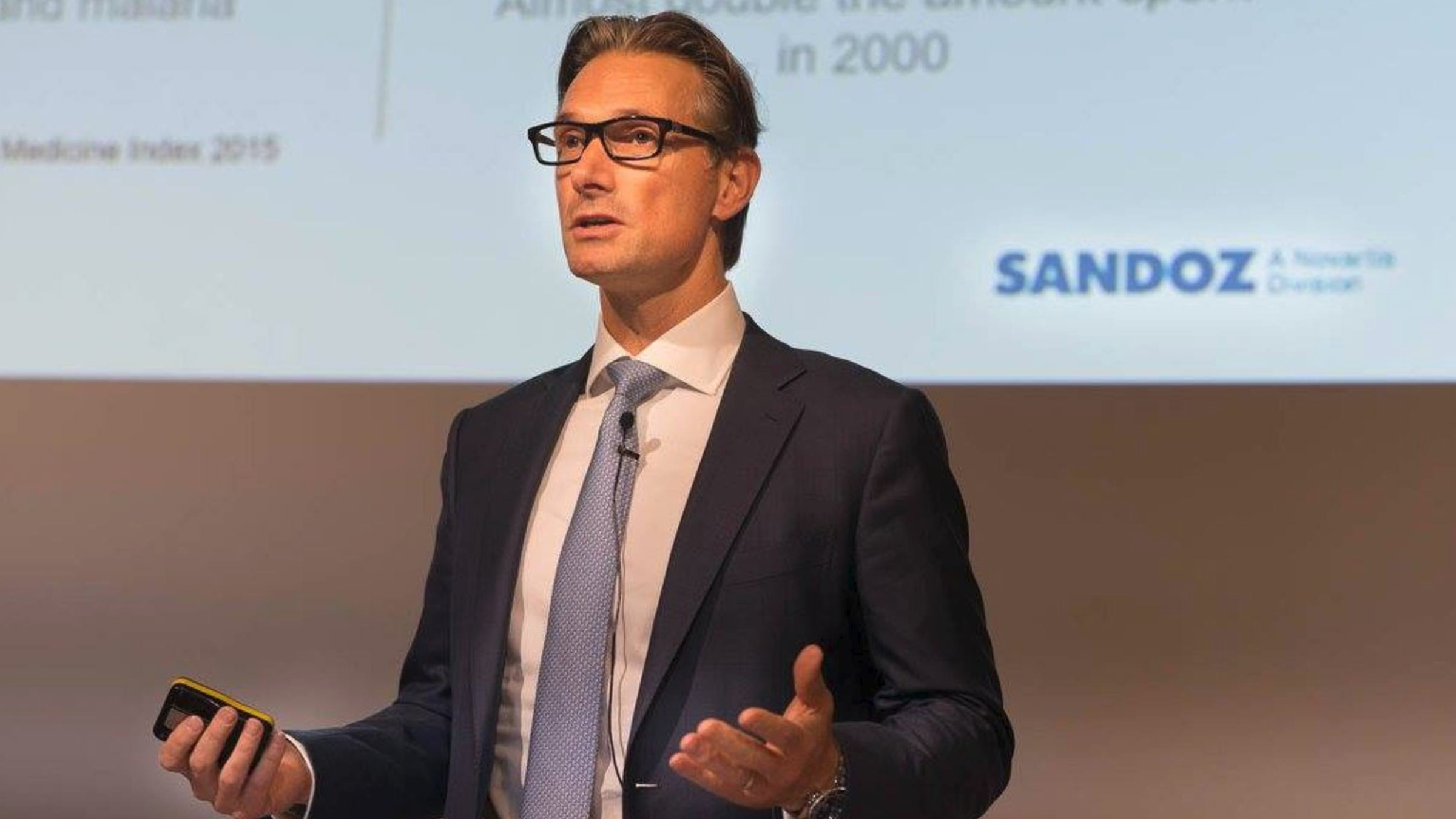 Richard Francis, newly-appointed Teva CEO (Novartis via Facebook)
New Te­va CEO Richard Fran­cis repri­or­i­tizes to 'get back to growth'
Six weeks in­to his new role at the helm of Te­va Phar­ma­ceu­ti­cal, Richard Fran­cis said it's time to "get back to growth," start­ing with a good look at the com­pa­ny's pri­or­i­ties.
The chief ex­ec­u­tive has kicked off a strate­gic re­view, he an­nounced dur­ing Te­va's quar­ter­ly call, which will con­tin­ue over the next sev­er­al months and pro­duce re­sults some­time in the mid­dle of 2023. That means some pipeline cuts may be in store, he told End­points News, while de­clin­ing to of­fer much more de­tail.
"When you pri­or­i­tize, it means you de­pri­or­i­tize," he said in an in­ter­view, adding that "it will be pur­pose­ful and it will be de­ci­sive."
"Some things we will choose to do and dou­ble down on, and that means oth­er ar­eas, we need to re­duce our re­sources in­to that or step away," he con­tin­ued.
Best known as a ma­jor gener­ics mak­er, Te­va has been lean­ing more on R&D as part of a promised turn­around. The com­pa­ny's Hunt­ing­ton's dis­ease treat­ment Auste­do and mi­graine med Ajovy have been a big part of those ef­forts, and Fran­cis tout­ed a rough­ly 20% full-year sales growth for each prod­uct on Wednes­day, part­ly mak­ing up for Co­pax­one's falling sales.
Co­pax­one was first ap­proved in 1996 for re­laps­ing-re­mit­ting MS, and Te­va launched a longer-act­ing ver­sion more than a decade lat­er as the drug ap­proached a 2015 patent cliff. The fran­chise raked in $4.2 bil­lion in 2014, a year be­fore San­doz launched the first gener­ic, Glatopa. Last year, Co­pax­one sales topped out at just $691 mil­lion thanks to gener­ic com­pe­ti­tion and the avail­abil­i­ty of oth­er bi­o­log­ics, and Fran­cis ex­pects sales to slip fur­ther this year.
Mean­while, Auste­do and Ajovy brought in around $971 mil­lion and $377 mil­lion last year re­spec­tive­ly, and Fran­cis pre­dicts that the for­mer could soar to $1.2 bil­lion this year.
He al­so tout­ed the com­pa­ny's Alvotech-part­nered Hu­mi­ra biosim­i­lar. An ex­pect­ed de­ci­sion is com­ing in April, and should it gain ap­proval, Fran­cis hopes for a Ju­ly launch. Te­va said on Wednes­day that the FDA has con­firmed its da­ta pack­age "is suf­fi­cient to sup­port a de­ter­mi­na­tion of in­ter­change­abil­i­ty," mean­ing that pa­tients could sub­sti­tute the biosim­i­lar for Hu­mi­ra at the phar­ma­cy with­out a doc­tor's in­ter­ven­tion.
While a slate of Hu­mi­ra biosim­i­lars are ex­pect­ed to launch this year, Fran­cis is look­ing to po­ten­tial in­ter­change­abil­i­ty sta­tus as a key dif­fer­en­tia­tor.
"Let's not for­get the size of the price here," he said on the in­vestor call. "This is a big as­set, where I think pay­ers and health­care au­thor­i­ties can gar­ner some sig­nif­i­cant sav­ings."
Reg­u­la­tors re­ject­ed the biosim­i­lar back in Sep­tem­ber over man­u­fac­tur­ing is­sues at a Reyk­javik fa­cil­i­ty, though Alvotech said at the time that it aimed "to sat­is­fac­to­ri­ly ad­dress the is­sues be­fore the Biosim­i­lar User Fee Act (BS­U­FA) goal date."
"We need to work close­ly with our part­ners at Alvotech to make sure that the in­spec­tion of their fa­cil­i­ty in Ice­land is a pos­i­tive in­spec­tion… So that's sort of where our fo­cus is right now," Fran­cis said on Wednes­day.
For­mer CEO Kåre Schultz stepped down in Jan­u­ary, af­ter guid­ing Te­va through a se­ries of chal­lenges in­clud­ing opi­oid law­suits and gener­ic drug price-fix­ing al­le­ga­tions. Fran­cis, who hails from San­doz, an­nounced on Wednes­day that opi­oid set­tle­ments are mov­ing for­ward with all states ex­cept Neva­da, though he not­ed "that con­ver­sa­tion is pro­gress­ing well."
Te­va's rev­enues reached just over $14.9 bil­lion last year, down 6%. This year, Fran­cis an­tic­i­pates rev­enue in the $14.8 bil­lion to $15.4 bil­lion range. The com­pa­ny's stock $TE­VA was down near­ly 9% on Wednes­day af­ter­noon, trad­ing at around $9.93 per share.