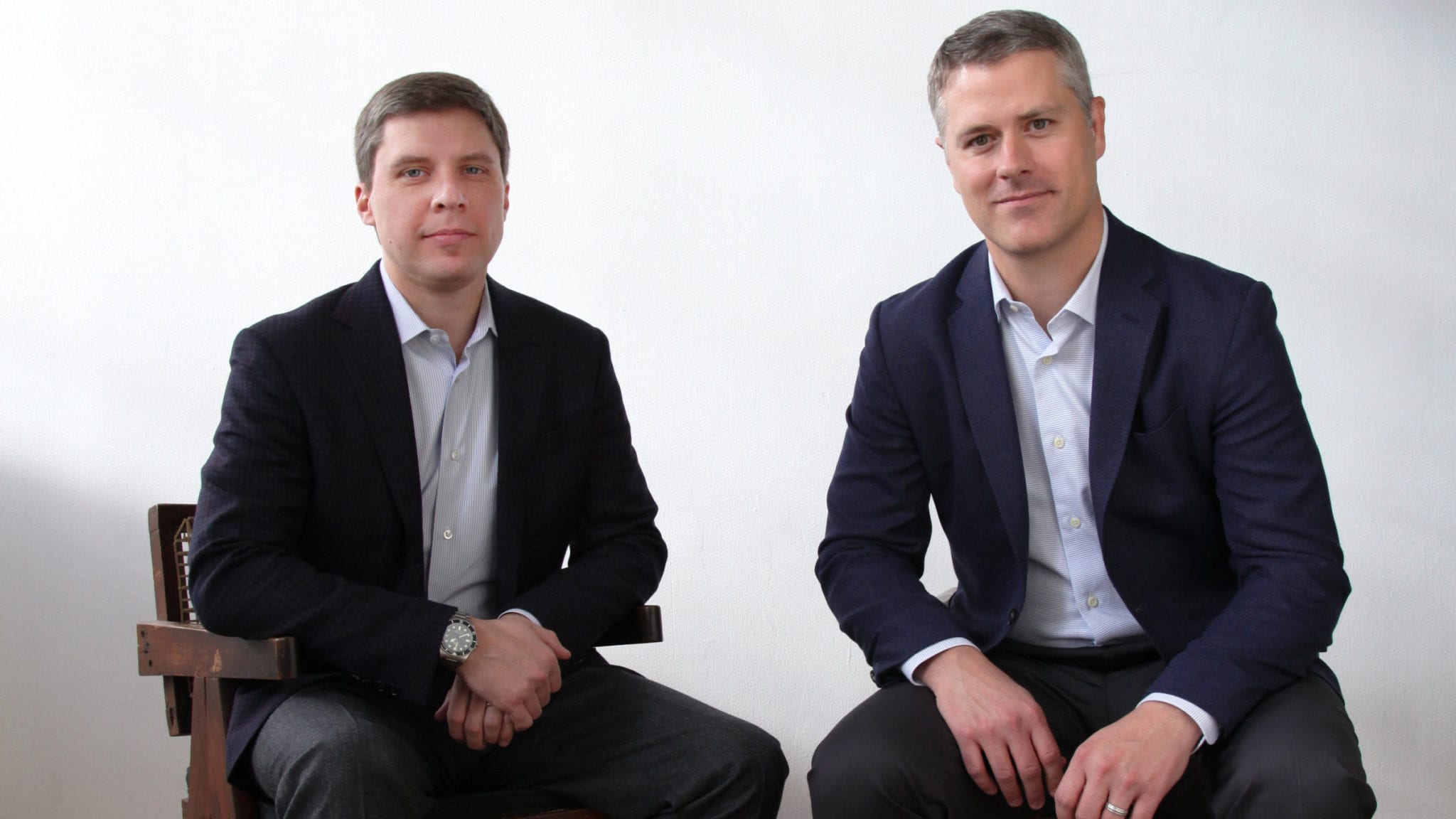 Justin Klein and Kirk Nielsen. (Credit: Jeffrey Graetsch)
Co-found­ed by Ver­sant, NEA in­vestors, new medtech VC firm kicks off in­au­gur­al fund with $225M boun­ty
In an era where medtech doesn't get the same love that biotech does from the av­er­age in­vestor, two medtech-fo­cused in­vestors from a pair of key­stone ven­ture cap­i­tal firms — Ver­sant Ven­tures and New En­ter­prise As­so­ci­ates (NEA) — are com­ing to­geth­er to bridge the gap in pri­vate mar­ket cap­i­tal for the un­der­served sec­tor.
Launched this year, the VC in­vest­ment firm — called Ven­sana Cap­i­tal — closed its in­au­gur­al fund, Ven­sana Cap­i­tal I, with $225 mil­lion in com­mit­ted cap­i­tal from a cadre of in­sti­tu­tion­al in­vestors, in­clud­ing pub­lic pen­sions, uni­ver­si­ty en­dow­ments, foun­da­tions, lead­ing aca­d­e­m­ic health sys­tems, fam­i­ly of­fices, and fund-of-funds, it said on Wednes­day.
Co-found­ed by Ver­sant's Kirk Nielsen and NEA's Justin Klein, Ven­sana's fo­cus will be on the kalei­do­scope of sub­cat­e­gories that con­sti­tute medtech: med­ical de­vices, di­ag­nos­tics and da­ta sci­ence, drug de­liv­ery, dig­i­tal health, and tech-en­abled ser­vices.
"I think one over­ar­ch­ing theme for many prod­ucts we in­vest in is try­ing to move them from the more ex­pen­sive side of care, to the less ex­pen­sive," Nielsen not­ed in an in­ter­view with End­points News.
For ex­am­ple, de­vices that can com­mu­ni­cate with physi­cians or oth­er providers to iden­ti­fy pa­tients that are at risk for be­ing ad­mit­ted with heart fail­ure, or COPD. An­oth­er op­por­tu­ni­ty is about ad­dress­ing chron­ic dis­eases, where pa­tients aren't nec­es­sar­i­ly com­pli­ant or ther­a­pies have side ef­fects that pre­vent adop­tion.
"We like the idea of iden­ti­fy­ing sur­gi­cal strate­gies, neur­al mod­u­la­tion based strate­gies or oth­er medtech-based in­ter­ven­tions that can ef­fec­tive­ly treat the un­der­ly­ing con­di­tion," he said.
Al­though Ven­sana is an in­de­pen­dent firm, Ver­sant will pro­vide sup­port. Shar­ing deal flow can ex­tend the op­por­tu­ni­ties that emerge at the in­ter­sec­tion of the two strate­gies — such as drug de­liv­ery or di­ag­nos­tics, Nielsen added.
Nielsen, who was once a pro­fes­sion­al hock­ey play­er and has pre­vi­ous­ly worked with Medtron­ic, has been with Ver­sant for over a decade and was in charge of the firm's medtech prac­tice.
In biotech — where Ver­sant op­er­ates — in­vest­ment is large­ly fo­cused on ear­ly-stage com­pa­ny cre­ation. In medtech, the op­por­tu­ni­ty lies in mid-to-late stage op­por­tu­ni­ties, he said.
"Most medtech com­pa­nies are best po­si­tioned to go pub­lic or be ac­quired in a com­pet­i­tive process for the time when they've re­al­ly demon­strat­ed the adop­tion of their prod­ucts by clin­i­cians, sur­geons and hos­pi­tals," Ven­sana's oth­er founder, Klein, em­pha­sized. Klein served as a part­ner at NEA for more than 12 years.
"Be­cause of the time­lines, cap­i­tal re­quire­ments as­so­ci­at­ed with nav­i­gat­ing the ear­ly-stage con­cept all the way through to a scal­ing US rev­enue stage busi­ness, it's of­ten been the case that (…) some of the most com­pelling in­vest­ment rounds of fi­nanc­ing from medtech com­pa­nies have come kind of more mid­stream in that process."
Ven­sana wants to cap­i­tal­ize on a rel­a­tive­ly healthy macro en­vi­ron­ment for medtech.
"If you look at the ex­it mar­kets in medtech, they've been re­al­ly strong, and you've got M&A (…) that con­tin­ues to have kind of a sol­id, con­sis­tent pace, you've got IPO win­dows that are now open, and (…) mul­ti­ples that are all time highs," Nielsen said.
Da­ta from Sil­i­con Val­ley Bank (SVB) sug­gest strong per­for­mance of de­vice IPOs should spur con­tin­ued lat­er-stage ven­ture in­vest­ment. Mean­while, in­vest­ments in the first half of 2019 in dig­i­tal health have al­ready eclipsed full-year 2017 in­vest­ments and are on track to hit $10 bil­lion in 2019, the re­port said.
Deals for di­ag­nos­tics and med­ical tools are al­so ex­pect­ed to climb in the sec­ond half of 2019, and R&D tool in­vest­ment is set to surge fol­low­ing the suc­cess­ful IPOs of Adap­tive Biotech­nolo­gies and Per­son­alis, SVB an­a­lysts es­ti­mat­ed.
In the last year, the pub­lic mar­ket has been a suc­cess­ful way for Dx/Tools com­pa­nies to cap­ture val­ue. Ac­cord­ing­ly, we an­tic­i­pate more $B+ IPOs than pri­vate M&A for 2H 2019. We al­so be­lieve tech com­pa­nies will start to ac­quire Dx/Tools com­pa­nies in the AI/ML big da­ta space.
Com­pa­nies in the medtech sec­tor — akin to their coun­ter­parts in phar­ma — need to build out their pipelines. "Yet, there are very few… well cap­i­tal­ized, so­phis­ti­cat­ed medtech in­vestors that are avail­able to sup­port these com­pa­nies. And so we're try­ing to kind of bridge that gap," he added.
In the ex­it en­vi­ron­ment, there is a tremen­dous need for new tech­nolo­gies and start­up com­pa­nies. Whether that's build­ing new prod­uct mar­kets in chron­ic dis­ease, or prod­ucts that are re­al­ly com­pli­men­ta­ry to block­buster fran­chis­es such as those in or­tho­pe­dics, re­con­struc­tive de­vices, or in­ter­ven­tion­al car­di­ol­o­gy.
"These (prod­ucts) can pro­vide val­ue growth dri­vers for some of the large ac­quir­ers in our space," Klein said. "The ex­it mar­kets to­day have been great, but there's a rel­a­tive dearth of com­pa­nies and in­no­v­a­tive prod­ucts that have made it to that phase."
With the $225 mil­lion in their cof­fers, Ven­sana hopes to in­vest in a dozen com­pa­nies, in­ject­ing be­tween $10 to $30 mil­lion in each com­pa­ny, Klein not­ed.