NICE re­jects No­var­tis' mi­graine drug Aimovig, months af­ter de­clin­ing to en­dorse pricey Kym­ri­ah for adult use
No­var­tis $NVS is will­ing to play ball with UK's cost-ef­fec­tive­ness watch­dog NICE, who re­ject­ed their mi­graine pre­ven­tion drug in a draft guid­ance on Thurs­day, months af­ter de­clin­ing to en­dorse the Swiss drug­mak­er's cell ther­a­py Kym­ri­ah in adult lym­phoma pa­tients.
The drug, erenum­ab, is sold as Aimovig in the Unit­ed States by No­var­tis and part­ner Am­gen $AMGN. It forms part of a new crop of bi­o­log­ics tar­get­ing the CGRP pro­tein that trans­mits pain sig­nals in­to the brain, and is con­sid­ered in­stru­men­tal in gen­er­at­ing and main­tain­ing headaches as­so­ci­at­ed with mi­graine. Erenum­ab costs around £5,000 (about $6368) per year, ex­clud­ing a con­fi­den­tial dis­count that would have been grant­ed to Eng­land's na­tion­al health ser­vice (NHS) had NICE rec­om­mend­ed the drug.
In its re­port, NICE ac­knowl­edged that al­though the drug is a clin­i­cal­ly ef­fec­tive treat­ment, the to­tal­i­ty of the da­ta sup­port­ing the med­i­cine did not in­clude all "rel­e­vant" com­par­isons against ex­ist­ing drugs and out­comes, which prompt­ed its re­jec­tion for NHS use.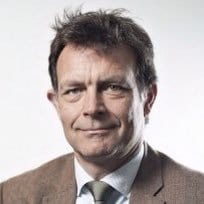 Mein­dert Boy­sen
"There was not enough ev­i­dence to sug­gest that it (erenum­ab) is more ef­fec­tive than bot­u­linum tox­in type A (Al­ler­gan's Botox) for peo­ple with chron­ic mi­graine, which NICE al­ready rec­om­mends. And for both the chron­ic and episod­ic mi­graine pop­u­la­tions there was no ev­i­dence to show that erenum­ab is ef­fec­tive in the long-term in peo­ple for whom 3 pre­vi­ous pre­ven­tive treat­ments had failed," said NICE's di­rec­tor of the cen­tre for health tech­nol­o­gy eval­u­a­tion Mein­dert Boy­sen in a state­ment.
No­var­tis pledged to work with NICE to ad­dress the agency's ques­tions, but sug­gest­ed the watch­dog had not cap­tured the broad­er so­ci­etal im­pact of its med­i­cine.
"NICE does not con­sid­er the im­pact of dis­eases on broad­er so­ci­ety when eval­u­at­ing the cost-ef­fec­tive­ness of med­i­cines. We be­lieve this fails to cap­ture the true val­ue of med­i­cines like Aimovig. As mi­graine pre­dom­i­nant­ly af­fects peo­ple of work­ing age, it costs the UK econ­o­my £8.8 bil­lion per year in lost pro­duc­tiv­i­ty alone," the drug­mak­er said in a state­ment, un­der­scor­ing that the UK al­ready "lags sig­nif­i­cant­ly be­hind" its oth­er Eu­ro­pean coun­ter­parts in en­sur­ing ac­cess to new med­i­cines.
It is es­ti­mat­ed there are 190,000 mi­graine at­tacks ex­pe­ri­enced every day in Eng­land, ac­cord­ing to NICE. The agency con­ced­ed that ex­ist­ing mi­graine treat­ments in­clud­ing be­ta-block­ers, an­ti­de­pres­sants and epilep­sy med­i­cines can have sig­nif­i­cant side-ef­fects and don't work for some pa­tients, but for those with chron­ic mi­graine for whom at least 3 pre­vi­ous pre­ven­tive oral treat­ments have failed, Botox re­mains an op­tion.
The pro­vi­sion­al de­ci­sion on erenum­ab comes af­ter the agency re­fused to en­dorse No­var­tis' CAR-T drug Kym­ri­ah in adults, say­ing it was too ex­pen­sive, in Sep­tem­ber, al­though it did rec­om­mend the treat­ment's use in pe­di­atric pa­tients in a pre­vi­ous rul­ing.