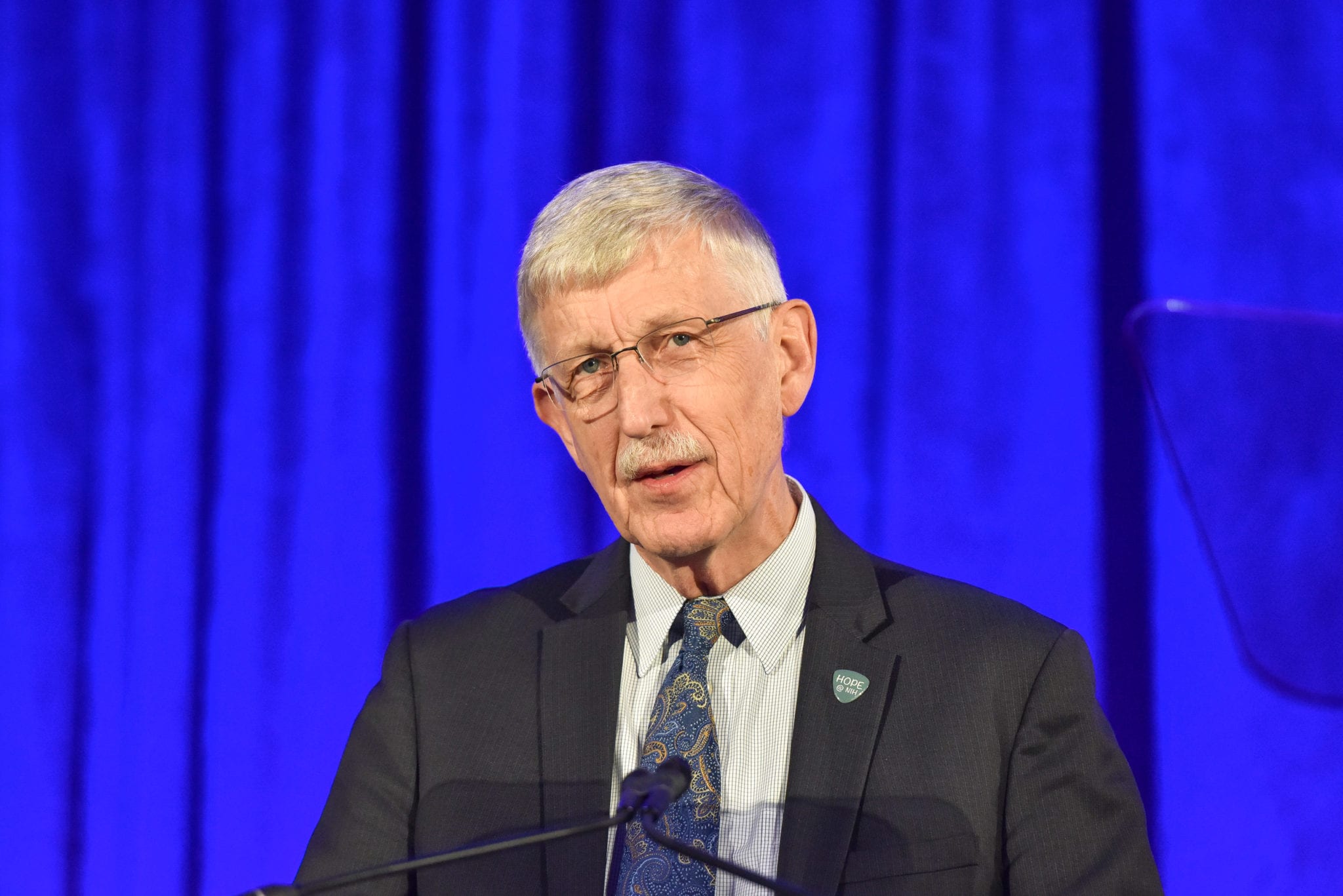 Francis Collins via Getty Images
NIH cor­rals bio­phar­ma com­pa­nies, reg­u­la­tors and tri­al net­works to co­or­di­nate Covid-19 R&D
Fran­cis Collins' grand plan to bring or­der to the chaot­ic rush for Covid-19 vac­cines and treat­ments is here.
The pub­lic-pri­vate part­ner­ship that the NIH di­rec­tor teased a few days ago will be known as AC­TIV or Ac­cel­er­at­ing COVID-19 Ther­a­peu­tic In­ter­ven­tions and Vac­cines. By com­pil­ing re­sources, lever­ag­ing ex­ist­ing net­works, lob­by­ing reg­u­la­tors and set­ting up a steer­ing com­mit­tee to pri­or­i­tize promis­ing can­di­dates, the goal is to gen­er­ate more com­pre­hen­sive da­ta quick­er.
"We want to do this in the most com­pelling sci­en­tif­ic way," Collins said in a tele­brief­ing, where he echoed ear­li­er com­ments that he hopes to find 3 to 4 treat­ments that show ben­e­fit around June or Ju­ly.
Aside from gov­ern­ment agen­cies — the FDA and its Eu­ro­pean coun­ter­part, the HHS and the CDC — 16 bio­phar­ma com­pa­nies were al­so named to the group: Ab­b­Vie, Am­gen, As­traZeneca, Bris­tol My­ers Squibb, Evotec, Glax­o­SmithK­line, J&J, KSQ Ther­a­peu­tics, Eli Lil­ly, Mer­ck, No­var­tis, Pfiz­er, Roche, Sanofi, Take­da and Vir.
There are cur­rent­ly more than 400 clin­i­cal tri­als eval­u­at­ing po­ten­tial Covid-19 drugs and vac­cines, ac­cord­ing to clin­i­cal­tri­als.gov — a num­ber that grows by the day. A work­ing group with­in AC­TIV will take all the data­bas­es cur­rent­ly out there, from Bio­Cen­tu­ry's re­source cen­ter to the Milken Track­er and merge them to get a good idea of every­thing that's out there, Collins said.
Then they will be­gin rank­ing all the can­di­dates and, when nec­es­sary, re­jig cur­rent arrange­ments:
A num­ber of tri­als, as you know, are un­der­way with hy­drox­y­chloro­quine and chloro­quine. One of the things that the group is try­ing to do is to get an in­ven­to­ry of ex­act­ly how many tri­als of what size and what sever­i­ty of pa­tients are there, be­cause it may well be that we al­ready have enough to in­for­ma­tion to be able to as­sess whether there's ben­e­fit or not, in which case those tri­als might bet­ter be adapt­ed to some oth­er can­di­date ther­a­peu­tics. The remde­sivir tri­al which NIH is run­ning has al­ready en­rolled 800 par­tic­i­pants when it on­ly need­ed 500 to be pow­ered. One of the ques­tions is should that par­tic­u­lar tri­al net­work, al­ready ex­ist­ing, now be adapt­ed to try a dif­fer­ent ap­proach, a dif­fer­ent can­di­date ther­a­peu­tic, so that we can learn things as quick­ly as pos­si­ble.
Al­so part of the plan: de­sign­ing, launch­ing and shar­ing mas­ter pro­to­cols that use a sin­gle con­trol arm. It would pre­sum­ably be an ex­pan­sion of ACTT, the adap­tive tri­al that the NI­AID has al­ready launched with Gilead's remde­sivir and Eli Lil­ly's Olu­mi­ant. Ex­ist­ing NIH net­works that are pre­vi­ous­ly fo­cused on every­thing from HIV to or­gan trans­plants have al­so pledged to help.
While any com­pa­ny is still free to move on with their own ther­a­peu­tic can­di­dates, there may now be less room for them to do so. Be­tween all the play­ers in­volved in AC­TIV, Collins added, they will like­ly have con­trol of the ma­jor­i­ty of pub­lic and pri­vate clin­i­cal tri­al net­works.
For the 40-plus vac­cine pro­grams, the main fo­cus is on de­vel­op­ing as­says, con­sol­i­dat­ing da­ta on im­muno­log­i­cal re­spons­es and fig­ur­ing out sur­ro­gate end­points.
But it al­so goes be­yond what's al­ready in the clin­ic, with man­dates to stan­dard­ize pre­clin­i­cal eval­u­a­tion and in­crease ac­cess to val­i­date an­i­mal mod­els, which tripped up re­searchers in the ear­ly days.
Like the FDA's Coro­n­avirus Treat­ment Ac­cel­er­a­tion Pro­gram, it's all in­tend­ed to find some­thing, any­thing, that can re­duce the dis­ease's dev­as­tat­ing toll as the White House in­structs states to con­sid­er lift­ing move­ment re­stric­tions in May. In its days of ex­is­tence, crit­ics have lament­ed that CTAP has not lived up to its promise; it re­mains to be seen whether a "na­tion­al strat­e­gy" can speed things up on the ground.
"There's a lot of re­sources al­ready de­vot­ed to this," Collins said, cit­ing con­gres­sion­al fund­ing and the phar­ma part­ners' com­mit­ments. 'They need to be di­rect­ed in the best way."
For a look at all End­points News coro­n­avirus sto­ries, check out our spe­cial news chan­nel.