Nim­bus picks 4 pre­clin­i­cal tar­gets for the next chap­ter of its pi­o­neer­ing com­pu­ta­tion­al drug dis­cov­ery work
Big name part­ner­ships were crit­i­cal for Nim­bus Ther­a­peu­tics' first decade. With a head-turn­ing $1.2 bil­lion — $600 mil­lion of which were paid with­in months — deal from Gilead and a re­turn­ing cus­tomer in Cel­gene, the biotech emerged as a pro­lif­ic pi­o­neer of com­pu­ta­tion­al chem­istry and struc­ture-based drug dis­cov­ery while the in­dus­try went through a seis­mic shift in its think­ing of the role that al­go­rithms play in en­gi­neer­ing new ther­a­pies.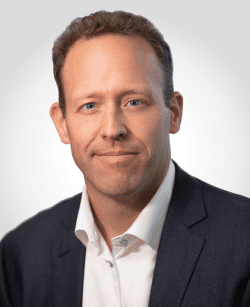 Jeb Keiper
As the sec­ond of the ini­tial batch of pro­grams en­ter the clin­ic, Nim­bus is un­veil­ing the head­ings that will de­fine what it calls its sec­ond chap­ter.
Their team of 20-plus sci­en­tists has iden­ti­fied four new tar­gets — AMP­Kβ2, CTPS1, Cbl-b and WRN — which they have been prob­ing with aca­d­e­m­ic col­lab­o­ra­tors and ex­perts at Schrödinger. And this time around, they plan to keep all four in-house for at least a lit­tle longer, fo­cus­ing on re­cruit­ing new staffers and friend­ly re­searchers rather than buy­ers.
At the same time, Nim­bus has dropped its STING ef­forts af­ter a slew of biotechs reached for it and came up emp­ty.
"One of the com­pli­ments we've been paid by our peers in the broad­er drug dis­cov­ery and de­vel­op­ment com­mu­ni­ty has been in our abil­i­ty to se­lect re­al­ly in­ter­est­ing tar­gets that are quite com­pelling," Jeb Keiper — the for­mer BD chief who took over as CEO from Don Nichol­son less than two years ago — told End­points News. "We care a lot about be­ing able to do that."
Aside from the usu­al sus­pects in tar­get se­lec­tion, such as ge­net­ic val­i­da­tion and med­ical need, Nim­bus zoomed in­to ones for which a se­lec­tive, struc­ture-based ap­proach is par­tic­u­lar­ly help­ful, CSO Pe­ter Tum­mi­no said.
Pe­ter Tum­mi­no
In AMPK (AMP-ac­ti­vat­ed pro­tein ki­nase), that means find­ing ac­ti­va­tors se­lec­tive for the β2 sub­unit, which could trans­late in­to a bet­ter safe­ty pro­file as meta­bol­ic drugs. Sim­i­lar­ly, the chal­lenge in CTP is to find com­pounds se­lec­tive for the S-1 iso­form. Cbl-b (Cbl pro­to-onco­gene B) is an E3 ubiq­ui­tin lig­ase — a nat­ur­al pro­tein de­grad­er — that's gar­nered at­ten­tion from both small com­pa­nies like Nurix and big ones like Roche. Fi­nal­ly, the goal with WRN (Wern­er syn­drome ATP-de­pen­dent he­li­case) is to come up with a new treat­ment op­tion for tu­mors vul­ner­a­ble to dis­rup­tions in DNA re­pair.
"What isn't new is we're look­ing for small mol­e­cule agents," he said.
Al­though these are tar­gets of high in­ter­est, he added, much is still un­known about their struc­tures, and Nim­bus is work­ing with lead­ing bi­ol­o­gists to elu­ci­date them with tech­niques like cryo-EM and crys­tal­log­ra­phy.
These are "not things you can sim­ply out­source to con­tract re­search groups," Keiper added. "You re­al­ly are do­ing fun­da­men­tal aca­d­e­m­ic dis­cov­ery work." That's the kind of spe­cial sauce — mix­ing dyed in the wool drug dis­cov­ery vet­er­ans with com­pu­ta­tion­al ex­perts — that Nim­bus be­lieves will keep it go­ing for many years more.