Bris­tol My­ers Squibb, Ac­celeron rack up sec­ond OK for Re­blozyl, on­to block­buster sta­tus
Re­blozyl, the ane­mia drug Cel­gene paid a mod­est $25 mil­lion up­front to part­ner on 9 years ago, brought Bris­tol My­ers Squibb one of on­ly two new drug ap­provals in 2019. Mere­ly five months lat­er, it's tak­ing home an­oth­er sup­ple­men­tal OK ex­pect­ed to cat­a­pult sales in­to block­buster ter­ri­to­ry.
The FDA has ap­proved Re­blozyl (lus­pa­ter­cept) as a treat­ment for ane­mia in a sub­set of adults with low­er-risk myelodys­plas­tic syn­dromes. Specif­i­cal­ly, it's lim­it­ed to pa­tients who have failed an ery­thro­poiesis stim­u­lat­ing agent and re­quire 2 or more red blood cell units over 8 weeks. These MDS pa­tients are fur­ther char­ac­ter­ized by ring sider­ob­lasts, where iron ac­cu­mu­lates in the mi­to­chon­dria of red blood cells, ren­der­ing them dys­func­tion­al.
Bris­tol My­ers and part­ner Ac­celeron em­pha­sized the his­toric na­ture of the drug — an ery­throid mat­u­ra­tion agent — be­ing "the first new treat­ment op­tion in over a decade for pa­tients with MDS who re­quire red blood cell (RBC) trans­fu­sions and have failed an ery­thro­poiesis stim­u­lat­ing agent."
A fu­sion pro­tein, Re­blozyl boosts red blood cell growth by tar­get­ing TGF-be­ta pro­teins.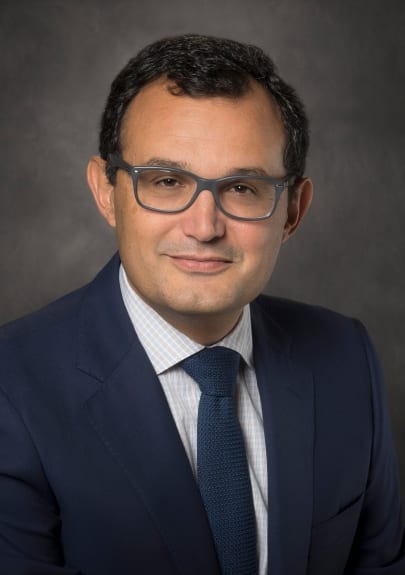 Guiller­mo Gar­cia-Manero
Trans­fu­sions can cause com­pli­ca­tions such as iron over­load, site re­ac­tions and in­fec­tions, said Guiller­mo Gar­cia-Manero, chief of the MDS sec­tion at MD An­der­son, in a state­ment.
"In our cur­rent en­vi­ron­ment, we are re­mind­ed of the sig­nif­i­cant bur­den fre­quent blood trans­fu­sions can have on in­di­vid­u­als and the health­care sys­tem," he added.
That's the same propo­si­tion em­pha­sized by the FDA's on­col­o­gy chief Richard Paz­dur up­on sanc­tion­ing Re­blozyl for trans­fu­sion-de­pen­dent be­ta-tha­lassemia. An­a­lysts have long an­tic­i­pat­ed fol­low-up OKs in MDS in or­der to reach the $2 bil­lion con­sen­sus peak sales es­ti­mate.
In sec­ond-line MDS, late-stage da­ta showed 38% of pa­tients went 8 weeks with­out need­ing a blood trans­fu­sion and 28% man­aged 12 weeks with­out one.
At eight times the mar­ket size, "MDS is a much big­ger op­por­tu­ni­ty for Re­blozyl in the US, and we mod­el peak US sales of $537M in 2L MDS and $1B in 1L MDS (pos­i­tive da­ta ex­pect­ed in late '21 or ear­ly '22)," Cowen's Yaron Wer­ber pre­vi­ous­ly wrote in a note.
Dubbed COM­MANDS, the front­line tri­al would pit Re­blozyl head to head against ery­thro­poiesis stim­u­lat­ing agents and mea­sure red blood cell trans­fu­sions through­out 24 weeks.
If the num­bers pan out, which he is op­ti­mistic about, Wer­ber projects peak glob­al sales of $3.3 bil­lion based on "very con­ser­v­a­tive as­sump­tions."