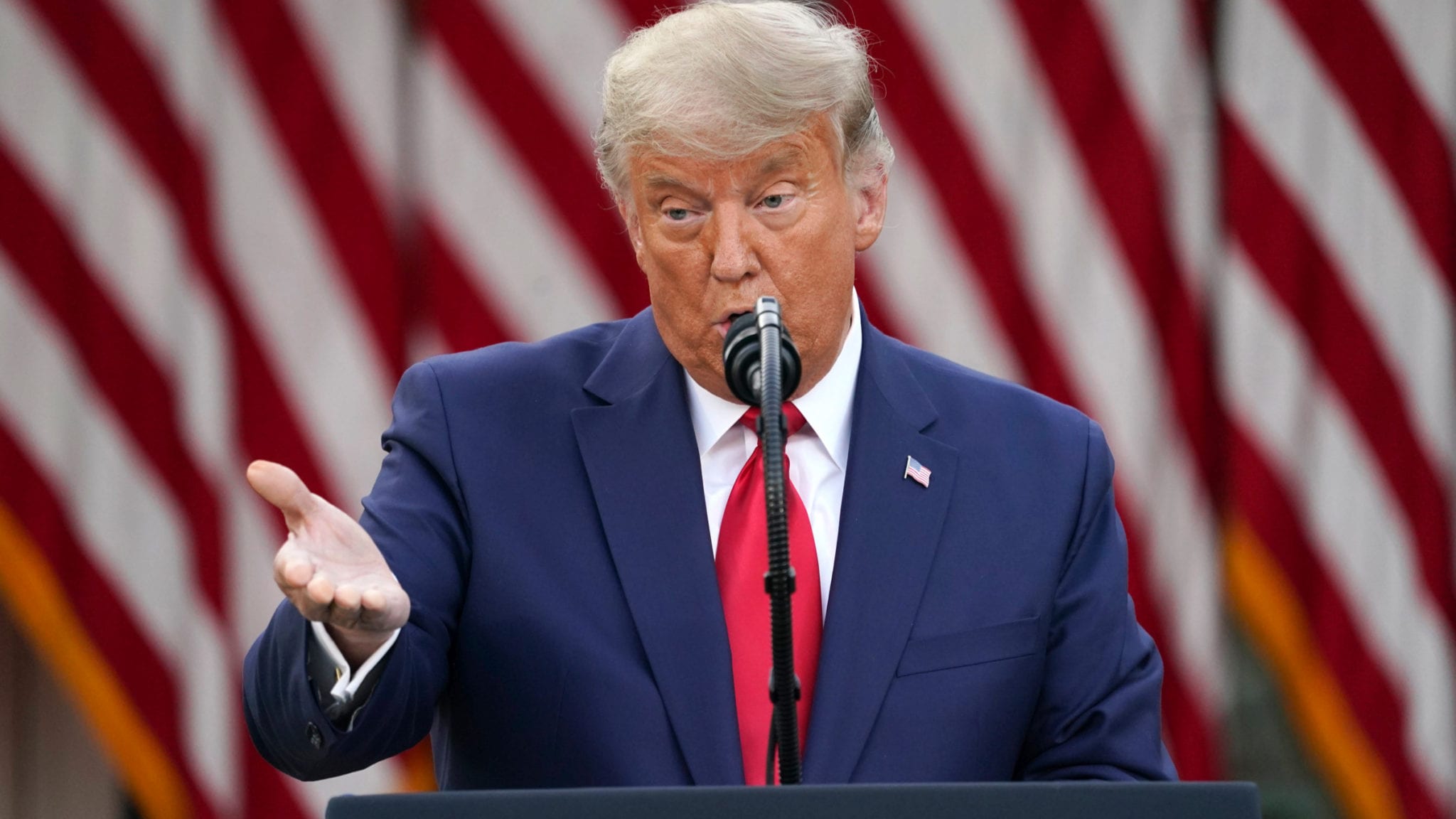 Not so fast, Mr Pres­i­dent: Trump's plan for low­er­ing pre­scrip­tion drug prices hits a road­block, as Cana­da bans bulk drug ex­ports
A new rule that took ef­fect Mon­day paves the way for Pres­i­dent Don­ald Trump to ful­fill his promise of let­ting states im­port cer­tain pre­scrip­tion drugs from Cana­da — but our neigh­bor up north is say­ing 'not so fast.'
On Sat­ur­day, the Cana­di­an gov­ern­ment is­sued new mea­sures to pre­vent bulk ex­ports to the US that could wors­en drug short­ages across the coun­try. Cana­da sources 68% of its drugs in­ter­na­tion­al­ly, ac­cord­ing to a state­ment from Min­is­ter of Health Pat­ty Ha­j­du. The coun­try has re­peat­ed­ly tak­en the stance that the US' im­por­ta­tion rule wouldn't be ef­fec­tive in low­er­ing pre­scrip­tion drug prices, as its own mar­ket is so small.
"The need for vig­i­lance in main­tain­ing the na­tion­al drug sup­ply con­tin­ues," Ha­j­du's state­ment read.
Start­ing Sat­ur­day, cer­tain drugs in­tend­ed for the Cana­di­an mar­ket are banned from dis­tri­b­u­tion out­side the coun­try if the sale "would cause or wors­en a drug short­age." Com­pa­nies al­so have to pro­vide in­for­ma­tion to "as­sess ex­ist­ing or po­ten­tial short­ages" when re­quest­ed, and with­in 24 hours if there's a se­ri­ous risk.
The rule is part of Trump's last-ditch ef­fort to low­er pre­scrip­tion drug prices for Amer­i­cans, some­thing he's re­peat­ed­ly promised to do. The pres­i­dent signed an ex­ec­u­tive or­der back in Ju­ly call­ing for the FDA to com­plete the "rule­mak­ing process" to al­low the im­por­ta­tion of Cana­di­an pre­scrip­tion drugs. And last week, he an­nounced plans to im­ple­ment some­thing called the "most fa­vored na­tions" rule, which would tie prices in the US to those in oth­er de­vel­oped coun­tries and end cer­tain re­bates paid to mid­dle­men.
That rule, op­posed by phar­ma com­pa­nies, would come in­to ef­fect in Jan­u­ary, Trump said. It would ap­ply to 50 cost­ly Medicare Part B med­i­cines. The plan is to phase in the low­est price in oth­er coun­tries and "blend" it with the av­er­age sales price, then add a flat amount per dose for each ap­plic­a­ble drug.
In the mean­time, Trump said he'd al­low states to pur­chase cheap­er drugs from Cana­da. But it could be a while be­fore cheap­er drugs make their way across the bor­der — if ever. In its fi­nal rule is­sued back in Sep­tem­ber, the FDA said states, ter­ri­to­ries, tribes, phar­ma­cists and whole­salers would need to set up new pro­grams and sub­mit ap­pli­ca­tions to im­port drugs, which would have to meet sev­er­al spec­i­fi­ca­tions. That would in­clude re­la­bel­ing and test­ing the drugs for "au­then­tic­i­ty and degra­da­tion," ac­cord­ing to the FDA. And the pro­grams would have to demon­strate "sig­nif­i­cant cost re­duc­tions" to the con­sumer.
"If you put Cana­di­an drugs on a dogsled and point­ed it in the di­rec­tion of Flori­da, the dogs would ar­rive long be­fore any drugs through this reg­u­la­to­ry pro­pos­al," for­mer HHS of­fi­cial Chris Meekins told the Wash­ing­ton Post back in De­cem­ber.
Un­der a law es­tab­lished in 2003, such im­por­ta­tion is on­ly al­lowed if cer­ti­fied by the HHS sec­re­tary — and Alex Azar is the first to for­mal­ly do so.
"Our health care sys­tem is a sym­bol of our na­tion­al iden­ti­ty and we are com­mit­ted to de­fend­ing it. The ac­tions we are tak­ing to­day will help pro­tect Cana­di­ans' ac­cess to the med­ica­tion they re­ly on," Ha­j­du said in a state­ment.