No­var­tis bags a new eczema drug, builds der­ma­tol­ogy pipeline with Ziar­co buy­out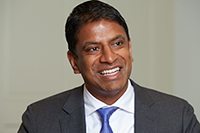 Vas­ant Narasimhan, Glob­al Head Drug De­vel­op­ment and Chief Med­ical Of­fi­cer for No­var­tis
Two days af­ter Pfiz­er won an FDA ap­proval for a new drug for atopic der­mati­tis which it ac­quired in a $5.2 bil­lion buy­out, No­var­tis has stepped in to snap up a mid-stage eczema ri­val that was spun out of the wreck­age Pfiz­er left be­hind at Sand­wich. No­var­tis, which gen­er­al­ly hates to dis­cuss deal terms, is keep­ing the num­bers un­der wraps for now.
The ob­ject of its af­fec­tion is Ziar­co, a 5-year-old up­start that has gath­ered pos­i­tive mid­stage da­ta to­geth­er for ZPL389, an oral drug that achieved sta­tis­ti­cal­ly sig­nif­i­cant re­sults for its H4 re­cep­tor an­tag­o­nist. The Phase IIa de­liv­ered a 50% drop in EASI scores at 8 week, com­pared to 27% for the place­bo. And the SCO­RAD marks reg­is­tered a drop of 43% against 26%. The Phase IIb was slat­ed to start in the sec­ond half of this year.
Those marks were good enough to gain No­var­tis' at­ten­tion af­ter Ziar­co re­port­ed­ly be­gan to hunt for a buy­out last sum­mer which Bloomberg re­port­ed at the time could be worth up to a bil­lion dol­lars in an up­front and mile­stones.
Big Phar­ma has been leap­ing back in­to the atopic der­mati­tis are­na as Re­gen­eron and Sanofi are in the last leg of their odyssey to gain an ap­proval for dupilum­ab, wide­ly tapped as one of the biggest drugs in late-stage de­vel­op­ment. Pfiz­er — one of the orig­i­nal in­vestors in Ziar­co, which al­so like­ly got a close look at the da­ta — ac­quired its new­ly ap­proved atopic der­mati­tis drug in its ac­qui­si­tion of Ana­cor.
Why the in­ter­est? Dupilum­ab has ex­cit­ed a lot of an­a­lysts, some of whom think the drug could fetch up to $5 bil­lion in peak sales, though oth­ers have a more mod­est block­buster fu­ture in mind for Re­gen­eron and Sanofi. Pfiz­er, mean­while, be­lieves its new top­i­cal ther­a­py could earn a cou­ple of bil­lion dol­lars a year.
"We are proud of our der­ma­tol­ogy ca­pa­bil­i­ties shown by the re­cent suc­cess­ful launch­es of Cosen­tyx and Xo­lair," said Vas­ant Narasimhan, the glob­al head of drug de­vel­op­ment at No­var­tis. "Now we're ex­cit­ed about a po­ten­tial new med­i­cine for peo­ple with eczema through the ac­qui­si­tion of Ziar­co and the ad­di­tion of a first-in-class oral H4 re­cep­tor an­tag­o­nist to our grow­ing pipeline."