No­var­tis' biotech shop­ping spree stays fo­cused on the low-bud­get spe­cials of the day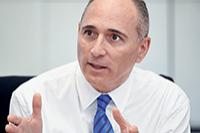 No­var­tis CEO Joe Jimenez
No­var­tis inked a string of ac­qui­si­tions in the fourth quar­ter, but they bare­ly reg­is­tered on the Big Phar­ma Richter scale for M&A. There was a deal worth up to $665 mil­lion for Ok­la­homa City-based Se­lexys. The UK's Ziar­co was swal­lowed whole af­ter shop­ping it­self for around a bil­lion dol­lars. A deal for En­core Vi­sion in Fort Worth wound up the year.
Small, low pro­file com­pa­nies. Small deals. Lit­tle or no de­tails on the num­bers.
That seems to be No­var­tis's sweet spot for now as it nav­i­gates around the pricey shop­ping malls where the big deals for com­pa­nies like Medi­va­tion or Acte­lion can be found. No­var­tis is will­ing to go far off the beat­en trail to find their price spe­cials of the day.
For the record, this kind of dis­count shop­ping doesn't even fit in­to their own busi­ness plan of strik­ing deals in the $2 bil­lion to $5 bil­lion range. They're too small for that. But No­var­tis doesn't sound en­thu­si­as­tic about wag­ing a bid­ding war against the likes of a Pfiz­er or J&J in search of mar­ket­ed or hot­ly sought af­ter late-stage block­busters.
"We look at every­thing, the big­ger the tar­get the high­er the pre­mi­um seems to be right now," No­var­tis CEO Joe Jimenez told Reuters to­day. "We have gone up­stream, and, if you heard, in the fourth quar­ter we an­nounced four trans­ac­tions that were quite ear­ly-stage, but they sup­ple­ment the pipelines of our in­no­v­a­tive med­i­cines di­vi­sions."