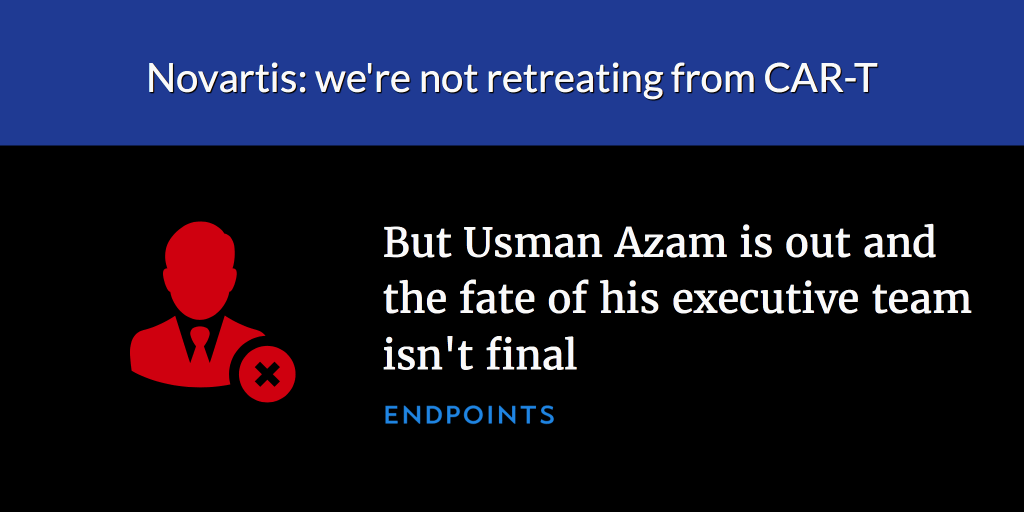 Novartis responded to a report in Endpoints News this morning which outlines the company's decision to purge most of the executive team involved in its pioneering cell and gene therapy unit. According to the company, the decision to cut up to 120 staffers as it redeployed most of the 400 staffers back into its oncology division does not signify any kind of a "retreat."
Novartis is still on track to nab the first FDA OK for a CAR-T to treat pediatric acute lymphoblastic leukemia, asserts a company statement. In addition, the company said that Usman "Oz" Azam, the global chief for this unit, has decided to leave the company, while other team execs involved in the cutback still have a chance to land new jobs at the pharma giant.
Earlier this week Endpoints broke the story that Novartis is disbanding the unit, which had been charged with developing Novartis's CAR-T pipeline, backed with considerable hoopla two years ago in a cover story on CEO Joe Jimenez in Forbes.
This morning, we followed up with a new report after gaining access to the full memo that Azam had written. In it, he noted:
Unfortunately a number of colleagues will be impacted by this change as many positions are being eliminated. Impacted US-based associates are being notified in meetings today. Associates based in Basel will learn more about their individual circumstances on Thursday. The majority of the CGTU Leadership Team members, who are among the best I have worked with, are also impacted.
The company's response, though, is not likely to change the growing perception that the company is pulling back from the field just as the first CAR-T drugs are being prepped for the FDA. Kite is now the widely recognized leader after a recent setback at Juno, with plans to hustle an application to the FDA later this year. And a number of other companies are in the hunt to follow up with new drugs of their own.
Here's the full response:
Novartis is seeking to clarify misinformation in the latest Endpoints report on the re-integration of the Cell & Gene Therapies Unit (CGTU) into the broader Novartis organization.

Contrary to your headline that we are "retreating from CAR-T," our commitment to CAR-T and CRISPR technologies remains strong.  As we have previously stated, CTL019 is on track to be filed with the FDA early next year and with the EMA later in 2017.  In fact, we expect CTL019 will be the first chimeric antigen receptor T-cell (CAR T) therapy to be approved for pediatric acute lymphoblastic leukemia.

Dr. Usman Azam along with his leadership team helped to design the entire re-integration plan. Actions like re-integration into other parts of businesses can cause redundancies in roles, e.g. HR, finance, legal, and that is why some people will leave our organization.  Dr. Azam decided that as part of the re-integration he would like to use this transition to look at new opportunities outside of the company. The CGTU leadership team, along with approximately 120 other associates who will be impacted, have the opportunity to stay at Novartis if there is a role that is available or suitable for them.  It is important to note that most of the CGTU employees will be redeployed to other parts of the company.

At Novartis, we are transforming the company to be more focused with a less-complex, more agile structure. While the CGTU structure was critical to ramp up our capabilities in certain areas like manufacturing, clinical trials and commercialization for a completely new way of treating cancer, now that the company has re-organized under a new operating model, the re-integration of CGTU is the logical next step in our evolution.

The Novartis enterprise has all of the capabilities we need to efficiently re-integrate CGTU into the broader organization: leadership in oncology and hematology specifically, a global commercial and development footprint, a strong enterprise manufacturing organization, as well as support functions to enable a successful transition.

Novartis is proud that we have played a leadership role in advancing the scientific concept of CAR-T to the point where this complex way of treating cancer can become a reality for patients. We look forward to continuing to advance the science and our capabilities in this exciting area of medicine.
---
The best place to read
Endpoints News

? In your inbox.

Comprehensive daily news report for those who discover, develop, and market drugs. Join 47,400+ biopharma pros who read Endpoints News by email every day.

Free Subscription
---
---
---