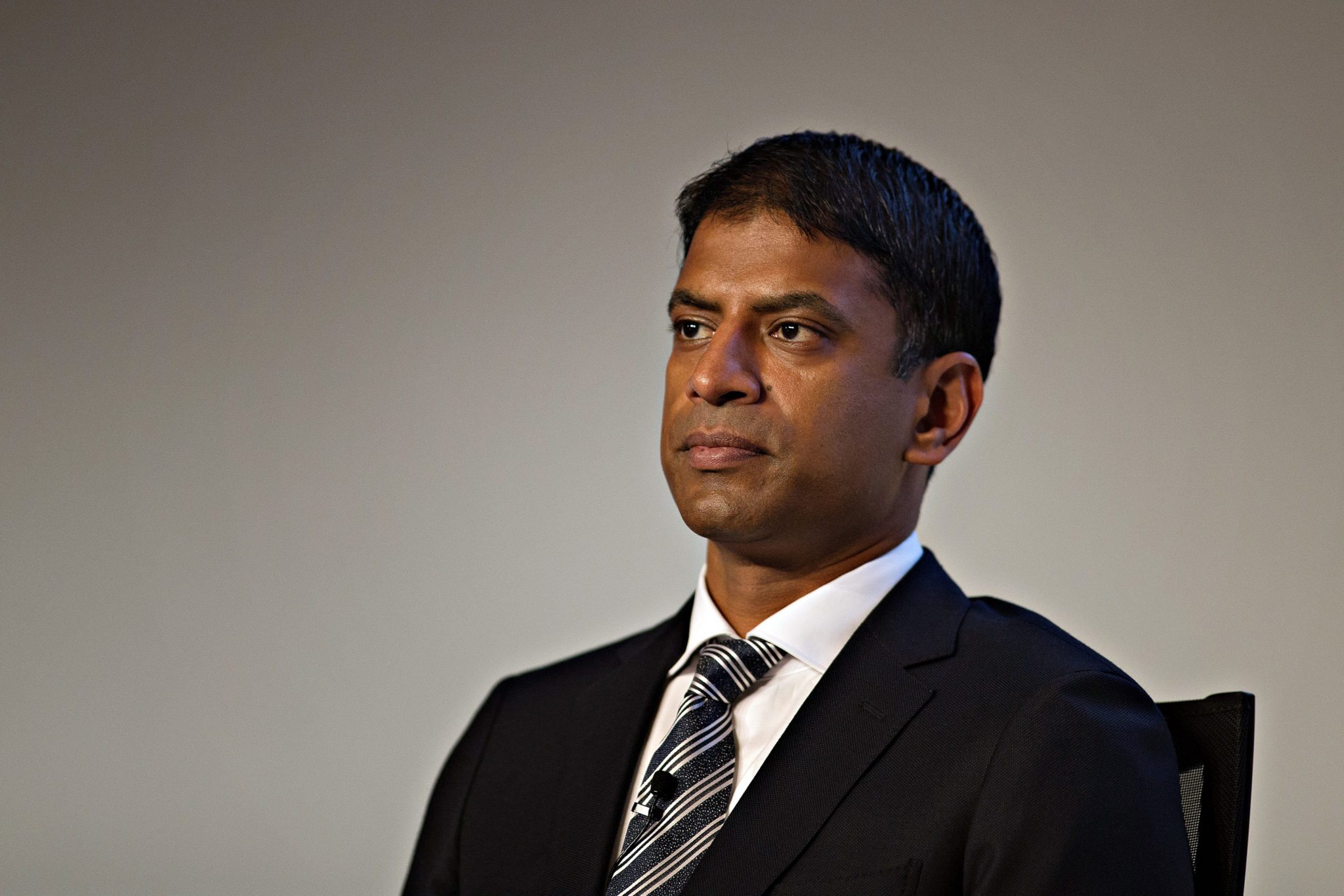 No­var­tis fol­lows up on big CAR-T win by nam­ing Vas Narasimhan as its new CEO
No­var­tis, one of the world's biggest spenders on drug R&D, will soon be run by a de­vel­op­ment ex­pert.
The phar­ma gi­ant an­nounced Mon­day morn­ing that Joe Jimenez is step­ping down in Feb­ru­ary and hand­ing the reins over to 41-year-old Vas Narasimhan, an ex­u­ber­ant ad­vo­cate of cut­ting-edge sci­ence who's been mak­ing his mark with a slate of suc­cess­ful pro­grams for the com­pa­ny's next wave of block­buster drugs.
Narasimhan is now join­ing one of the most ex­clu­sive clubs in bio­phar­ma — CEO of a bio­phar­ma or­ga­ni­za­tion with ac­tiv­i­ties that span the globe. In nam­ing him CEO, the Basel-based com­pa­ny is keep­ing an Amer­i­can at the top. But in­stead of the mar­ket­ing or le­gal back­ground of most of his peers, Narasimhan brings ex­pe­ri­ence in new prod­uct de­vel­op­ment.
His ap­point­ment came fast on the heels of an his­toric ap­proval of Kym­ri­ah (ti­s­agen­le­cleu­cel), the world's first CAR-T ther­a­py, wide­ly cel­e­brat­ed as a key sci­en­tif­ic break­through with pro­found ther­a­peu­tic po­ten­tial.
But the de­vel­op­ment chief has al­so had some suc­cess with canakinum­ab, an an­ti-in­flam­ma­to­ry ther­a­py for heart dis­ease, along with new late-stage drug for mi­graine headaches part­nered with Am­gen, BAF312 (sipon­i­mod) for re­laps­ing mul­ti­ple scle­ro­sis, a slate of biosim­i­lars, and add-on da­ta for port­fo­lio ther­a­pies like the pso­ri­a­sis drug Con­sen­tyx.
To be sure, there have been set­backs along the way (sere­lax­in, for ex­am­ple). But Narasimhan has presided over one of the biggest pipelines in the busi­ness for the past 18 months and an R&D ef­fort that con­sumed $9 bil­lion last year alone.
In mak­ing the move, the en­gag­ing Narasimhan will al­so be work­ing close­ly with a board that has a rep for their rest­less search for cost ef­fi­cien­cies wher­ev­er they can be found. The com­pa­ny has lost a long stream of top tal­ent in the last few years, but it's al­so re­cruit­ed a new gen­er­a­tion of sci­en­tists like Jay Brad­ner out of Dana-Far­ber.
The big ques­tion now is how Narasimhan will change things in R&D now that he has his hand on the tiller. Every new CEO in the busi­ness this past year — and we've seen a stream of them at GSK, Eli Lil­ly, Bio­gen and more — start­ed by re­struc­tur­ing their pipelines and ini­ti­at­ing a new round of deals. Now it's Narasimhan's turn to put his stamp on No­var­tis af­ter Jimenez has shunned big in­dus­try M&A — in a mar­ket where even mid-sized bolt-ons can look un­ap­peal­ing.
Narasimhan took the job pledg­ing that the com­pa­ny would con­tin­ue its glob­al ef­fort to nail down piv­otal da­ta on game-chang­ing drugs — the kind of ther­a­pies that can make a big dif­fer­ence for pa­tients, and earn bil­lions in rev­enue.
His state­ment:
We will con­tin­ue our lega­cy of bring­ing lead­ing in­no­va­tion to pa­tients around the world. With our re­cent launch­es, our strong pipeline, broad ca­pa­bil­i­ties, world-class lead­er­ship team, and com­mit­ted peo­ple, I am very con­fi­dent about our fu­ture.
---
Vas­ant Narasimhan at a Jan­u­ary 2017 news con­fer­ence in Basel Michele Lim­i­na/Bloomberg