No­var­tis gets a speedy re­view for its CAR-T pi­o­neer as FDA lines up a mar­ket­ing de­ci­sion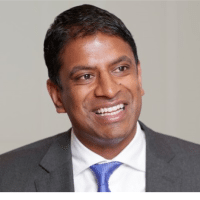 Vas­ant Narasimhan, No­var­tis
No­var­tis $NVS has pulled in­to the in­side track at the FDA with its CAR-T CTL019, pick­ing up a pri­or­i­ty re­view from the agency that will land a mar­ket­ing de­ci­sion for re­lapsed and re­frac­to­ry (r/r) pe­di­atric and young adult pa­tients with B-cell acute lym­phoblas­tic leukemia.
The pi­o­neer­ing ap­pli­ca­tion comes as we wait for Kite to make its move at the agency af­ter be­ing forced to wait for 6-month da­ta on its ri­val CAR-T. Kite $KITE has promised to fin­ish its rolling ap­pli­ca­tion by the end of Q1, now just days away. And a spokesper­son for Kite tells me now that the biotech is on track to wrap the sub­mis­sion by Fri­day.
The pri­or­i­ty re­view leaves No­var­tis in shoot­ing range of the world's first ap­proval for a CAR-T, which takes T-cells from pa­tients and then en­gi­neers them to at­tack can­cer cells. Blood can­cers proved to be the best, ear­ly tar­gets in the field, which has seen a line­up of com­pa­nies jump in on the promise of dra­mat­ic re­spons­es for some pa­tients.
No­var­tis pushed ahead in CAR-T af­ter stun­ning the in­dus­try with its de­ci­sion last sum­mer to dis­solve its cell and gene ther­a­py unit, a sto­ry we broke just af­ter launch­ing End­points News. The phar­ma gi­ant in­sist­ed that the sud­den sharp turn, which prompt­ed the unit's chief, Us­man "Oz" Azam, to join an ex­o­dus of ex­ecs out of No­var­tis over the past year, wouldn't side­track its pro­grams.
But it's def­i­nite­ly in a tight race for the fin­ish line.
The progress of these ear­ly lead­ers hasn't come eas­i­ly. Juno was once in the lead pack, un­til its fron­trun­ner was side­tracked twice by pa­tient deaths which it nev­er ful­ly ex­plained. Now that lead pro­gram has been shelved as Juno switch­es fo­cus to the next ther­a­py in the pipeline, hand­ing the lead to No­var­tis and Kite.
No­var­tis says it's prep­ping an EMA ap­pli­ca­tion and plans ad­di­tion­al fil­ings for CTL019 in the US and EU mar­kets lat­er this year, in­clud­ing a BLA with the FDA for treat­ment of adults with r/r dif­fuse large B-cell lym­phoma (DL­B­CL) and ap­pli­ca­tions for mar­ket­ing au­tho­riza­tion with the EMA in r/r B-cell ALL and r/r DL­B­CL.
Wed­bush's David Nieren­garten re­cent­ly spec­u­lat­ed that Kite's da­ta up­date put it in line for a late 2017 ap­proval, shift­ing the fo­cus to pric­ing. He not­ed:
"(W)e note to jus­ti­fy the cur­rent mar­ket cap­i­tal­iza­tion, we would re­quire ei­ther a price point of $500,000 per course or up to 50% mar­ket share (or some com­bi­na­tion), both of which, while pos­si­ble, we be­lieve is less like­ly."
But some an­a­lysts start this bid­ding at $250,000.
Who­ev­er gets on­to the mar­ket first will have a big edge in set­ting the price for these first wave drugs.
"With CTL019, No­var­tis is at the fore­front of the sci­ence and de­vel­op­ment of im­muno­cel­lu­lar ther­a­py as a po­ten­tial new in­no­v­a­tive ap­proach to treat­ing cer­tain can­cers where there are lim­it­ed op­tions," said Vas Narasimhan, Glob­al Head of Drug De­vel­op­ment and Chief Med­ical Of­fi­cer, No­var­tis. "The pri­or­i­ty re­view and file ac­cep­tance of CTL019 by the FDA brings us one step clos­er to de­liv­er­ing this nov­el treat­ment op­tion to chil­dren and young adults with r/r B-cell ALL in the Unit­ed States."