No­var­tis is keep­ing JULI­ET in hid­ing, but the FDA takes a peek and hands over a 'break­through' ti­tle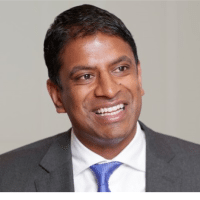 Vas­ant Narasimhan
There's been con­sid­er­able spec­u­la­tion of late about the da­ta No­var­tis has col­lect­ed from its JULI­ET study in­volv­ing its close­ly-watched CAR-T drug. The phar­ma gi­ant isn't the best at com­mu­ni­cat­ing with the out­side world and won't say what it has seen so far or when ex­act­ly it will be put on dis­play. But they have qui­et­ly giv­en the FDA a peek, and reg­u­la­tors seem im­pressed.
In fact, the FDA has now hand­ed over their break­through ther­a­py des­ig­na­tion for CTL019 as a new ther­a­py for dif­fuse large B-cell lym­phoma.
What's the big deal?
BTDs are in­creas­ing­ly com­mon, but this one is a bit dif­fer­ent than your run-of-the-mill open door promise at the agency. While No­var­tis and Kite have been run­ning neck and neck to get the first pi­o­neer­ing ap­proval for a CAR-T, No­var­tis is tak­ing its first shot at chil­dren with acute lym­phoblas­tic leukemia while Kite shoots for DL­B­CL. Kite has put its DL­B­CL da­ta up for the world to see, at 3 and 6 months, and now CAR-T ob­servers want to see how they match up in the com­ing ri­val­ry.
The FDA's BTD in­di­cates that No­var­tis has a good shot at it, but a tac­it en­dorse­ment like this is no guar­an­tee that CTL019 is any bet­ter than KTE-C19, al­so known as axi-cel. Af­ter all, the FDA al­ready hand­ed out break­through sta­tus to Kite's drug for DL­B­CL, trans­formed fol­lic­u­lar lym­phoma and pri­ma­ry me­di­asti­nal b-cell lym­phoma.
We'll have to wait for an un­spec­i­fied sci­en­tif­ic con­fer­ence to find out what No­var­tis has been keep­ing se­cret.
In the mean­time Juno has been re­or­ga­niz­ing its CAR-T R&D group, a sto­ry End­points News broke on Sun­day evening, with the hire of Sunil Agar­w­al as the new head of re­search. Juno had to shelve its lead pro­gram af­ter it killed 5 pa­tients in clin­i­cal tri­als. The biotech has fall­en more than a year be­hind the two lead­ers in the field.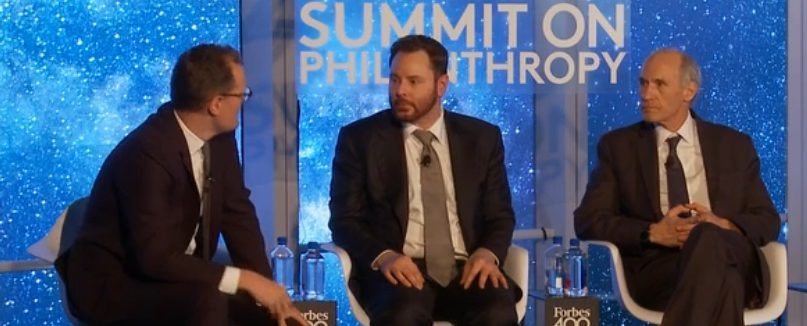 Forbes' Matt Her­p­er (left) with Sean Park­er and Dr. Carl June (right) –

screen­shot
---
"We are en­cour­aged by the FDA's recog­ni­tion in the po­ten­tial of CTL019 for this in­di­ca­tion, which fol­lows our promis­ing stud­ies of this ther­a­py for ALL and the FDA fil­ing by No­var­tis in pe­di­atric and young adult ALL that re­ceived pri­or­i­ty re­view," said Penn's Carl June, di­rec­tor of the Cen­ter for Cel­lu­lar Im­munother­a­pies at the uni­ver­si­ty's Perel­man School of Med­i­cine.