No­var­tis promis­es a speedy CAR-T pitch, boasts about its slate of block­busters-to-be
No­var­tis sent out a loud and clear mes­sage this morn­ing: De­spite fold­ing its stand­alone cell ther­a­py unit, the phar­ma gi­ant says it re­mains on track to de­liv­er an ap­pli­ca­tion for its CAR-T CTL-019 for pe­di­atric acute lym­phoblas­tic leukemia "in ear­ly 2017." And an ap­pli­ca­tion for dif­fuse large B cell lym­phoma is due in the sec­ond half of next year, which could put it well be­hind ri­val Kite Phar­ma. At the same time, the phar­ma gi­ant — now un­der as­sault from gener­ic com­pe­ti­tion — boast­ed about a dozen late-stage pro­grams with block­buster po­ten­tial to earn more than a bil­lion dol­lars a year.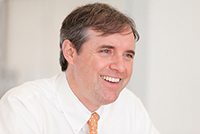 James Brad­ner, Pres­i­dent, No­var­tis In­sti­tutes for Bio­Med­ical Re­search (NI­BR)
The lat­est CAR-T up­date is on one of the slides on of­fer this morn­ing for the Q3 re­view, as No­var­tis looks to re­as­sure in­vestors that a re­cent de­ci­sion to in­te­grate the cell and gene ther­a­py unit in its re­search or­ga­ni­za­tion — elim­i­nat­ing about 120 po­si­tions — has not de­railed its de­vel­op­ment ef­fort on the CAR-T front, where T cells are reengi­neered to tar­get can­cer cells.
No­var­tis had ea­ger­ly high­light­ed the biotech-like agili­ty of its in­de­pen­dent unit when it was es­tab­lished. But ques­tions have been grow­ing about just how well the pipeline of cell ther­a­pies has been ad­vanc­ing, es­pe­cial­ly af­ter ex­ecs or­dered the unit to be dis­solved. That move was quick­ly fol­lowed by No­var­tis' de­ci­sion to cull the ranks of its R&D op­er­a­tion as it con­cen­trat­ed ef­forts in a few key hubs, search­ing for cost sav­ings by stream­lin­ing the or­ga­ni­za­tion.
Kite wants to file the first ap­pli­ca­tion for a CAR-T ap­proval in DL­B­CL be­fore the end of this year, pro­vid­ed the FDA al­lows it. Crit­ics, though, have won­dered if de­clin­ing re­sponse rates and a de­mand for more ma­ture da­ta will slow or scut­tle Kite's play. Kite CEO Arie Bellde­grun re­cent­ly told me that even if the FDA wants to wait to see 6-month re­sults, they'll have that in Feb­ru­ary. And he's con­fi­dent that Kite can gain the first-mover ad­van­tage in the field.
Juno Ther­a­peu­tics, mean­while, had to post­pone its plans for an ap­pli­ca­tion this year af­ter its CAR-T drugs killed 4 peo­ple in two dif­fer­ent stud­ies, forc­ing re­searchers to drop flu­dara­bine from the drug reg­i­men used to prep pa­tients to pre­vent a lethal­ly tox­ic re­ac­tion to the ther­a­py. Now lag­ging be­hind in third place, the one­time con­tender has had to ad­just its po­si­tion on the im­por­tance of be­ing in the lead. In a re­cent in­ter­view with the Econ­o­mist, Juno CEO Hans Bish­op said be­ing first isn't im­por­tant.
Both Kite and Juno al­so know that these pi­o­neer CAR-T ther­a­pies are deeply flawed and will quick­ly be over­tak­en by new tech­nolo­gies that amp up ef­fi­ca­cy and damp down safe­ty threats. Even­tu­al­ly, they al­so are look­ing to ad­vance off-the-shelf ther­a­pies that can re­place the per­son­al­ized meds that re­ly on pa­tient's T cells.
An­a­lysts will be look­ing for some signs to­day that No­var­tis will be able to per­form in the sec­ond and third waves to come, when its cut­ting edge treat­ment will start to dull in com­par­i­son. With cell ther­a­py leader Oz Azam and oth­ers from the old unit now leav­ing No­var­tis, that will take some con­vinc­ing on their part.
Here's its hit list of block­buster con­tenders and the time­line for hus­tling them to reg­u­la­tors:
There's the CDK4/6 breast can­cer drug LEE011 (ri­bo­ci­clib), which has wrapped Phase III.
BAF312 (sipon­i­mod) for sec­ondary pro­gres­sive mul­ti­ple scle­ro­sis has al­so com­plet­ed late-stage de­vel­op­ment.
Next up is Fo­vista, an ap­tamer an­ti-PDGF in-li­censed from Oph­thotech that will read out in the piv­otal tri­al for neo­vas­cu­lar AMD dur­ing this quar­ter.
AMG 334 (part­nered with Am­gen), a CGRP re­cep­tor ag­o­nist for mi­graine, al­so reads out this quar­ter.
RLX030 (sere­lax­in) is on track for an H1 2017 read­out for heart fail­ure, a big fo­cus at No­var­tis.
RTH258 (brolu­cizum­ab) for neo­vas­cu­lar AMD al­so reads out in H1.
ACZ885 (canakinum­ab, Ilarus) should see piv­otal da­ta for CV risk re­duc­tion next year.
Cosen­tyx (AIN457) is on track to read out in 2018 for non-ra­di­ograph­ic ax­i­al SpA.
QVM149 should wrap up in asth­ma in 2018.
En­tresto will read out in a new in­di­ca­tion — heart fail­ure with pre­served EF — in 2019.
QAW039 (fe­vip­iprant) com­pletes on asth­ma in 2019.
And OMB157 (ofa­tu­mum­ab) rounds out the 2019 pro­jec­tion for re­laps­ing mul­ti­ple scle­ro­sis.