Novartis sent out a loud and clear message this morning: Despite folding its standalone cell therapy unit, the pharma giant says it remains on track to deliver an application for its CAR-T CTL-019 for pediatric acute lymphoblastic leukemia "in early 2017." And an application for diffuse large B cell lymphoma is due in the second half of next year, which could put it well behind rival Kite Pharma. At the same time, the pharma giant — now under assault from generic competition — boasted about a dozen late-stage programs with blockbuster potential to earn more than a billion dollars a year.
The latest CAR-T update is on one of the slides on offer this morning for the Q3 review, as Novartis looks to reassure investors that a recent decision to integrate the cell and gene therapy unit in its research organization — eliminating about 120 positions — has not derailed its development effort on the CAR-T front, where T cells are reengineered to target cancer cells.
Novartis had eagerly highlighted the biotech-like agility of its independent unit when it was established. But questions have been growing about just how well the pipeline of cell therapies has been advancing, especially after execs ordered the unit to be dissolved. That move was quickly followed by Novartis' decision to cull the ranks of its R&D operation as it concentrated efforts in a few key hubs, searching for cost savings by streamlining the organization.
Kite wants to file the first application for a CAR-T approval in DLBCL before the end of this year, provided the FDA allows it. Critics, though, have wondered if declining response rates and a demand for more mature data will slow or scuttle Kite's play. Kite CEO Arie Belldegrun recently told me that even if the FDA wants to wait to see 6-month results, they'll have that in February. And he's confident that Kite can gain the first-mover advantage in the field.
Juno Therapeutics, meanwhile, had to postpone its plans for an application this year after its CAR-T drugs killed 4 people in two different studies, forcing researchers to drop fludarabine from the drug regimen used to prep patients to prevent a lethally toxic reaction to the therapy. Now lagging behind in third place, the onetime contender has had to adjust its position on the importance of being in the lead. In a recent interview with the Economist, Juno CEO Hans Bishop said being first isn't important.
Both Kite and Juno also know that these pioneer CAR-T therapies are deeply flawed and will quickly be overtaken by new technologies that amp up efficacy and damp down safety threats. Eventually, they also are looking to advance off-the-shelf therapies that can replace the personalized meds that rely on patient's T cells.
Analysts will be looking for some signs today that Novartis will be able to perform in the second and third waves to come, when its cutting edge treatment will start to dull in comparison. With cell therapy leader Oz Azam and others from the old unit now leaving Novartis, that will take some convincing on their part.
Here's its hit list of blockbuster contenders and the timeline for hustling them to regulators:
There's the CDK4/6 breast cancer drug LEE011 (ribociclib), which has wrapped Phase III.
BAF312 (siponimod) for secondary progressive multiple sclerosis has also completed late-stage development.
Next up is Fovista, an aptamer anti-PDGF in-licensed from Ophthotech that will read out in the pivotal trial for neovascular AMD during this quarter.
AMG 334 (partnered with Amgen), a CGRP receptor agonist for migraine, also reads out this quarter.
RLX030 (serelaxin) is on track for an H1 2017 readout for heart failure, a big focus at Novartis.
RTH258 (brolucizumab) for neovascular AMD also reads out in H1.
ACZ885 (canakinumab, Ilarus) should see pivotal data for CV risk reduction next year.
Cosentyx (AIN457) is on track to read out in 2018 for non-radiographic axial SpA.
QVM149 should wrap up in asthma in 2018.
Entresto will read out in a new indication — heart failure with preserved EF — in 2019.
QAW039  (fevipiprant) completes on asthma in 2019.
And OMB157 (ofatumumab) rounds out the 2019 projection for relapsing multiple sclerosis.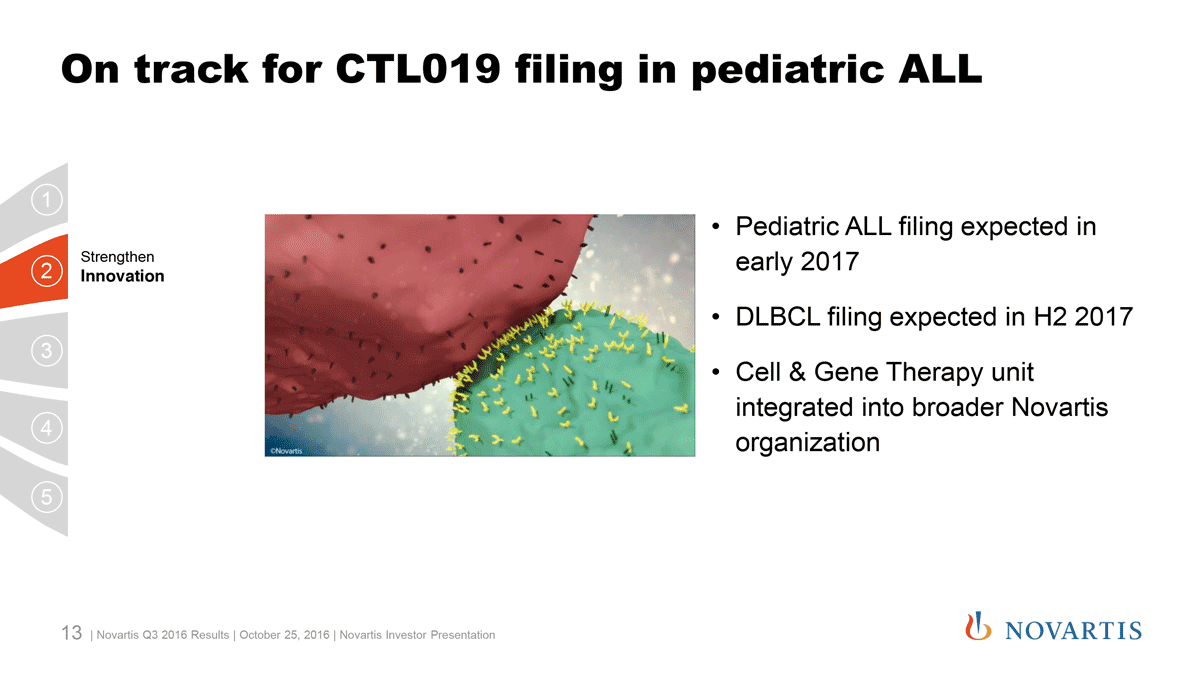 ---
The best place to read
Endpoints News

? In your inbox.

Comprehensive daily news report for those who discover, develop, and market drugs. Join 44,100+ biopharma pros who read Endpoints News by email every day.

Free Subscription
---
---
---