Num­ber 7? Cel­gene part­ner BeiGene joins the crowd with stel­lar PD-1/L1 da­ta from a piv­otal test
Get ready for the sec­ond wave of PD-1/L1 check­point in­hibitors.
BeiGene $BGNE an­nounced just ahead of the start of the week in Bei­jing that their PD-1 tislelizum­ab — part­nered with Cel­gene $CELG — scored stel­lar da­ta in a small Phase II tri­al for clas­si­cal Hodgkin's lym­phoma among pa­tients who had ei­ther failed or couldn't take au­tol­o­gous stem cell trans­plan­ta­tion. This is their first piv­otal tri­al, and it un­der­scores why Cel­gene inked a $1.4 bil­lion deal to buy in­to the drug — which may end up as the 7th new check­point to hit the glob­al mar­ket.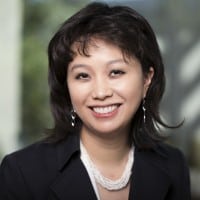 Jane Huang
This is a very fa­mil­iar are­na for the check­point field. Bris­tol-My­ers Squibb's Op­di­vo gained an ac­cel­er­at­ed ap­proval back in 2016 for cHL — with a 7% rate of CRs — and Mer­ck was close be­hind with an OK a year ago as a 4th line ther­a­py fol­low­ing promis­ing re­sults for Keytru­da.
BeiGene, though, would be first in Chi­na, with a sol­id show­ing un­der­scor­ing their drug's po­ten­tial.
In this new case their drug hit an ob­jec­tive re­sponse rate of 73%, with a 50% CR, and the me­di­an du­ra­tion of re­sponse — over a 6-month av­er­age fol­low-up — had not been reached.
The transpa­cif­ic BeiGene plans to hus­tle up an ap­pli­ca­tion in Chi­na while they work with Cel­gene on a late-stage pro­gram that in­cludes tri­als for "non-small cell lung can­cer, he­pa­to­cel­lu­lar car­ci­no­ma, and esophageal squa­mous cell car­ci­no­ma; as well as two glob­al Phase 2 tri­als in pa­tients with pre­vi­ous­ly treat­ed he­pa­to­cel­lu­lar car­ci­no­ma or with R/R ma­ture T-and NK-cell lym­phomas, and an ad­di­tion­al piv­otal Phase 2 tri­al in Chi­na in urothe­lial can­cer."
That's not all.
BeiGene al­so an­nounced that af­ter dis­cus­sions with the FDA they're prep­ping an NDA for the first half of 2019 with plans to pur­sue an ac­cel­er­at­ed ap­proval of their drug zanubru­ti­nib for pa­tients with Walden­ström macroglob­u­line­mia based on their glob­al Phase I study. "A fi­nal de­ter­mi­na­tion to sub­mit the NDA will be made sub­se­quent to the pre-NDA meet­ing with FDA af­ter ob­tain­ing ma­ture da­ta from the study this fall."
Right now there are 5 PD-1/L1 check­points on the mar­ket. Re­gen­eron $REGN and Sanofi $SNY plan to make that 6. And BeiGene looks well po­si­tioned to hit the 7th spot. As of now, there are still hun­dreds of on­go­ing tri­als, in­clud­ing a mob of com­bo stud­ies, as Mer­ck dukes it out with Bris­tol-My­ers for the top po­si­tion of a grow­ing mega­mar­ket. As of now, Mer­ck looks set to take the lead with a string of suc­cess­es in front­line lung can­cer.
Many of these new check­points are be­ing stud­ied in Chi­na, where a group of deep-pock­et in­vestors have been birthing new bio­phar­ma com­pa­nies look­ing to fill the gap of drug tech that sep­a­rates the boom­ing Asian mar­ket with the West.
But there are al­so more than 150 of these ex­per­i­men­tal PD-1/L1 drugs in the glob­al pipeline, ac­cord­ing to re­search from the Can­cer Re­search In­sti­tute, and even­tu­al­ly the world will ei­ther run out of un­chart­ed on­col­o­gy ter­rain, mar­ket po­ten­tial or pa­tients look­ing to en­roll in a tri­al. Then the new ar­rivals will ei­ther shriv­el or the whole mar­ket will be swift­ly com­modi­tized with mul­ti­ple play­ers.
That line, though, has not yet been reached.
"We are ex­cit­ed to an­nounce the pre­lim­i­nary topline re­sults from our first piv­otal tri­al for tislelizum­ab. De­spite short fol­low-up, we be­lieve there was a demon­stra­tion of ro­bust ac­tiv­i­ty, with high over­all and com­plete re­sponse rates in ad­di­tion to a safe­ty pro­file that is con­sis­tent with oth­er PD-1 in­hibitors. We be­lieve these strong re­sults will sup­port our first reg­u­la­to­ry fil­ing in Chi­na for tislelizum­ab, which is planned for lat­er this year," com­ment­ed Jane Huang, chief med­ical of­fi­cer, hema­tol­ogy, at BeiGene.