One of Kite Phar­ma's CAR-T pa­tients died from cere­bral ede­ma, trig­ger­ing a safe­ty alarm
Kite Phar­ma re­vealed to­day that one of the pa­tients in their late-stage pro­gram for the CAR-T drug KTE-C19 died from cere­bral ede­ma, the same brain swelling con­di­tion that went on to scut­tle Juno Ther­a­peu­tics' lead drug.
In a call with an­a­lysts for their Q1 re­port, the close­ly-watched biotech $KITE said that they had in­formed the FDA and there was no pause or halt to the study. The death in late April, though, clear­ly raised a red flag for an­a­lysts af­ter Kite had man­aged to get all the way through a piv­otal pro­gram with­out a death due to cere­bral ede­ma af­ter treat­ing hun­dreds of pa­tients.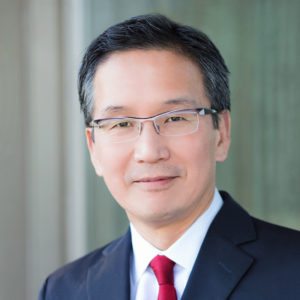 David Chang, Kite
"It took about two days of pro­gres­sive­ly wors­en­ing neu­ro­log­i­cal events," com­ment­ed Kite CMO David Chang. "In this time the pa­tient's over­all con­di­tion was de­te­ri­o­rat­ing."
"This pa­tient had re­frac­to­ry non-Hodgkin lym­phoma," added Chang. "At the time of en­roll­ment he had ex­plo­sive dis­ease that was rapid­ly pro­gress­ing and had a lot of symp­toms from the tu­mor." There was fever, con­cerns about un­der­ly­ing in­fec­tions – though tests came back neg­a­tive — and "pret­ty rapid­ly pro­gress­ing dis­ease."
In an email, a spokesper­son for Kite not­ed that "we don't see any safe­ty con­cerns. All axi-cel and KTE-C19 de­vel­op­ment stud­ies con­tin­ue as planned. As a re­minder, over­all in­ci­dence of KTE-C19 re­lat­ed grade 5 events stands at 2% in ap­prox­i­mate 200 pa­tients treat­ed in our study sup­ports the ben­e­fit of axi-cel and KTE-C19. If pa­tients treat­ed in the NCI stud­ies are in­clud­ed, over 300 pa­tients have been treat­ed with KTE-C19."
Kite's shares dropped 10% as news of the death spread.
Kite had want­ed to fo­cus to­day pri­mar­i­ly on its com­mer­cial­iza­tion plans for this drug, look­ing to a pos­si­ble FDA ap­proval lat­er in the year. But af­ter Juno was forced to shelve JCAR015 af­ter it killed 5 pa­tients who suf­fered cere­bral ede­ma, the news clear­ly cap­tured an­a­lysts' at­ten­tion.
The FDA quick­ly lift­ed their first clin­i­cal hold on Juno's drug af­ter the first three deaths, in­di­cat­ing reg­u­la­tors' al­lowance for the ad­vanced state most of these can­cer pa­tients are in when they get in­to a CAR-T study. When two more pa­tients died soon af­ter the hold was lift­ed, though, that ex­pe­ri­ence could raise ques­tions of whether reg­u­la­tors may have be­come more sen­si­tive to the safe­ty is­sues in­volved with these drugs.
Juno had ini­tial­ly blamed the first group of deaths on the use of flu­dara­bine dur­ing the pre­con­di­tion­ing reg­i­men pa­tients go through to make them more re­cep­tive to cell ther­a­py. So they dropped it, then saw more pa­tients die. The flu/cy com­bo, though, was used by Kite and oth­ers. Kite be­lieves it has just the right mix to gain ef­fi­ca­cy with­out cre­at­ing un­rea­son­able safe­ty is­sues.
These drugs — reengi­neered T cells tak­en from pa­tients and then re­in­fused — have had safe­ty is­sues from the very be­gin­ning, with a num­ber of pa­tients suf­fer­ing from cy­tokine storms that oc­ca­sion­al­ly turned lethal.
Chang said that they would con­tin­ue to con­sid­er the ef­fi­ca­cy and safe­ty of the drug as more stud­ies pro­ceed.