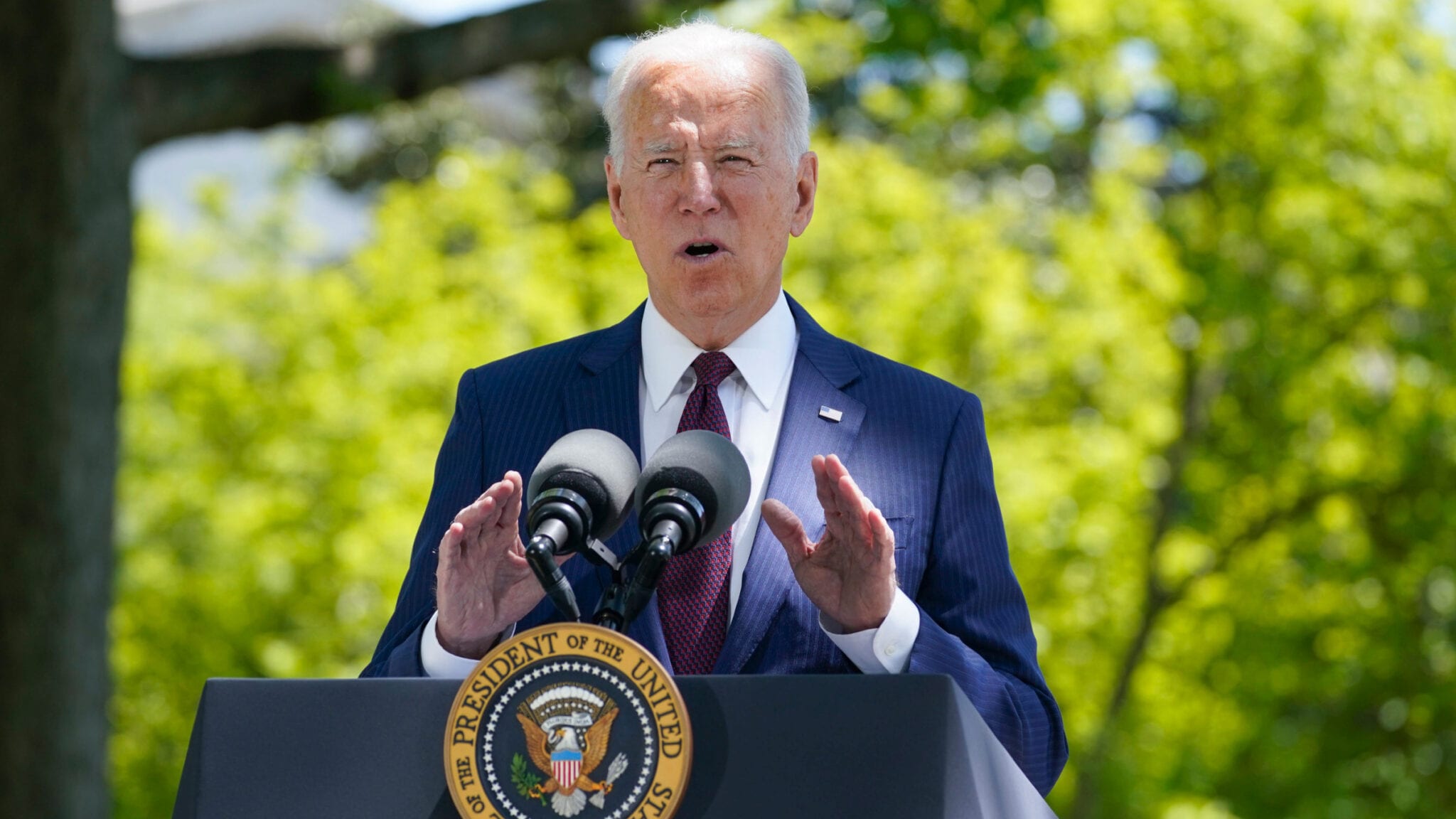 Joe Biden on the North Lawn of the White House, April 27, 2020 (Evan Vucci/AP Images)
Opin­ion: Mean­ing­ful drug pric­ing re­forms are head­ed nowhere fast
Pres­i­dent Biden is tak­ing a page out of for­mer Pres­i­dent Trump's drug pric­ing play­book: of­fer big promis­es around tough ne­go­ti­a­tions with drug­mak­ers, but fail to of­fer a vi­able path for get­ting it done.
Warn­ing signs that drug pric­ing would no longer be a pri­or­i­ty for the pres­i­dent's mar­quee leg­is­la­tion came over the past week from the Wash­ing­ton Post and Wall Street Jour­nal. To the cha­grin of House Speak­er Nan­cy Pelosi (D-CA) and oth­er De­moc­rats, Pres­i­dent Biden's mas­sive, $1.8 tril­lion so­cial safe­ty net plan to help Amer­i­can fam­i­lies, de­tails of which were un­veiled Wednes­day morn­ing, does not in­clude a ma­jor push to cur­tail drug prices.
Al­though Biden is sup­posed to of­fer more specifics in his speech to Con­gress tonight, in­clud­ing a de­mand for leg­is­la­tion on price ne­go­ti­a­tions this year, stand­alone leg­is­la­tion on ne­go­ti­a­tions is not like­ly to make head­way in the dead­locked Sen­ate, es­pe­cial­ly if it needs 60 votes for pas­sage.
Biden whiffed on an op­por­tu­ni­ty to spell out what he wants in writ­ing.
"Pres­i­dent Biden has a plan to build on the Af­ford­able Care Act and low­er pre­scrip­tion drug costs for every­one by let­ting Medicare ne­go­ti­ate prices," the White House said Wednes­day. That was the on­ly men­tion of drug prices in the White House fact sheet on the safe­ty net over­haul.
Se­nior Biden of­fi­cials tried to down­play this gap­ing hole where Biden should ex­plain what he wants on drug prices, telling re­porters on a call on Tues­day evening that Biden "has been very, very clear that he re­mains ful­ly com­mit­ted to ne­go­ti­a­tions to re­duce pre­scrip­tion drug prices — that, you will hear him re­it­er­ate as a very top pri­or­i­ty and some­thing he deems ur­gent."
But the broad­er nar­ra­tive is that drug pric­ing as a pri­or­i­ty is slip­ping, and no one knows why ex­act­ly, con­sid­er­ing the sup­port from House and Sen­ate De­moc­rats and even some Re­pub­li­cans. Per­haps the phar­ma­ceu­ti­cal lob­by has al­ready got­ten to Biden? Per­haps the Biden team doesn't want to pun­ish drug­mak­ers af­ter how quick­ly they were able to de­vel­op Covid vac­cines?
What­ev­er the rea­son, those as­sur­ances from se­nior staffers mean very lit­tle as the House and Sen­ate re­main di­vid­ed on how to pur­sue drug prices. House De­moc­rats last week rein­tro­duced their land­mark (or dead in the wa­ter, de­pend­ing on which par­ty you lis­ten to) drug pric­ing bill, HR 3, which passed along par­ty lines in the House in De­cem­ber 2019 but was nev­er con­sid­ered by the Sen­ate.
At­tempts to re­vive that bill and oth­ers will be­gin in earnest next week at a House En­er­gy & Com­merce Com­mit­tee hear­ing. But if drug pric­ing leg­is­la­tion is re­al­ly go­ing to make head­way, the Sen­ate will need to weigh in.
Some Sen­ate Re­pub­li­cans have al­ready raised red flags about gov­ern­ment price ne­go­ti­a­tions (even as the US is the on­ly coun­try in the world to not ne­go­ti­ate) and fo­cused their plans in­stead on low­er­ing out-of-pock­et costs.
How the leg­is­la­tion makes it across the fin­ish line re­mains murky, but the need for such leg­is­la­tion is as clear as ever.
A new GAO analy­sis on Wednes­day found that for 20 brand-name drugs in 2020, es­ti­mat­ed US prices paid at the re­tail lev­el by con­sumers and oth­er pay­ers (such as in­sur­ers) were more than two to four times high­er than prices in Aus­tralia, Cana­da and France.