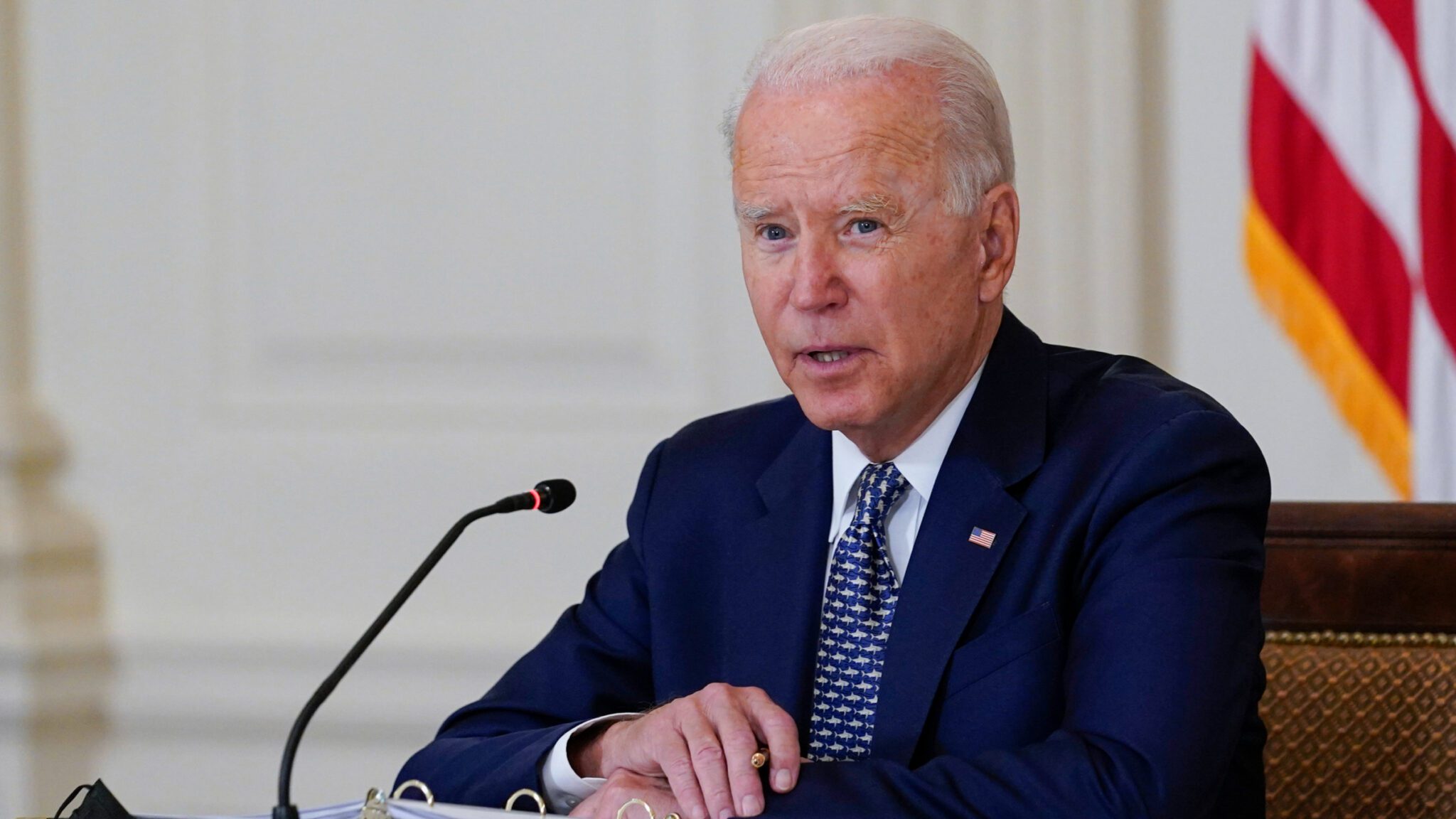 Joe Biden (AP Photo/Susan Walsh)
Opin­ion: Plen­ty of qual­i­fied peo­ple are ready to run the FDA. Time for Biden to choose one
As the Delta vari­ant ramps up and the FDA pre­pares to ful­ly ap­prove Covid-19 vac­cines and quick­ly re­view boost­er shots this fall, the agency des­per­ate­ly needs a per­ma­nent com­mis­sion­er.
Al­though FDA of­fi­cials have re­as­sured the pub­lic that their jobs con­tin­ue as ex­pect­ed, even with­out a per­ma­nent leader for more than 200 days now, there's no ques­tion that hav­ing a Sen­ate-con­firmed head for FDA is ex­treme­ly im­por­tant dur­ing a once-in-a-cen­tu­ry pan­dem­ic, and even more so to de­vel­op longer-term, agency-wide strate­gies to help pre­pare for the next pan­dem­ic.
The White House doesn't seem to have the votes (or doesn't want a Re­pub­li­can-led con­fir­ma­tion) to tran­si­tion Janet Wood­cock and her four decades of FDA ex­pe­ri­ence from act­ing to per­ma­nent sta­tus. The opi­oid cri­sis and oth­er de­ci­sions she made while lead­ing CDER (e.g., Sarep­ta's eteplirsen and Bio­gen's ad­u­canum­ab ap­provals) weigh on her nom­i­na­tion, with at least one De­mo­c­ra­t­ic sen­a­tor, Joe Manchin of West Vir­ginia, pub­licly call­ing on Biden not to nom­i­nate Wood­cock.
But Wood­cock can re­main in her cur­rent, act­ing role un­til about mid-No­vem­ber, and it seems like the Biden ad­min­is­tra­tion has every in­ten­tion to run out the clock on her tenure, even if she isn't nom­i­nat­ed for the per­ma­nent spot in the end.
Strange­ly, the ad­min­is­tra­tion has con­sis­tent­ly be­moaned the lack of promis­ing FDA com­mis­sion­er can­di­dates, even as the White House has had plen­ty of time to se­lect and vet qual­i­fied can­di­dates.
In what has be­come al­most a week­ly ques­tion for the White House, Jen Psa­ki con­firms Pres­i­dent Biden has­n't se­lect­ed any­one, even pri­vate­ly, to nom­i­nate as FDA com­mis­sion­er. The White House has had trou­ble find­ing a can­di­date they're con­fi­dent can get con­firmed by the Sen­ate.

— Kait­lan Collins (@kait­lancollins) Au­gust 4, 2021
With this dif­fi­cul­ty in iden­ti­fy­ing FDA com­mis­sion­er can­di­dates in mind, here are 10 qual­i­fied peo­ple who could serve the agency well in the top slot, and ad­vance FDA's role in cre­at­ing the gold stan­dard in med­ical prod­uct ap­provals (pre­sent­ed in no par­tic­u­lar or­der):
The aca­d­e­mics
Er­ic Topol — He's a well-re­spect­ed car­di­ol­o­gist who un­der­stands the way FDA works, isn't afraid to stand up to po­lit­i­cal med­dling in sci­en­tif­ic de­ci­sions, es­pe­cial­ly with re­gard to the pan­dem­ic, and is a well-round­ed pub­lic health com­mu­ni­ca­tor.
Joshua Sharf­stein — His name was float­ed as an ear­ly con­tender for the FDA's top job, but then Biden seemed to think he might not be a good se­lec­tion. Per­haps his name resur­faces again? His aca­d­e­m­ic col­leagues all think high­ly of him, and he knows the agency well giv­en his pri­or ex­pe­ri­ence.
Aaron Kessel­heim — Al­though Kessel­heim, a Har­vard pro­fes­sor of med­i­cine, re­cent­ly re­signed from the FDA ad­comm that vot­ed unan­i­mous­ly to re­ject Bio­gen's new Alzheimer's drug when it was ap­proved, per­haps the Biden ad­min­is­tra­tion can bring him back in­to the fold at FDA. Again, he's a well-re­spect­ed physi­cian, pro­fes­sor and fre­quent au­thor of pa­pers on var­i­ous FDA poli­cies. Cer­tain­ly, the learn­ing curve would be sig­nif­i­cant­ly less steep for some­one like Dr. Kessel­heim when com­pared with oth­ers.
Caleb Alexan­der — An­oth­er aca­d­e­m­ic leader with a strong un­der­stand­ing of the FDA, and who has served on mul­ti­ple FDA ad­comms, in­clud­ing the re­cent Bio­gen one. Alexan­der, a pro­fes­sor at Johns Hop­kins, might pro­vide a unique per­spec­tive to an agency that hasn't seen an aca­d­e­m­ic leader in the top spot since Duke's Rob Califf led it.
Car­los Del Rio — The Emory pro­fes­sor has been track­ing and ad­vis­ing state and lo­cal gov­ern­ments on the ins and outs of the pan­dem­ic since it be­gan. His clear com­mu­ni­ca­tions have made him a well-re­spect­ed source of in­for­ma­tion.
For­mer FDAers and in­dus­try lead­ers
Ken Fra­zier — The for­mer Mer­ck CEO, who stepped down at the be­gin­ning of Ju­ly, is a high-pro­file trail­blaz­er who could of­fer a fa­mil­iar face to the FDA, es­pe­cial­ly with his knowl­edge of the bio­phar­ma in­dus­try, its in­ner work­ings and his ex­cep­tion­al lead­er­ship skills.
Michelle Mc­Mur­ry-Heath — As the head of in­dus­try group BIO, Mc­Mur­ry-Heath's name has sur­faced and re-sur­faced again as a pos­si­ble top con­tender for the FDA com­mis­sion­er job. While she hasn't com­ment­ed on the prospect, her pub­lic op­po­si­tion to cer­tain Biden-backed ini­tia­tives, like the TRIPS waiv­er be­fore the WTO and Medicare ne­go­ti­a­tions on drug prices, may not win over too many more De­moc­rats than Wood­cock.
John Jenk­ins — A long-time FDA di­rec­tor in the Of­fice of New Drugs, Jenk­ins knows the agency (more than 2 decades of ex­pe­ri­ence) and un­der­stands how it works. He al­so served in a high-pro­file po­si­tion for more than a decade, as well as on the oth­er side, with his re­cent in­dus­try con­sult­ing work at Green­leaf Health.
Scott Got­tlieb — Clear­ly a fa­vorite among FDA staff from his pre­vi­ous run as com­mis­sion­er dur­ing the Trump ad­min­is­tra­tion. Got­tlieb's name comes up again, de­spite his role on Pfiz­er's board and oth­er lu­cra­tive po­si­tions, per­haps be­cause of how con­sis­tent­ly ac­cu­rate he's been in dis­cussing the pan­dem­ic week in and week out on tele­vi­sion and Twit­ter.
Lu­ciana Bo­rio — A for­mer act­ing chief sci­en­tist at FDA, she was vet­ted by Biden's team for the top job ear­ly on, but has since tak­en on new roles at ARCH Ven­ture Part­ners, so she may be out of the run­ning.