Opin­ion: The drug pric­ing deal is­n't re­al­ly a vic­to­ry for Dems, or a loss for PhRMA. But it could be a har­bin­ger of change
Al­though House and Sen­ate De­moc­rats have fi­nal­ly cracked their Mis­sion: Im­pos­si­ble to al­low the fed­er­al gov­ern­ment to ne­go­ti­ate some drug prices, the ne­go­ti­a­tions will in­clude so few drugs and have so many stip­u­la­tions at­tached that the end re­sult may be more of a drop in the ocean than the mon­soon that drug price ne­go­ti­a­tions could've been.
Con­gress is wait­ing for a CBO score be­fore of­fi­cial­ly vot­ing, but ear­ly es­ti­mates point to about $100 bil­lion in drug pric­ing sav­ings over ten years from the deal. That's ba­si­cal­ly the equiv­a­lent of what the phar­ma in­dus­try spends on DTC mar­ket­ing over a decade. Or about five years of what phar­ma com­pa­nies spend on mar­ket­ing to health care pro­fes­sion­als.
The Medicare ne­go­ti­a­tions deal is al­so com­pli­cat­ed by ex­ten­sive lim­i­ta­tions — it's on­ly for ex­pen­sive Medicare Part D and B drugs, 10 to start, the drugs must have no gener­ic/biosim­i­lar com­peti­tors, and the ne­go­ti­a­tions can on­ly start post-ex­clu­siv­i­ty, or 9 years af­ter the launch of small mol­e­cule drugs and 13 years for bi­o­log­ics. It's un­clear what kind of dent, if any, the deal will make on drug prices over the longer term, or for those out­side of Medicare.
"CMS will de­ter­mine the fi­nal price, based on cri­te­ria that are rather pro-in­dus­try – thus it seems more of a no­tice-and-com­ment rather than ac­tu­al ne­go­ti­a­tion," Bern­stein biotech an­a­lyst Ron­ny Gal wrote in a re­cent in­vestor note. "Our ear­ly im­pres­sion is that the net im­pact is pos­i­tive for phar­ma stocks."
Mean­while, in­dus­try group PhRMA, which suc­cess­ful­ly flood­ed Capi­tol Hill with 20 lob­by­ists for every sen­a­tor, is once again disin­gen­u­ous­ly cry­ing foul. This is typ­i­cal of PhRMA, which of­ten makes a big, pub­lic stink about al­ready-lim­it­ed bills while wa­ter­ing them down fur­ther be­hind closed doors.

And phar­ma com­pa­nies, fa­mous for hir­ing teams of lawyers to find loop­holes in com­plex statute, will sure­ly nav­i­gate their way around at least some of the ne­go­ti­a­tions, or po­ten­tial­ly forge deals to bring more in­nocu­ous com­pe­ti­tion to mar­ket more quick­ly so as to avoid any ne­go­ti­a­tions at all.
But these side ef­fects (pun in­tend­ed) of the ne­go­ti­a­tions deal might ac­tu­al­ly be a good thing. And al­though the num­bers might be a drop in the ocean, and the ne­go­ti­a­tions them­selves slant­ed in phar­ma's fa­vor, the deal still dis­rupts the woe­ful­ly in­ad­e­quate sta­tus quo.
Rachel Sachs, a law pro­fes­sor at Wash­ing­ton Uni­ver­si­ty in St. Louis who stud­ies drug pric­ing and in­no­va­tion, said she didn't think com­pa­nies po­ten­tial­ly bring­ing in more com­pe­ti­tion pri­or to the gov­ern­ment ne­go­ti­a­tions start­ing "would be a bad out­come, from a pol­i­cy per­spec­tive, par­tic­u­lar­ly if we end up with more than one com­peti­tor to dri­ve down prices. It might al­so cut down on the need for some pay-for-de­lay or cit­i­zen pe­ti­tion re­form."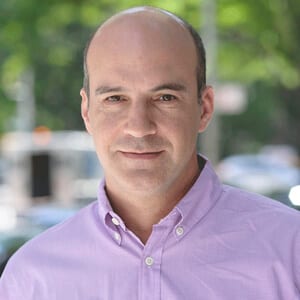 Pe­ter Bach
Oth­er drug pric­ing ex­perts like Pe­ter Bach have al­so come out in fa­vor of the deal's abil­i­ty to ne­go­ti­ate prices post-ex­clu­siv­i­ty, rather than when the drugs launch, the lat­ter of which is typ­i­cal in Eu­ro­pean coun­tries.
"Fo­cus­ing on drugs that have logged years on the mar­ket means there will be more (and in many cas­es clear) ev­i­dence of how well drugs work. Rarely true at launch," he wrote. "This is where the mon­ey is."
And Bach in­sist­ed to me that is the right step and tar­get­ing the right prob­lem:
So much mon­ey is in the top ex­pen­di­ture drugs that fo­cus­ing there — and thus us­ing ne­go­ti­at­ing re­sources ef­fi­cient­ly — makes sense. I know the push and pull of pol­i­tics and n[um­ber] of drugs and stuff makes for good the­atre, but my ques­tion is where are we com­pared to where we were 5 years ago when no­body knew what a re­bate was or that the biosim­i­lar mar­ket was de­signed to fail or that long mo­nop­o­lies were not just a lit­tle long, they were gen­er­a­tions long.
Ul­ti­mate­ly, if De­moc­rats are able to shep­herd their ne­go­ti­a­tions deal across the fin­ish line (and they're ex­pect­ed to), the net ef­fect won't be in­stan­ta­neous sav­ings or the col­lapse of the bio­phar­ma in­dus­try, but per­haps an sign­post on the way to­ward a more sus­tain­able path.