Over a year af­ter re­jec­tion, Im­munomedics emerges with po­ten­tial block­buster ap­proval
A tur­bu­lent 16 months for Im­munomedics has end­ed in a po­ten­tial block­buster ap­proval, as the FDA grant­ed an ac­cel­er­at­ed OK for their drug to treat an ag­gres­sive form of breast can­cer.
The drug, brand­ed as Trodelvy, is ap­proved for metasta­t­ic triple neg­a­tive breast can­cer — breast can­cers that lack the onco­genes that tar­get­ed ther­a­pies go af­ter and that have helped make the dis­ease treat­able for some pa­tients. The drug, which had break­through sta­tus and pri­or­i­ty re­view, showed a 33% re­sponse and me­di­an du­ra­tion of re­sponse of 7.7 months in 108 pa­tients en­rolled in their Phase II tri­al. Peak sales es­ti­mates can range as high as around $3 bil­lion.
The ap­proval comes over a month in ad­vance of the com­pa­ny's June 2 PDU­FA date, con­tin­u­ing the agency's trend of quick­ly ap­prov­ing can­cer drugs they deem ef­fec­tive.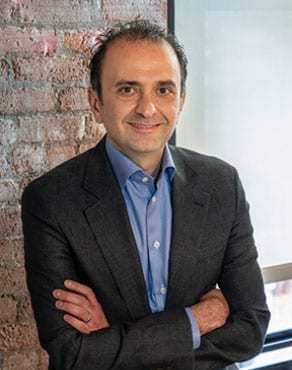 Be­hzad Ag­haz­adeh
A lit­tle over a year ago, the FDA sur­prised both the com­pa­ny and in­vestors by re­ject­ing the drug. Al­though Im­munomedics $IM­MU said the con­cern had on­ly been with qual­i­ty con­trols over the fa­cil­i­ty where the drug is pro­duced, the re­jec­tion of the biotech's main as­set shaved $1 bil­lion off the com­pa­ny's mar­ket cap. Not long af­ter, an FDA in­spec­tion doc­u­ment raised con­cerns of a da­ta breach at one of the com­pa­ny's fa­cil­i­ties. The CEO and CSO both lat­er ex­it­ed, and chair­man Be­hzad Ag­haz­adeh stepped in to run the com­pa­ny.
The drug, known chem­i­cal­ly as sac­i­tuzum­ab govite­can, is the com­pa­ny's first ap­proval in their 37-year his­to­ry. An an­ti­body-drug con­ju­gate, it con­sists of a tu­mor-tar­get­ing an­ti­body at­tached to a cell-killing small mol­e­cule. The tu­mor en­gulfs the con­ju­gate and the mol­e­cule kills the can­cer cells. The idea first emerged in the ear­ly 2000s be­fore pe­ter­ing out, but has gained trac­tion again in re­cent years, most no­tably with the re­cent ap­provals of Seat­tle Ge­net­ics' Ad­cetris and Pad­cev.
Seat­tle Ge­net­ics near­ly ac­quired the Im­munomedics drug in 2016. They agreed to an up-to $2 bil­lion deal worth $300 mil­lion be­fore ven­Bio, which owned a 9.9% stake in the com­pa­ny, led a cam­paign against the deal, with then-man­ag­ing parter Ag­haz­adeh ac­cus­ing the com­pa­ny's lead­er­ship of try­ing to en­rich them­selves. The hus­band-and-wife team who then ran the com­pa­ny as CSO and CEO re­signed, and Ag­haz­adeh lat­er or­ga­nized a $250 mil­lion roy­al­ty deal to fund the com­pa­ny's work.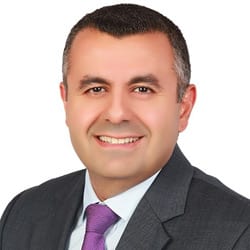 Harout Se­mer­jian
An ac­cel­er­at­ed ap­proval is con­di­tion­al on the com­pa­ny con­duct­ing a fol­low-up study. That tri­al, though, has al­ready been stopped, with an in­de­pen­dent re­view board telling Im­munomedics ear­ly this month their drug had al­ready shown enough com­pelling ef­fi­ca­cy. On the same day of the tri­al news, the com­pa­ny al­so an­nounced that No­var­tis On­col­o­gy vet Harout Se­mer­jian had been named as the new CEO.
Com­mit­tee chair and Fred Hutch re­searcher Julie Gralow called the re­sults of the Phase III tri­al "re­mark­able." The com­ment led Cowen's Phil Nadeau to write, "There is lit­tle ques­tion that sac­i­tuzum­ab will soon be­come stan­dard of care in the treat­ment of re­lapsed and re­frac­to­ry mTNBC."