Ovid's snap­shot of broad ef­fi­ca­cy da­ta for their PhII An­gel­man syn­drome tri­al can't stop a rout -- shares crushed
Ovid Ther­a­peu­tics $OVID says it picked up a snap­shot of broad, pos­i­tive ef­fi­ca­cy in its Phase II study of a new drug for rare cas­es of An­gel­man syn­drome and will now turn to the FDA to see about map­ping out a reg­is­tra­tional path­way with the FDA for a piv­otal test. But the biotech has to clear some hur­dles ahead if it ex­pects to con­vince an­a­lysts of the drug's po­ten­tial. And its share price was crushed Mon­day morn­ing as skep­tics pounced.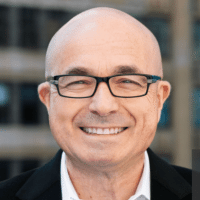 Je­re­my Levin, Ovid
The drug is OV101, which passed the pri­ma­ry goal on safe­ty and tol­er­a­bil­i­ty and al­so scored what Ovid CEO Je­re­my Levin called the first clear­ly promis­ing da­ta record­ed in a Phase II study for An­gel­man syn­drome.
"This is the first time that any­thing has shown it has an im­pact," Levin told me ear­ly Mon­day. "This is ter­rif­ic."
The mar­ket, though, didn't take the same view, with Ovid shares crash­ing af­ter the re­sults were met with some ini­tial skep­ti­cism about some fail­ures al­so re­port­ed by Ovid. The stock was down 30% in pre-mar­ket trad­ing.
The key ef­fi­ca­cy end­point — in Levin's view — was based on the physi­cian-rat­ed clin­i­cal glob­al im­pres­sions of im­prove­ment (CGI-I), which clin­i­cians use to track a va­ri­ety of symp­toms for a dis­ease that can leave pa­tients un­able to com­mu­ni­cate or crip­pled with anx­i­ety. On that col­lec­tive end­point, Ovid came away with a high­ly sta­tis­ti­cal­ly sig­nif­i­cant p val­ue of 0.0006 for the once-dai­ly drug arm — which is ex­act­ly what they want­ed to see.
The twice-dai­ly drug arm, though, did not achieve sta­tis­ti­cal sig­nif­i­cance, falling well short of the mark. But Levin says that was ex­pect­ed af­ter pre­clin­i­cal stud­ies demon­strat­ed that too much drug — de­signed to clar­i­fy sig­nal from noise — would fail to rein in symp­toms. On a pooled ba­sis, he says the da­ta are still pos­i­tive, with a p val­ue of 0.02.
That po­si­tion at­tract­ed plen­ty of hos­tile re­ac­tion on Twit­ter this morn­ing, though, as some ques­tioned whether Ovid had spelled out a like­ly fail­ure for the high­er dose. Al­so, CGI was list­ed as the 16th of 17 sec­ondary end­points on clin­i­cal­tri­als.gov, rais­ing fur­ther sus­pi­cions that the da­ta were more neg­a­tive than the com­pa­ny as­sert­ed.
Ovid ex­ecs say that the drug was al­so scored on "a pre­spec­i­fied sub­set of scales across the do­mains of be­hav­ior, sleep and gait," but failed to demon­strate sta­tis­ti­cal sig­nif­i­cance. Levin not­ed those scores re­lied on care­givers' as­sess­ments, which aren't al­ways the best way of gath­er­ing da­ta in a study.
The pa­tients will now be fol­lowed on an on­go­ing ba­sis.
The drug is an ex­trasy­nap­tic GA­BAA re­cep­tor ag­o­nist. There are no ap­proved ther­a­py for this con­di­tion.