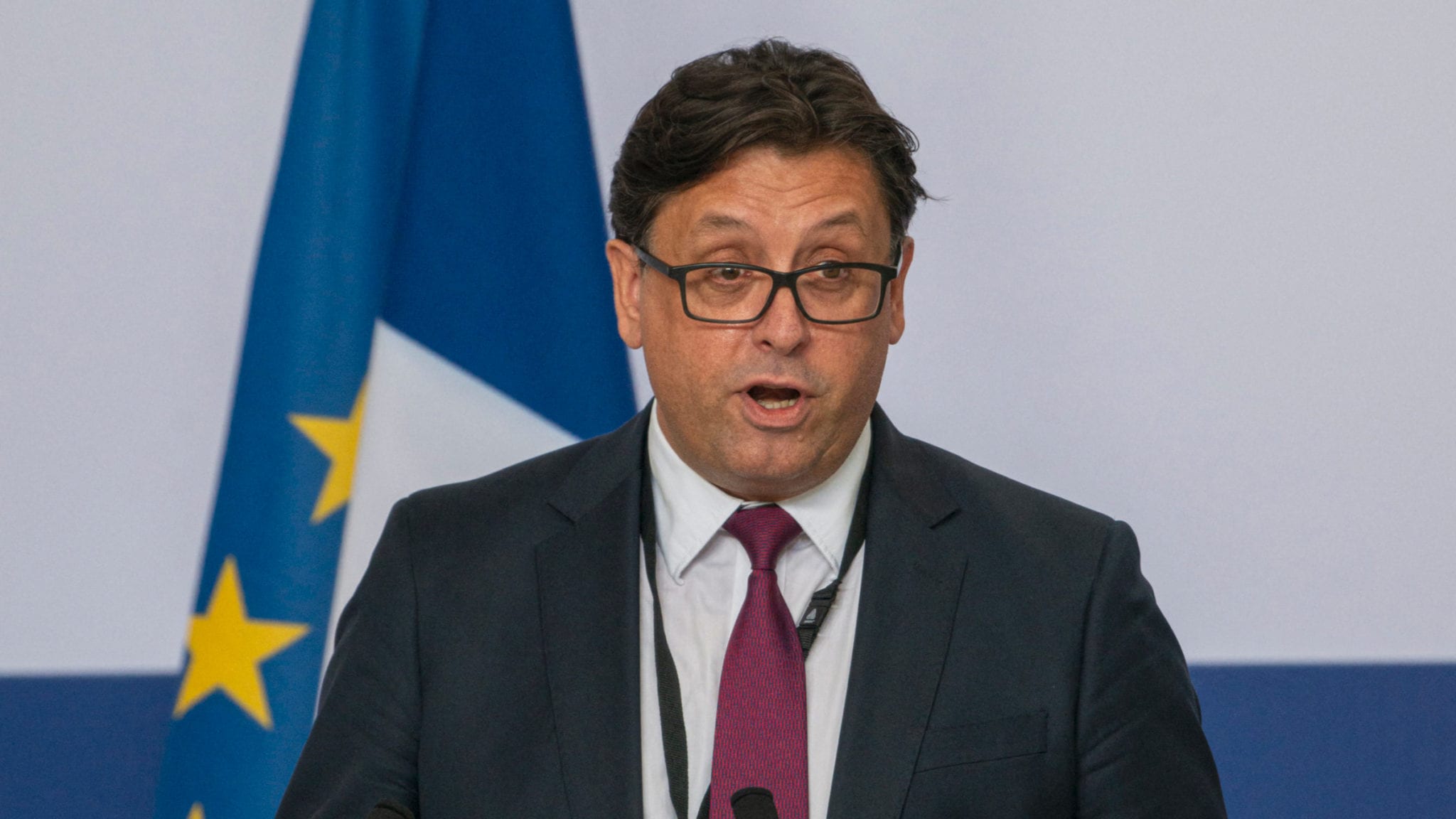 Paul Hudson, Sanofi CEO (Sipa via AP Images)
Paul Hud­son is more con­fi­dent in Sanofi's abil­i­ty to pro­duce a Covid-19 vac­cine — re­port
Sanofi CEO Paul Hud­son ex­pressed re­newed con­fi­dence Fri­day re­gard­ing its com­pa­ny's Covid-19 vac­cine can­di­date be­ing de­vel­oped with GSK.
As the can­di­date is set to start clin­i­cal tri­als some­time next month, Hud­son told Reuters that Sanofi has seen pos­i­tive da­ta so far this sum­mer. That gus­to builds up­on com­ments he made in June about the high­er like­li­hood Sanofi pro­duces a vac­cine with greater than 70% ef­fi­ca­cy com­pared to ri­vals.
"The ear­ly da­ta is say­ing that we're on the right track and that we have a vac­cine," Hud­son told Reuters on Fri­day. "Our con­fi­dence has in­creased. We have work to do like every­body on man­u­fac­tur­ing in large vol­umes. But we will have one, maybe two vac­cines next year."
Cur­rent­ly, the Sanofi/GSK can­di­date ranks 26th in End­points News' Covid-19 vac­cine track­er.
The French phar­ma was slow out of the gate in the Covid-19 vac­cine race, part­ner­ing with GSK in April to com­bine its can­di­date with an ad­ju­vant from the British drug­mak­er. Though oth­ers in the field had net­ted con­tracts from Op­er­a­tion Warp Speed ear­li­er, Sanofi ul­ti­mate­ly scored one of the biggest deals worth $2.1 bil­lion.
Sanofi has al­so ne­go­ti­at­ed to sup­ply vac­cines to the UK, with talks in ad­vanced stages to pro­vide up to 300 mil­lion vac­cines to the Eu­ro­pean Union as well. How­ev­er, those talks have hit a snag, as the bloc is not plan­ning to of­fer full pro­tec­tion from civ­il li­a­bil­i­ty law­suits.
Ear­li­er this week, a re­port from the Fi­nan­cial Times said that the Eu­ro­pean vac­cines lob­by Vac­cines Eu­rope is push­ing the EU to do so, cir­cu­lat­ing a memo among mem­bers say­ing the "speed and scale of de­vel­op­ment and roll­out do mean that it is im­pos­si­ble to gen­er­ate the same amount of un­der­ly­ing ev­i­dence that nor­mal­ly would be avail­able through ex­ten­sive clin­i­cal tri­als and health­care providers build­ing ex­pe­ri­ence." That would ul­ti­mate­ly cre­ate "in­evitable" risks.
The bloc is try­ing to come up with a plan to com­pen­sate drug­mak­ers, how­ev­er, giv­en the risks as­so­ci­at­ed with ac­cel­er­at­ed man­u­fac­tur­ing. Sanofi and GSK are two of sev­er­al high-pro­file mem­bers of Vac­cines Eu­rope, which al­so in­cludes Mer­ck, As­traZeneca and Pfiz­er.
"I think with the lev­el of pro­tec­tion, we have reached an 'agreed lev­el.' And I think that has al­lowed us to go for­ward and sign. But I am aware there are dif­fer­ent po­si­tions on how strong that is," Hud­son told Reuters re­gard­ing the li­a­bil­i­ty is­sue.
Sanofi is cur­rent­ly de­vel­op­ing a sec­ond Covid-19 vac­cine can­di­date with the biotech Trans­late Bio, us­ing mR­NA tech­nol­o­gy. A few days ago, an SEC fil­ing from Trans­late said that ear­ly test­ing of that can­di­date in­duced an im­mune re­sponse in pri­mates, show­ing "high neu­tral­iz­ing titers that are com­pa­ra­ble to the up­per range of those ob­served in in­fect­ed hu­mans," in­duc­ing "TH1-bi­ased T cell re­spons­es."
The two com­pa­nies agreed to a $2 bil­lion-plus vac­cines R&D agree­ment back in June.
For a look at all End­points News coro­n­avirus sto­ries, check out our spe­cial news chan­nel.