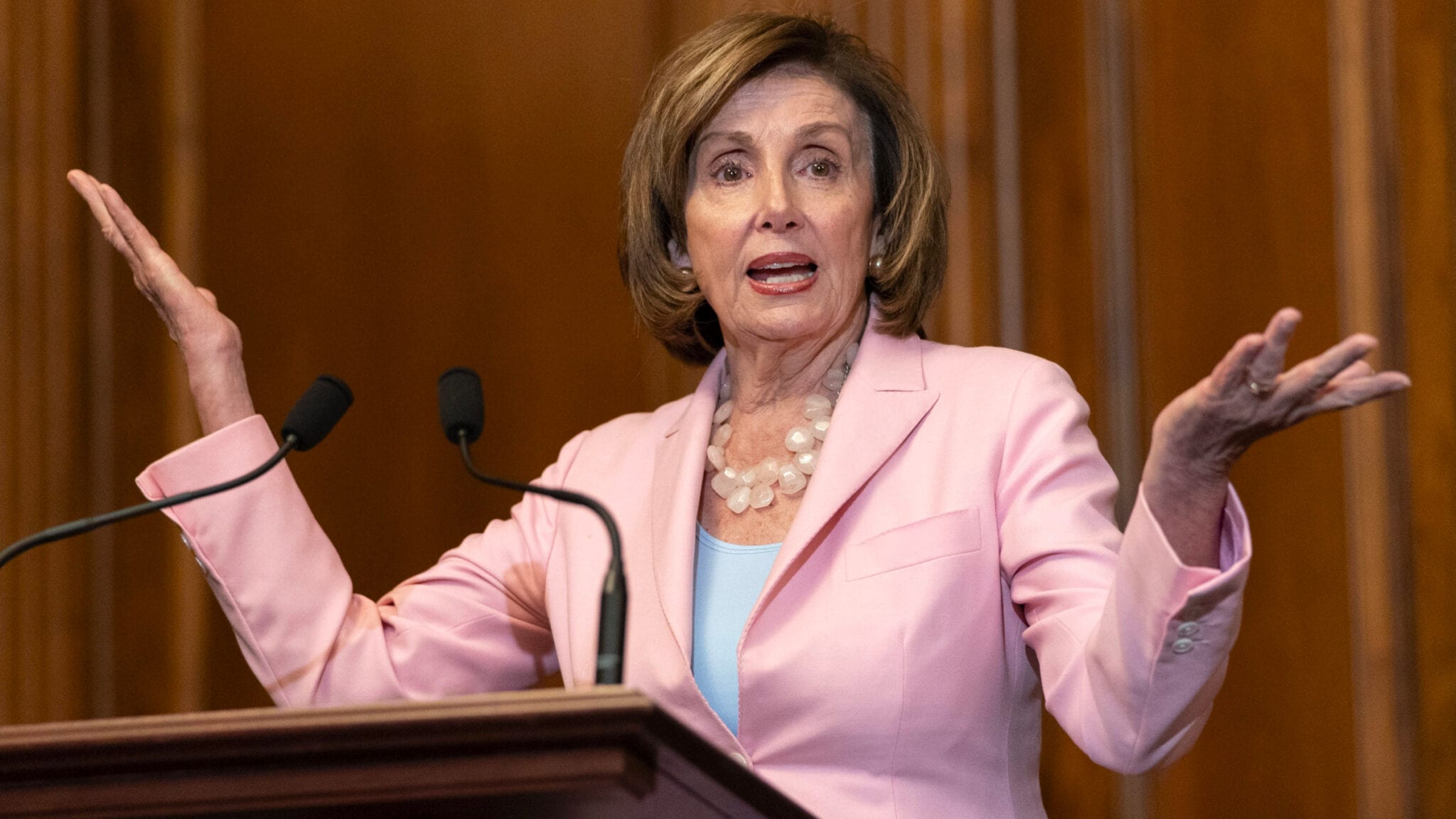 House Speaker Nancy Pelosi (Jacquelyn Martin/AP Images)
Pelosi threat­ens to slide drug pric­ing re­form in­to Biden's bud­get bill, re­jects in­dus­try push­back that in­no­va­tion would suf­fer
Af­ter a re­port re­leased by a key House com­mit­tee showed a pro­ject­ed $1 tril­lion in buy­backs over the next 10 years by Big Phar­ma, Speak­er Nan­cy Pelosi said she wants to at­tach drug pric­ing re­form to the cur­rent bud­get bill, and slammed drug com­pa­nies for sug­gest­ing in­no­va­tion would be harmed as a re­sult.
If passed, the bill would em­pow­er Medicare to ne­go­ti­ate di­rect­ly with drug com­pa­nies to low­er prices, a long­stand­ing goal for De­moc­rats. The House re­port claims the pol­i­cy shift could save tax­pay­ers $456 bil­lion in the next 10 years.
"We have an ex­tra­or­di­nary op­por­tu­ni­ty to do this as we craft this rec­on­cil­i­a­tion bill," Pelosi said on a con­fer­ence call with re­porters.
The House Over­sight Com­mit­tee re­leased a staff re­port that an­a­lyzed fi­nan­cial da­ta from the 14 largest drug com­pa­nies to eval­u­ate the amount of mon­ey they in­vest in R&D, and the im­pact that has on Medicare price ne­go­ti­a­tions.
From 2016 to 2020, the com­pa­nies spent $56 bil­lion more on stock buy­backs and div­i­dends — $577 bil­lion — than on R&D, the re­port found. The pro­ject­ed num­ber of spend­ing on buy­backs from 2020 to 2029 is $1.15 tril­lion for the same 14 com­pa­nies.
"The Com­mit­tee pre­vi­ous­ly re­leased six staff re­ports show­ing that the phar­ma­ceu­ti­cal in­dus­try has tar­get­ed the Unit­ed States for price in­creas­es for many years, while cut­ting prices in the rest of the world," the re­port said. "The Unit­ed States is par­tic­u­lar­ly vul­ner­a­ble to these pric­ing tac­tics be­cause cur­rent law pro­hibits Medicare from ne­go­ti­at­ing di­rect­ly with drug com­pa­nies to low­er drug prices."
The 14 com­pa­nies in­clud­ed the study are Ab­b­Vie, Am­gen, As­traZeneca, Bris­tol My­ers Squibb, Eli Lil­ly, Gilead, GSK, J&J, Mer­ck, No­var­tis, No­vo Nordisk, Pfiz­er, Roche and Sanofi. Be­tween 2016 and 2020, the top ex­ec­u­tives for these com­pa­nies brought home a com­bined salary of $3.2 bil­lion, and eight of those com­pa­nies spent less on R&D com­pared to buy­backs and div­i­dends, the re­port states. Am­gen's spend­ing on buy­backs was six-fold, com­pared to R&D costs.
"This re­port finds that the world's lead­ing drug com­pa­nies have used price in­creas­es to boost pay­outs to in­vestors and ex­ec­u­tives while spend­ing less on re­search and de­vel­op­ment," Rep. Car­olyn Mal­oney (D-NY) said in a press re­lease. "The re­port al­so shows that in­dus­try claims about the po­ten­tial im­pact of pric­ing re­forms are overblown."
In­dus­try lob­by­ists have played tight de­fense, ar­gu­ing that it would de­ter the cre­ation of new drugs, and hurt pa­tients in the end. Bri­an Newell, a spokesper­son for bio­phar­ma lob­by­ing group PhRMA, told Bloomberg that his or­ga­ni­za­tion was com­mit­ted to work­ing with pol­i­cy­mak­ers on com­mon­sense so­lu­tions that ad­dress the "re­al chal­lenges pa­tients face."