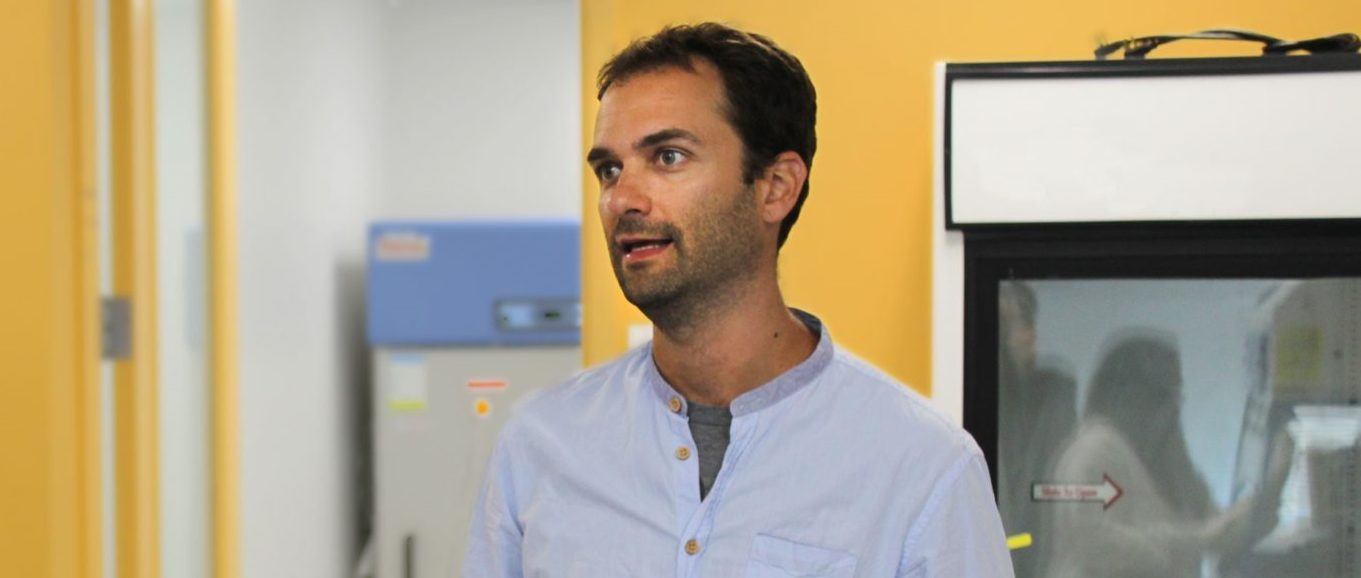 Shkre­li out, Cuban in: Twit­ter proves es­sen­tial for biotech rebel Ethan Perl­stein
Im­age: Ethan Perl­stein
---
En­tre­pre­neurs in the tech world of­ten tell fundrais­ing founders to look to Twit­ter for mak­ing con­nec­tions with in­vestors. It's less com­mon to see biotech in­vest­ments arise from wit­ty tweets.
Not true for Ethan Perl­stein, the founder of a small biotech in San Fran­cis­co called Per­lara. To­day, he shared de­tails of a ran­dom Twit­ter en­counter with celebri­ty in­vestor Mark Cuban that led to Cuban's fund Rad­i­cal In­vest­ments chip­ping in $250,000 to Per­lara's $7.4 mil­lion Se­ries A round.
Cuban's con­tri­bu­tion was the re­sult of a con­ver­sa­tion on Twit­ter with Perl­stein, who's quite ac­tive on the bio­phar­ma twit­ter­sphere. As Perl­stein re­calls, he had teased the Shark Tank in­vestor for Cuban's tweet about drug pric­ing dur­ing the de­bate over Spin­raza's price tag.
Mark's a Bernie Bro af­ter all! 😜

— Ethan Perl­stein (@eperl­ste) Au­gust 2, 2017
The con­ver­sa­tion turned se­ri­ous af­ter Perl­stein shared more de­tails about ear­ly-stage drug dis­cov­ery in bio­phar­ma.
"His tweet in­di­cat­ed that he hadn't spent a lot of time think­ing about the ins and outs of bio­phar­ma and tech trans­fer," Perl­stein said. "The next thing I know, I get a mes­sage from him ask­ing for my pitch deck. I was like, 'is this a joke?'"
A month lat­er, Cuban's in­vest­ment firm was on board. Ac­cord­ing to Cuban, he likes the idea of sup­port­ing drug dis­cov­ery for rare dis­ease.
"I want to see more peo­ple helped by or­phan drugs," Cuban said in an email.
The Mar­tin Shkre­li dol­lars
But this wasn't the first time a Twit­ter con­ver­sa­tion led to an in­vest­ment for Perl­stein's com­pa­ny. Be­fore Mar­tin Shkre­li's pub­lic flay­ing (and felony con­vic­tion), Perl­stein and Shkre­li were al­so ex­chang­ing tweets.
"I wasn't ask­ing peo­ple for in­vest­ment on Twit­ter or any­thing, I was just com­ment­ing on sci­ence for rare dis­ease," Perl­stein said. "It caught Mar­tin's at­ten­tion."
Af­ter the Twit­ter con­ver­sa­tion, Shkre­li in­vest­ed in Per­lara and was in­volved with the com­pa­ny for a short time. But Perl­stein said he asked Shkre­li to ex­tri­cate him­self from the busi­ness in ear­ly 2016.
"I asked him to be bought out by oth­er share­hold­ers," Perl­stein said. "Now he's out of the cap ta­ble and out of the com­pa­ny. He can de­stroy your rep­u­ta­tion just by as­so­ci­a­tion. Plus, I had learned he wasn't a good per­son to do busi­ness with."
A biotech born from Twit­ter
Perl­stein said Twit­ter has ac­tu­al­ly played an in­te­gral role in the de­vel­op­ment of Per­lara.
"Af­ter the post­do­ca­lypse, I left acad­e­mia," Perl­stein said. "Twit­ter was the place I was re­born pro­fes­sion­al. I can hon­est­ly say that Per­lara wouldn't be here if it weren't for Twit­ter."
Per­lara is work­ing on six drug pro­grams for ul­tra-rare dis­eases, in­clud­ing lyso­so­mal stor­age dis­eases. Since the com­pa­ny's 2014 in­cep­tion, it's large­ly re­lied on part­ner­ships with pa­tient groups. Last year, how­ev­er, it land­ed a re­search part­ner­ship with No­var­tis. Af­ter hit­ting its mile­stones on that deal, Per­lara just re­ceived some ex­tra fi­nan­cial sup­port from No­var­tis in its lat­est Se­ries A round, an­nounced this morn­ing.
The to­tal eq­ui­ty round ($7.4 mil­lion) in­clud­ed with cash from in­vestors Piv­otal Cap­i­tal Al­pha, Al-Ham­ra Group, Home­brew Ven­tures, Haystack Fund and ex­ist­ing in­vestors.