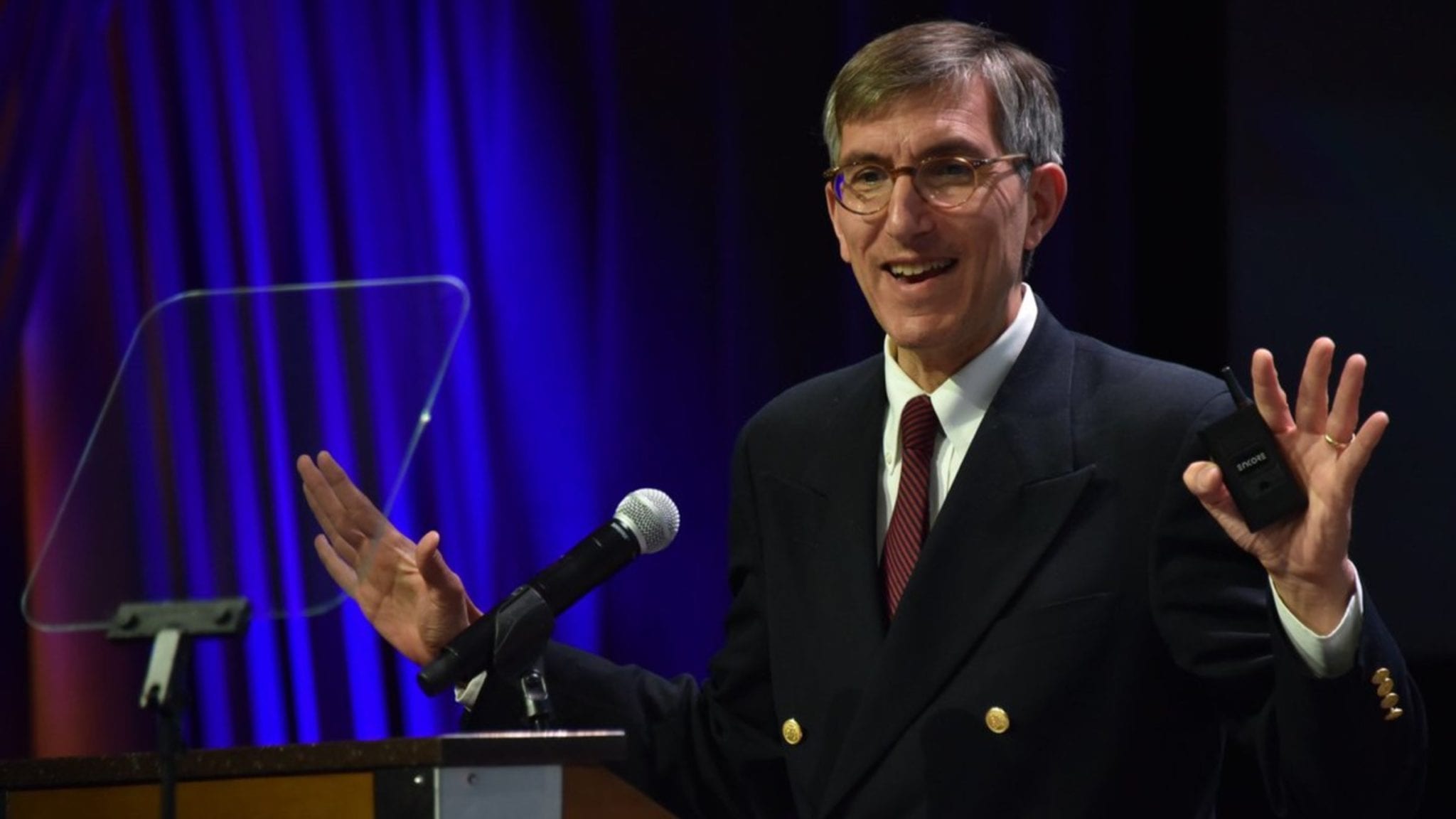 Peter Marks, CBER (MDA USA via Twitter)
Pe­ter Marks on Covid-19 vac­cine ef­fi­ca­cy, EUAs and chal­lenge tri­als
A week af­ter the FDA is­sued guid­ance on vac­cines to pre­vent Covid-19, Pe­ter Marks, di­rec­tor of the Cen­ter for Bi­o­log­ics Eval­u­a­tion and Re­search, shed light on the rea­son­ing be­hind the agency's 50% ef­fi­ca­cy thresh­old and where the agency stands on chal­lenge tri­als and emer­gency use au­tho­riza­tions.
Ef­fi­ca­cy and ap­proval
In its guid­ance, FDA said it ex­pect­ed spon­sors to demon­strate a vac­cine is at least 50% ef­fec­tive in a place­bo-con­trolled tri­al, with an ad­just­ed low­er bound of >30%.
Dur­ing a tele­con­fer­ence with the Al­liance for a Stronger FDA on Wednes­day, Marks ex­plained that the 50% fig­ure is based on what the agency could tol­er­ate for ef­fi­ca­cy. "Can we show you some cal­cu­la­tion of how we got there? No," he said, not­ing that the agency does not typ­i­cal­ly set spe­cif­ic ef­fi­ca­cy tar­gets in its vac­cine guid­ance.
"If you go much low­er than 50% then the low­er bounds of things start to get to a place where vac­cines may have very lit­tle ef­fi­ca­cy," Marks added. "On the oth­er hand, if we held that num­ber at 70% to 80% … we may not have a vac­cine un­til there's herd im­mu­ni­ty that's oc­curred nat­u­ral­ly."
How­ev­er, Marks said that erad­i­cat­ing the virus will like­ly re­quire a more ef­fec­tive vac­cine. "We're go­ing to need a vac­cine that's prob­a­bly in the or­der of 70% ef­fec­tive and 70%, at least, of the pop­u­la­tion is go­ing to need to take it," he said.
Based on those pa­ra­me­ters, Marks said that piv­otal tri­als for Covid-19 vac­cines will need to be large. "Large means tens of thou­sands of peo­ple, prob­a­bly … some­where be­tween ten to fif­teen thou­sand in­di­vid­u­als in each arm of a ran­dom­ized tri­al to get to the kind of pow­er that you need here."
Marks could not com­ment on how quick­ly vac­cine could be avail­able but said, "We're not go­ing to have one in ear­ly fall, it's go­ing to take months."
As stat­ed in the agency's guid­ance, Marks stressed that ac­cel­er­at­ed ap­proval is not ap­pro­pri­ate un­til there are com­pelling sur­ro­gate end­points.
"Giv­en the cur­rent lack of da­ta that we have in­form­ing im­mune cor­re­lates of pro­tec­tion, we're telling peo­ple that the clin­i­cal de­vel­op­ment pro­gram should pur­sue tra­di­tion­al ap­proval, based on di­rect ev­i­dence of vac­cine ef­fi­ca­cy," Marks said. "Af­ter a few vac­cines come through the pipeline, we may un­der­stand what a good im­mune cor­re­late of pro­tec­tion is, but we don't yet know that an­ti­bod­ies are the be-all-end-all of pro­tect­ing against COVID-19."
Marks al­so ex­pand­ed on whether the agency would con­sid­er is­su­ing an emer­gency use au­tho­riza­tion for a Covid-19 vac­cine.
"We re­al­ly be­lieve that the most like­ly sit­u­a­tion in which an emer­gency use au­tho­riza­tion would be is­sued would be af­ter some in­ter­im analy­sis that shows vac­cine ef­fi­ca­cy and safe­ty, be­fore a for­mal sub­mis­sion is made to the FDA of a li­cen­sure ap­pli­ca­tion and FDA has had a chance to do its nor­mal re­view," he said.
Chal­lenge tri­als
One of the more eye­brow-rais­ing as­pects of FDA's guid­ance was a sec­tion dis­cussing the po­ten­tial for chal­lenge tri­als, or con­trol hu­man in­fec­tion mod­els, where­in vol­un­teers are in­ten­tion­al­ly ex­posed to a pathogen. In its guid­ance, FDA sug­gests that such tri­als could be en­ter­tained, "If it is no longer pos­si­ble to demon­strate vac­cine ef­fec­tive­ness by way of con­duct­ing clin­i­cal dis­ease end­point ef­fi­ca­cy stud­ies."
"Why can't we do that for COVID-19?" Marks asked. "Well, there are prob­a­bly a cou­ple rea­sons. One of which is that you don't have some­thing that cures COVID-19 100% of the time or near 100% of the time." Marks said there are oth­er is­sues that would need to be worked out be­fore such tri­als would be fea­si­ble, in­clud­ing im­prov­ing our un­der­stand­ing of the dis­ease and de­ter­min­ing which strain of the virus to use.
"This could be a way to­wards re­al­ly fa­cil­i­tat­ing get­ting an an­swer, if we had a res­cue treat­ment and if we knew more about the re­la­tion­ship be­tween car­riage and in­fec­tion, but right now it gives peo­ple some eth­i­cal heart­burn and sci­en­tif­i­cal­ly it's com­pli­cat­ed," Marks said.
That said, Marks said FDA would con­sid­er pro­pos­als for chal­lenge tri­als based on what was in the pro­to­col and the cir­cum­stances at the time. "It's not a 'no', it's a 'we'll see,'" he said.
Marks added that it might be more fea­si­ble to con­duct chal­lenge tri­als when there are more ef­fec­tive ther­a­peu­tics avail­able to treat the dis­ease. "If we have mon­o­clon­al an­ti­bod­ies that are re­al­ly good at shut­ting down the dis­ease, that could be a game chang­er."
Safe­ty and qual­i­ty
Marks said that one of the things that "scares me more than any­thing else is that a third or half of Amer­i­cans are hes­i­tant about tak­ing a vac­cine [for COVID-19]." Marks stressed that part of FDA's job is to as­sure that an even­tu­al vac­cine is safe and high qual­i­ty.
"For any of these vac­cines tar­get­ing SARS-CoV-2, im­por­tant things for us from the stand­point of our guid­ance… will be things like con­sis­ten­cy of man­u­fac­tur­ing, and the need for man­u­fac­tur­ing process­es and con­trols that have ap­pro­pri­ate steps in them, the need to have fa­cil­i­ties in­spect­ed to pro­duce vac­cines un­der good man­u­fac­tur­ing prac­tices, that's im­por­tant be­cause we re­al­ly do need to make sure that these are go­ing to be high qual­i­ty prod­ucts that when we say they're safe, they re­al­ly are," Marks said.
For a look at all End­points News coro­n­avirus sto­ries, check out our spe­cial news chan­nel.
---
RAPS: First pub­lished in Reg­u­la­to­ry Fo­cus™ by the Reg­u­la­to­ry Af­fairs Pro­fes­sion­als So­ci­ety, the largest glob­al or­ga­ni­za­tion of and for those in­volved with the reg­u­la­tion of health­care prod­ucts. Click here for more in­for­ma­tion.