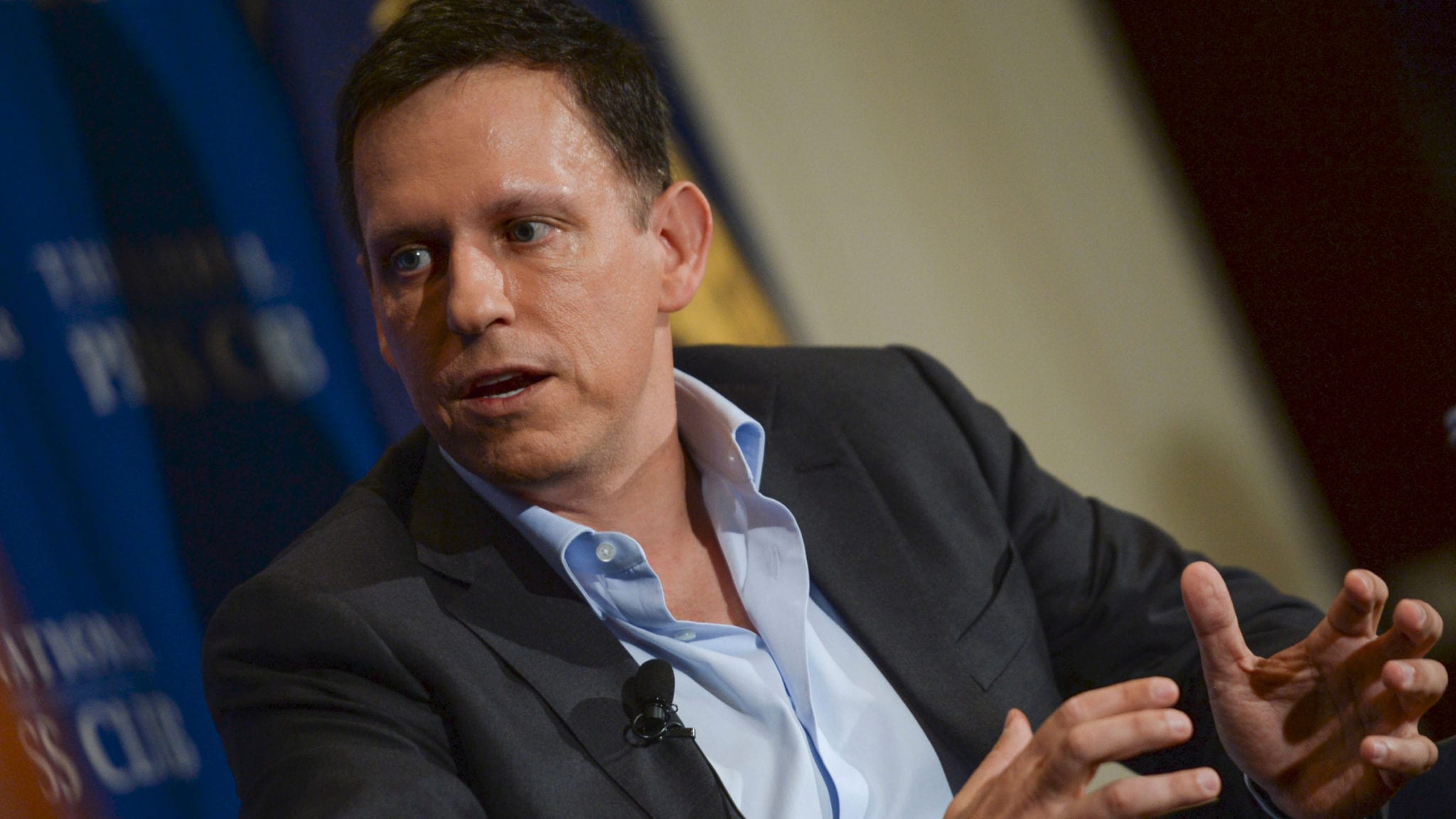 Peter Thiel (Riccardo Savi/Sipa via AP Images)
Pe­ter Thiel joins fund­ing round for pep­tide drug play­er in lat­est swing at emerg­ing biotech mar­ket
For ven­ture cap­i­tal­ists work­ing in ear­ly-stage biotech, fail­ures are more com­mon than vic­to­ries as in­vestors search for nov­el path­ways to treat well-trod­den ther­a­peu­tic ar­eas. For the big-name in­vestors, that's equal­ly true — but if your name's Pe­ter Thiel, a cer­tain grav­i­ty and high ex­pec­ta­tions come with your mon­ey.
Bil­lion­aire tech en­tre­pre­neur and Face­book co-founder Thiel has joined a $35.4 mil­lion Se­ries B round for Pep­ti­log­ics, a pep­tide drug de­sign and de­vel­op­ment biotech, as the com­pa­ny looks to ex­pand on its lead an­ti-in­fec­tive can­di­date and tar­get more drugs for mar­ket.
Thiel's Founders Fund, which has re­cent­ly made a se­ries of high-pro­file splash­es in the emerg­ing biotech field and pre­vi­ous­ly signed on as an in­vestor at Pep­ti­log­ics for an ear­li­er round, joins round leader Pre­sight Cap­i­tal. Pep­ti­log­ics in­tends to use its lat­est round to con­tin­ue fine-tun­ing its drug dis­cov­ery en­gine and ad­vance its pipeline can­di­dates, most no­tably PLG0206, a nov­el an­ti-in­fec­tive.
Pep­ti­log­ics' "com­pu­ta­tion­al" plat­form pre-spec­i­fies tar­gets for its drug dis­cov­ery, then works back­ward through bio­med­ical da­ta to iden­ti­fy mol­e­cules — and lat­er ther­a­peu­tics — to hit those tar­gets, the com­pa­ny said in a re­lease. That strat­e­gy has caught in­vestors' eyes as the po­ten­tial for nov­el path­ways for high­ly com­pet­i­tive ther­a­peu­tics ar­eas grows.
"Pep­ti­log­ics' ap­proach chal­lenges tra­di­tion­al drug dis­cov­ery meth­ods by start­ing with a de­fined tar­get drug pro­file and work­ing back­wards to de­sign op­ti­mal, nov­el mol­e­cules," Pre­sight Cap­i­tal's Fabi­an Hansen said in a re­lease. "We be­lieve that scal­able ra­tio­nal de­sign, not ran­dom screen­ing, is the fu­ture of drug dis­cov­ery and Pep­ti­log­ics is well-po­si­tioned to lead the way."
That in­ter­est has cer­tain­ly caught the eye of Thiel, who has made a se­ries of splashy en­tries in­to the field in re­cent years — some of them more suc­cess­ful than oth­ers.
As re­cent­ly as late No­vem­ber, Thiel shelled out $125 mil­lion as part of a Se­ries C fund­ing round to fu­el de­vel­op­ment at ATAI Life Sci­ences, a Berlin-based biotech that has as­sem­bled a port­fo­lio of com­pa­nies with psy­che­del­ic and non-psy­che­del­ic ap­proach­es to de­pres­sion, anx­i­ety and ad­dic­tion.
And it's not just fund­ing, ei­ther: Al­so in No­vem­ber, Thiel jumped aboard as a board mem­ber at Ab­Cellera, a com­pa­ny part­ner­ing with Eli Lil­ly on Covid-19 an­ti­body de­vel­op­ment, as the com­pa­ny chas­es a ge­net­i­cal­ly en­gi­neered mouse mod­el that can de­vel­op hu­man an­ti­bod­ies.
The fate of those re­cent moves has yet to be seen, but at least one big Thiel in­vest­ment has re­cent­ly gone bel­ly up — a com­mon rit­u­al for sure in the world of emerg­ing biotech. Back in Au­gust, an­ti-ag­ing play­er Uni­ty Biotech­nol­o­gy flopped a ma­jor Phase II study in os­teoarthri­tis pain, jeop­ar­diz­ing the fu­ture of a com­pa­ny that once scored $200 mil­lion in ven­ture fund­ing from the likes of Thiel and Ama­zon helms­man Jeff Be­zos.
The com­pa­ny promised to be one of the first to ef­fec­tive­ly test the the­o­ry that clear­ing out old "senes­cent" cells could re­duce symp­toms as­so­ci­at­ed with ag­ing, but the ma­jor tri­al fail­ure cast doubt on Uni­ty's promise in that field. This month, ARCH Ven­ture Part­ners' Bob Nelsen, one of Uni­ty's co-founders back in 2011, an­nounced he would step down from the board, join­ing pres­i­dent and co-founder Ned David, who is step­ping down at the end of the year, and an­oth­er board mem­ber, David Lacey, who is al­so de­part­ing.