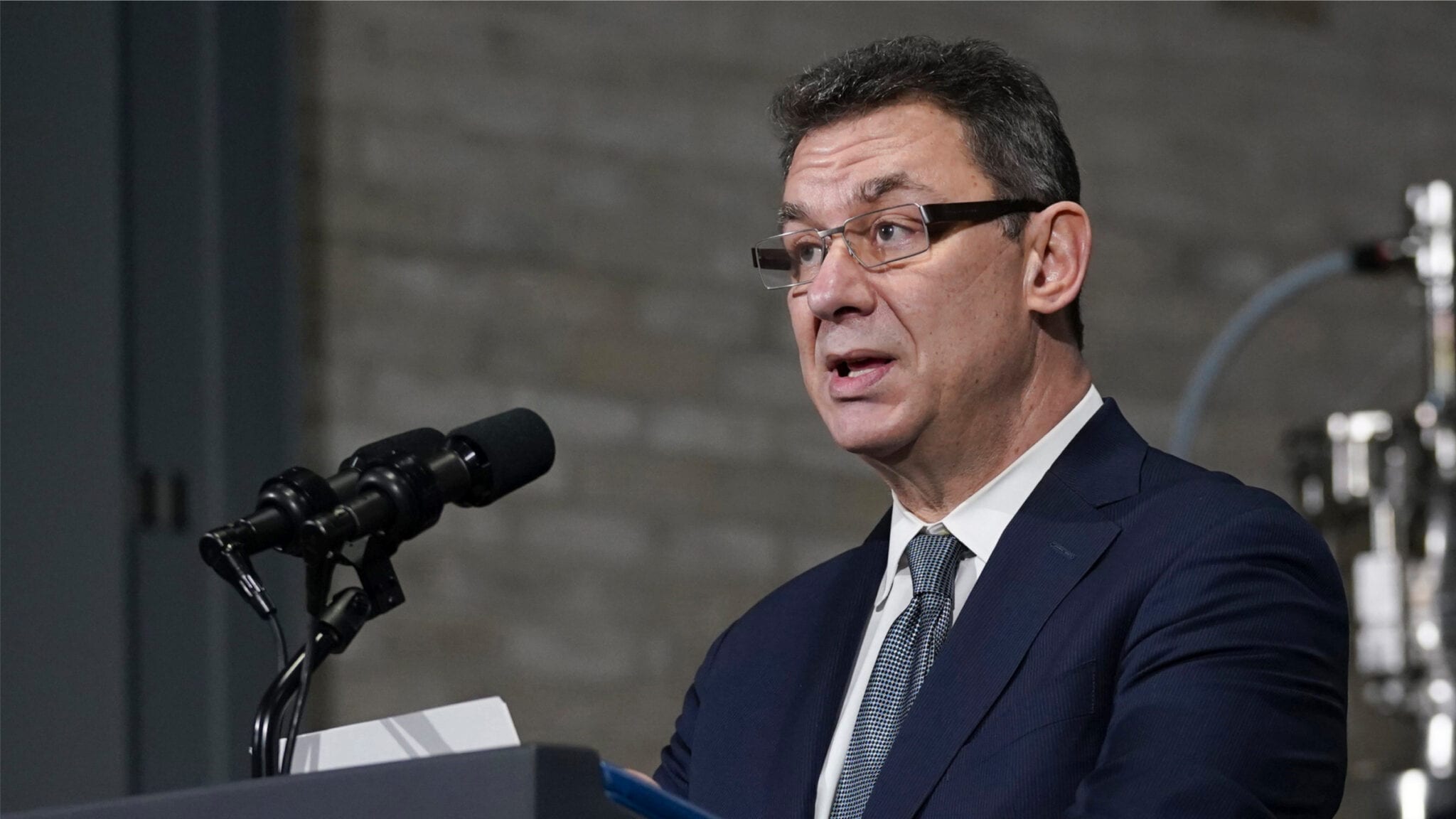 Albert Bourla, Pfizer CEO (Evan Vucci, AP Images)
Pfiz­er CEO points to IRA as a fac­tor that made Seagen an at­trac­tive tar­get
One of the rea­sons Pfiz­er sought to pur­chase Seagen, as part of a $43 bil­lion deal an­nounced this morn­ing, is that the Seat­tle-based biotech will be able to with­stand the com­ing head­winds of the In­fla­tion Re­duc­tion Act and the Medicare price ne­go­ti­a­tions that come with it.
Un­like some of his phar­ma CEO peers who have lam­bast­ed the new law, Pfiz­er CEO Al­bert Bourla told in­vestors on a call this morn­ing that there are two spe­cif­ic fac­tors per­tain­ing to the IRA that will ac­tu­al­ly help with the com­bo of Pfiz­er and Seagen mov­ing for­ward:
The $2,000 out-of-pock­et cap for se­niors, which takes ef­fect in 2025 and will mean that more of those on Medicare will be able to ac­cess ex­pen­sive can­cer drugs like those de­vel­oped by Seagen. All four of Seagen's cur­rent­ly mar­ket­ed prod­ucts have list prices of more than $100,000 per year.
All but one of Seagen's cur­rent­ly mar­ket­ed drugs are bi­o­log­ics, which means longer ex­clu­siv­i­ty than small mol­e­cule drugs (13 years vs. nine years) un­der the IRA, pri­or to the gov­ern­ment be­gin­ning its ne­go­ti­a­tions.
The Con­gres­sion­al Bud­get Of­fice sim­i­lar­ly not­ed in a slide deck from Feb­ru­ary on the IRA's im­pacts that Medicare Part D en­rollees "will use more drugs be­cause their out-of-pock­et costs will be low­er."
Bourla al­so not­ed that an­ti­body-drug con­ju­gates like those de­vel­oped by Seagen aren't like­ly to see the same lev­els of biosim­i­lar com­pe­ti­tion that are cur­rent­ly seen with the mon­o­clon­al an­ti­bod­ies or oth­er bi­o­log­ics.
Lat­er in the call, Bourla took an­oth­er ques­tion on the IRA, say­ing, "It is what it is. This is some­thing that is on the eas­i­er part. I don't un­der­es­ti­mate the im­pact that the IRA will have on the amount of pre­scrip­tions and the abil­i­ty of pa­tients to pay."
The Pfiz­er CEO's com­ments run in con­trast to the way some of his peers have point­ed to the IRA as a rea­son and/or scape­goat for bio­phar­ma pipeline trims. Sev­er­al com­pa­nies, like Al­ny­lam and Eli Lil­ly, have al­ready point­ed to the new law as a ma­jor fac­tor in de­ci­sions to cut de­vel­op­ment pro­grams.
For more on what else needs to be ironed out in the IRA be­fore some of the more cen­tral el­e­ments take ef­fect, check out a re­cent pan­el End­points News held on the top­ic.
Ed­i­tor's note: This ar­ti­cle has been cor­rect­ed to note that not all of Seagen's mar­ket­ed drugs are large mol­e­cule bi­o­log­ics as Tukysa (tu­ca­tinib) is a small mol­e­cule pill.