Pfiz­er puts the pres­sure on Eli Lil­ly's JAK in­hibitor Olu­mi­ant with new da­ta in alope­cia area­ta
As Eli Lil­ly looks to se­cure a win for its block­buster Olu­mi­ant in alope­cia area­ta, go­ing where no JAK in­hibitor has gone be­fore, Pfiz­er is com­ing up from be­hind with Phase IIb/III re­sults sug­gest­ing its own can­di­date can help re­grow hair lost due to the au­toim­mune dis­ease.
On Wednes­day, Pfiz­er un­veiled topline re­sults from the AL­LE­GRO tri­al, which en­rolled 718 pa­tients 12 years and old­er with alope­cia area­ta, a con­di­tion that can cause sud­den, se­vere and patchy hair loss. While the pa­tients' episodes of alope­cia area­ta var­ied in length, they all had one thing in com­mon: They had lost at least half the hair on their scalps.
The par­tic­i­pants re­ceived vary­ing dos­es of Pfiz­er's JAK in­hibitor ritlecitinib — 50 mg or 30 mg (with or with­out one month of ini­tial treat­ment with once-dai­ly 200 mg dos­es of ritlecitinib), or 10 mg — or a place­bo.
Af­ter six months, a sig­nif­i­cant­ly larg­er pro­por­tion of pa­tients in the 50 mg and 30 mg dose groups (with or with­out the ini­tial treat­ment) were miss­ing on­ly 20% of their hair or less, com­pared to place­bo, ac­cord­ing to Pfiz­er. The com­pa­ny didn't re­lease any hard num­bers, but says it's div­ing right in­to a 24-week ex­ten­sion study.
"We are pleased by these pos­i­tive re­sults for ritlecitinib in pa­tients with alope­cia area­ta, a dev­as­tat­ing and com­plex au­toim­mune dis­ease for which there are cur­rent­ly no U.S. Food and Drug Ad­min­is­tra­tion (FDA) or Eu­ro­pean Med­i­cines Agency ap­proved treat­ments," Michael Cor­bo, chief de­vel­op­ment of­fi­cer of in­flam­ma­tion and im­munol­o­gy in Pfiz­er's glob­al prod­uct de­vel­op­ment unit, said in a state­ment.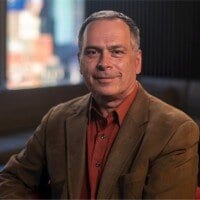 Michael Cor­bo
Back in April, Eli Lil­ly re­port­ed that 35% of the sub­jects who re­ceived 4 mg dos­es of baric­i­tinib achieved 80% or more scalp hair cov­er­age, ver­sus 22% in the 2 mg arm. At the time, the com­pa­ny said it was shoot­ing to file an NDA in the sec­ond half of this year.
The FDA has be­come in­creas­ing­ly skep­ti­cal of JAK in­hibitors since first ap­prov­ing Pfiz­er's Xel­janz in 2012, re­cent­ly de­lay­ing de­ci­sions for a slate of sup­ple­men­tal NDAs to get a clos­er look at safe­ty da­ta, in­clud­ing Olu­mi­ant and Ab­b­Vie's Rin­voq in atopic der­mati­tis. Last sum­mer, the agency turned down Gilead's rheuma­toid arthri­tis can­di­date fil­go­tinib, de­mand­ing to see more safe­ty da­ta. And ear­li­er this year, Xel­janz failed a six-year safe­ty study, show­ing that pa­tients who took the drug ex­pe­ri­enced more car­dio­vas­cu­lar events and high­er rates of can­cer than those who took Hu­mi­ra or En­brel.
Ritlecitinib's safe­ty pro­file was con­sis­tent with pre­vi­ous stud­ies, Pfiz­er said, not­ing that the oc­cur­rence of side ef­fects was sim­i­lar across all treat­ment groups. The most com­mon ones were colds, headaches, and up­per res­pi­ra­to­ry tract in­fec­tions. There were no ma­jor ad­verse car­diac events or deaths in the tri­al, ac­cord­ing to the phar­ma com­pa­ny. How­ev­er, two pa­tients in the 50 mg group dis­con­tin­ued the study due to breast can­cer, and one pa­tient in the same group de­vel­oped a pul­monary em­bolism.
Pfiz­er and Eli Lil­ly aren't the on­ly two drug­mak­ers duk­ing it out for an in­di­ca­tion in alope­cia area­ta. Con­cert Phar­ma­ceu­ti­cals snagged a break­through des­ig­na­tion for its JAK in­hibitor last sum­mer, and launched a sec­ond Phase III tri­al in May. Back in 2018, Aclaris Ther­a­peu­tics failed a Phase II study with an alope­cia area­ta can­di­date it li­censed from Rigel Phar­ma, find­ing that the mol­e­cule didn't im­prove scalp hair cov­er­age com­pared to place­bo. That can­di­date is no longer in the com­pa­ny's pipeline.