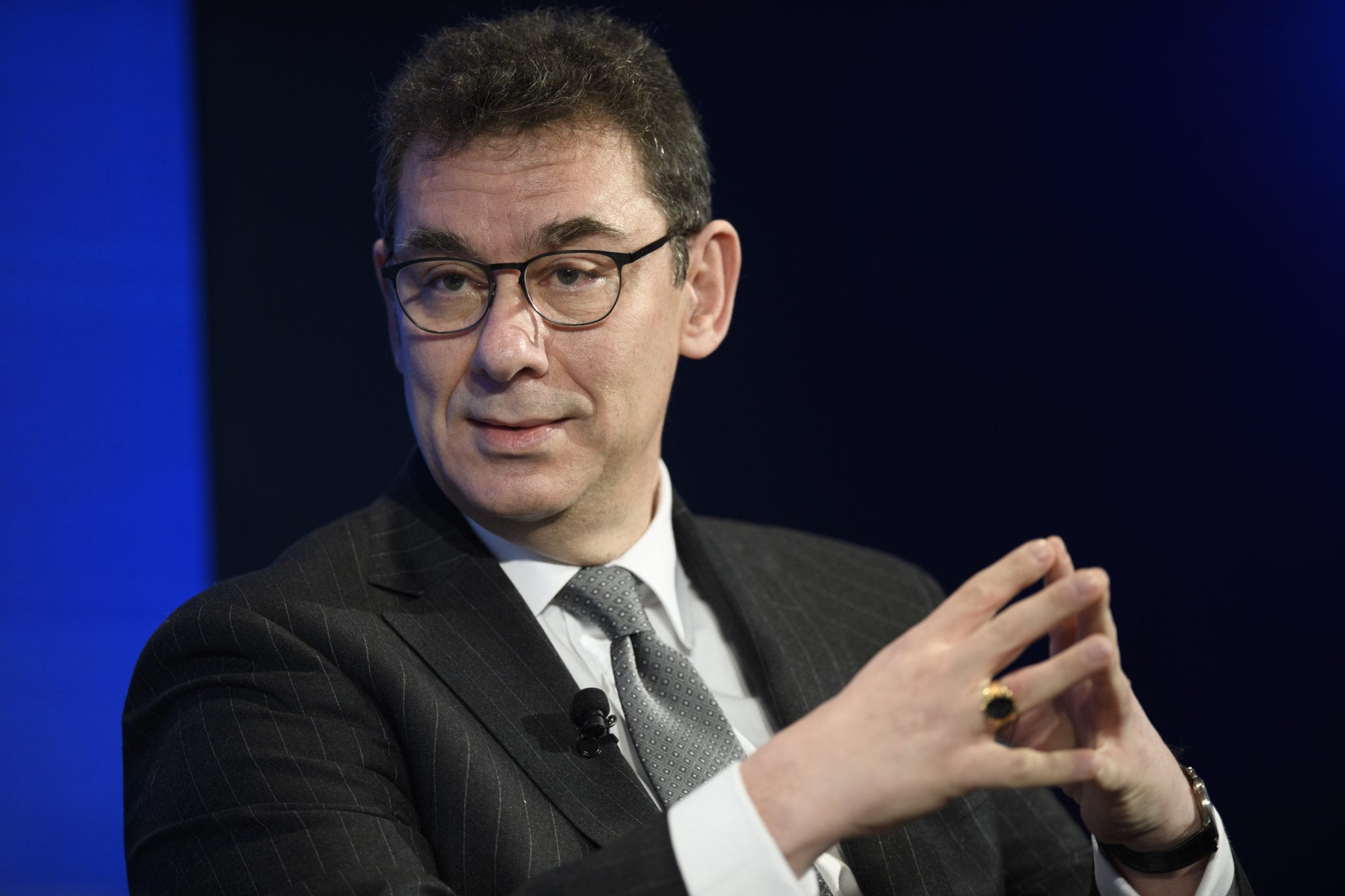 Albert Bourla, Pfizer CEO (Gian Ehrenzeller/Keystone via AP Images)
Pfiz­er, BioN­Tech say Covid-19 vac­cine is more than 90% ef­fec­tive, ex­ceed­ing ex­pert ex­pec­ta­tions and set­ting up an EUA sub­mis­sion late this month
For 10 months, the US and the world have won­dered and watched and wait­ed for when an ef­fec­tive Covid-19 vac­cine will ar­rive. Pfiz­er said Mon­day morn­ing that it has.
The Big Phar­ma and its part­ner BioN­Tech said that, on an in­ter­im look, their vac­cine was at least 90% ef­fec­tive in pre­vent­ing symp­to­matic Covid-19 cas­es. If the da­ta hold up, it would mean a pan­dem­ic in­oc­u­la­tion vast­ly more ef­fec­tive than an­tic­i­pat­ed through­out 2020, when ex­perts warned that the first vac­cines could be as low as 60% or 70% ef­fec­tive and the FDA in­di­cat­ed it was will­ing to ap­prove jabs that sur­passed the 50% mark.
Pfiz­er said it will sub­mit for an emer­gency use au­tho­riza­tion around the third week of No­vem­ber, when it sur­pass­es a safe­ty bench­mark set by the FDA. FDA of­fi­cials have in­di­cat­ed they could move to en­act an EUA at record speed, al­though not be­fore con­ven­ing an ad­vi­so­ry com­mit­tee to re­view Pfiz­er's da­ta.
A da­ta safe­ty and mon­i­tor­ing com­mit­tee didn't flag any ma­jor safe­ty is­sues, al­though the com­pa­ny still has to reach the me­di­an two months of fol­lowup the FDA has re­quired Covid-19 vac­cine mak­ers reach in their Phase III tri­als.
A sea of ques­tions still looms for the mR­NA can­di­date, though. It's not clear how well the vac­cine pre­vents in­fec­tion or se­vere cas­es of Covid-19 — an is­sue raised at the re­cent FDA ad­vi­so­ry com­mit­tee on vac­cines — and no one knows how long pro­tec­tion will last. The da­ta have al­so not been peer-re­viewed, draw­ing crit­i­cism from ac­tivists who have called for com­pa­nies not to re­lease Covid-19 re­sults by press re­lease.
Pub­lic Cit­i­zen, the left-lean­ing Wash­ing­ton-based NGO, called it "bad sci­ence," not­ing the lin­ger­ing un­knowns on safe­ty and se­vere cas­es.
"Cru­cial in­for­ma­tion ab­sent from the com­pa­nies' an­nounce­ment is any ev­i­dence that the vac­cine pre­vents se­ri­ous COVID-19 cas­es or re­duces hos­pi­tal­iza­tions and deaths due to the dis­ease," Michael Car­ome, the NGO's lead health re­searcher, said in a state­ment. "More im­por­tant­ly, crit­i­cal safe­ty da­ta from the phase 3 tri­al of the Pfiz­er and BioN­Tech vac­cine is not yet avail­able."
Still, the re­sults pro­vide a ma­jor boon for hopes that vac­cines can even­tu­al­ly help curb the pan­dem­ic in the US and world­wide. Mod­er­na, the vac­cine de­vel­op­er like­ly to read­out next, al­so us­es mR­NA, a tech­nol­o­gy that had nev­er been test­ed in large scale tri­als be­fore 2020, and vir­tu­al­ly all ma­jor can­di­dates tar­get the coro­n­avirus spike pro­tein that Pfiz­er tar­gets.
Even if the vac­cine holds up and is au­tho­rized by the FDA, though, it will still be in short sup­ply. Pfiz­er has said that around 50 mil­lion dos­es of the vac­cine could be avail­able by the end of the year, with 1 bil­lion dos­es avail­able in 2021. The vac­cine re­quires two dos­es to be ef­fec­tive.
The 90% fig­ure comes from an analy­sis of 94 con­firmed cas­es of Covid-19 across both arms of the com­pa­ny's Phase III tri­al, which has en­rolled 44,000 vol­un­teers to date. The com­pa­ny had orig­i­nal­ly planned to con­duct its first analy­sis at 32 cas­es, prompt­ing CEO Al­bert Bourla to in­sist they'd know if it worked by Oc­to­ber, but af­ter dis­cus­sions with the FDA, agreed to look af­ter 62 cas­es. By that time, though, 94 cas­es had al­ready ac­crued.
In a state­ment, Bourla cast the re­sults as a ma­jor mile­stone in the fight against the pan­dem­ic, not­ing that it comes at a time when cas­es are surg­ing to record lev­els. Those surg­ing cas­es like­ly helped Pfiz­er reach the ef­fi­ca­cy da­ta faster than they would have if the virus was un­der con­trol.
"To­day is a great day for sci­ence and hu­man­i­ty," he said. "The first set of re­sults from our Phase 3 COVID-19 vac­cine tri­al pro­vides the ini­tial ev­i­dence of our vac­cine's abil­i­ty to pre­vent COVID-19. We are reach­ing this crit­i­cal mile­stone in our vac­cine de­vel­op­ment pro­gram at a time when the world needs it most with in­fec­tion rates set­ting new records, hos­pi­tals near­ing over-ca­pac­i­ty and economies strug­gling to re­open."
Al­though Pfiz­er has in­di­cat­ed they would want to un­blind the study once re­sults were in, the com­pa­ny said that it will con­tin­ue un­til it reach­es 164 con­firmed cas­es. At that point, how­ev­er, it's un­clear whether the FDA would want them to con­tin­ue the blind­ed study, which would al­low them to col­lect bet­ter long term safe­ty da­ta.
The an­nounce­ment marks a ma­jor suc­cess for Bourla, who was pro­mot­ed to CEO two years ago to re-en­er­gize a slow-foot­ed Amer­i­can gi­ant and who ar­guably bet more on his com­pa­ny's Covid-19 vac­cine ef­forts than any oth­er ex­ec­u­tive on the plan­et. Team­ing with the Ger­man mR­NA biotech BioN­Tech, he es­chewed gov­ern­ment fund­ing on the prin­ci­ple that they could move faster alone. Asked by Time in Ju­ly what would hap­pen if the FDA re­ject­ed the vac­cine they in­vest­ed over a $1 bil­lion in, he said: "We will just have to write it off and call it a day."
Pfiz­er, a com­pa­ny that first made its mark mass-pro­duc­ing peni­cillin dur­ing World War II, could now stand to reap both the pres­tige and fi­nan­cial wind­fall of the first ef­fec­tive Covid-19 shot. The gov­ern­ment has agreed to pay the New York phar­ma $1.95 bil­lion for 100 mil­lion dos­es of its vac­cine. Pro­jec­tions for fu­ture sales vary great­ly, but SVB Leerink pegged them for over $3 bil­lion in 2021 and JP Mor­gan has put that fig­ure as high as $5.5 bil­lion.
With the world like­ly fac­ing a short­age of coro­n­avirus vac­cines for sev­er­al years to come and vac­ci­nat­ed peo­ple like­ly to need boost­er shots, the prod­uct could be a block­buster for a con­sid­er­able time.
For a look at all End­points News coro­n­avirus sto­ries, check out our spe­cial news chan­nel.