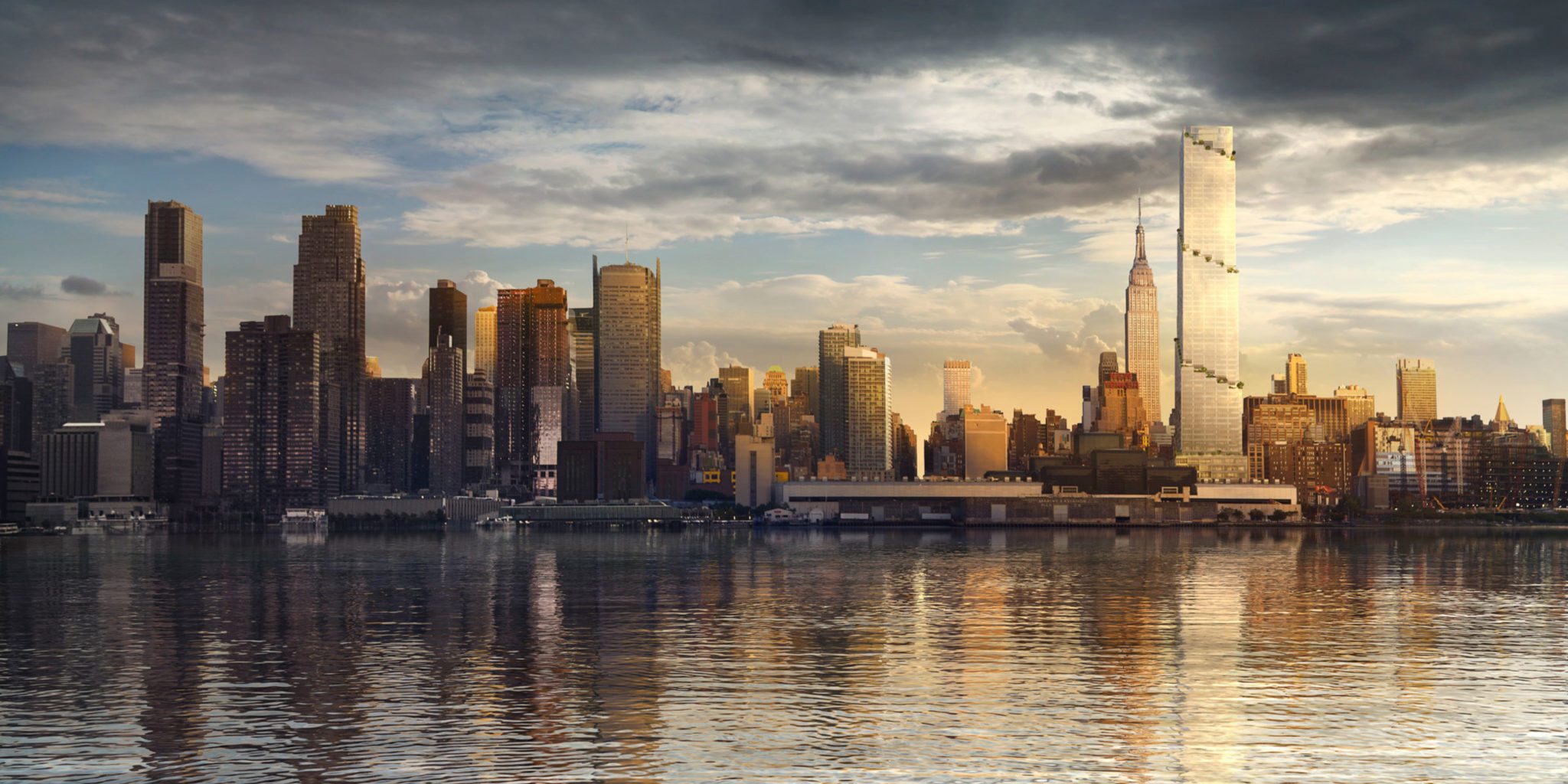 Pfiz­er heads to the Hud­son, signs 20-year lease at posh new NYC head­quar­ters
It's of­fi­cial. Pfiz­er is pack­ing up its retro of­fice digs and mov­ing in­to a mas­sive piece of re­al es­tate near the Hud­son Riv­er that's more suit­ed to the in­dus­try be­he­moth.
The com­pa­ny has signed a 20-year lease at The Spi­ral, a tow­er­ing 1,005-foot-tall of­fice tow­er be­ing con­struct­ed in the Hud­son Yards dis­trict of Man­hat­tan's Mid­town West. Pfiz­er will take up 15 floors of the build­ing's 65 sto­ries, span­ning a city block.
De­signed by Dan­ish ar­chi­tect Bjarke In­gels, the glass build­ing's hall­mark will be its up­ward-climb­ing ring of ter­races that en­cir­cle the struc­ture like a spi­ral stair­case. The glitzy build­ing will be wrapped in gar­dens and green spaces, cre­at­ing a strik­ing con­trast to New York's glass, con­crete, and steel sky­line.
A $3.2 bil­lion project, the Tish­man Spey­er build­ing will rise west of 10th Av­enue at 509 W. 34th St.
Pfiz­er's move, which is ex­pect­ed in 2022, will take em­ploy­ees out of a less-than-glam­orous build­ing at 235 East 42nd Street. The pre­vi­ous head­quar­ters has been the com­pa­ny's home since 1961. Al­though rather dat­ed in style, the build­ing was ex­pan­sive, with Pfiz­er oc­cu­py­ing 33 sto­ries and 1 mil­lion square-feet of space.
It was re­port­ed last sum­mer that Pfiz­er would need 800,000 square-feet of space at its new lo­ca­tion at The Spi­ral, but the com­pa­ny did not re­port de­tails of its lease oth­er than the num­ber of floors it would oc­cu­py. Pfiz­er has not yet re­spond­ed to our in­quiry for de­tails.
It's pos­si­ble that Pfiz­er will need less ac­tu­al square-footage than its pre­vi­ous lo­ca­tion, con­sid­er­ing the now-dom­i­nant style of wide open floor plans and "col­lab­o­ra­tive" spaces in of­fice de­sign. It's a trend be­ing adopt­ed by com­pa­nies in every in­dus­try, and life sci­ence is not ex­cep­tion. GSK, Bris­tol-My­ers, As­traZeneca, No­var­tis, Roche, and oth­ers have all made moves in­to build­ings with sim­i­lar spaces.
Im­age: The Spi­ral. TISH­MAN SPEY­ER