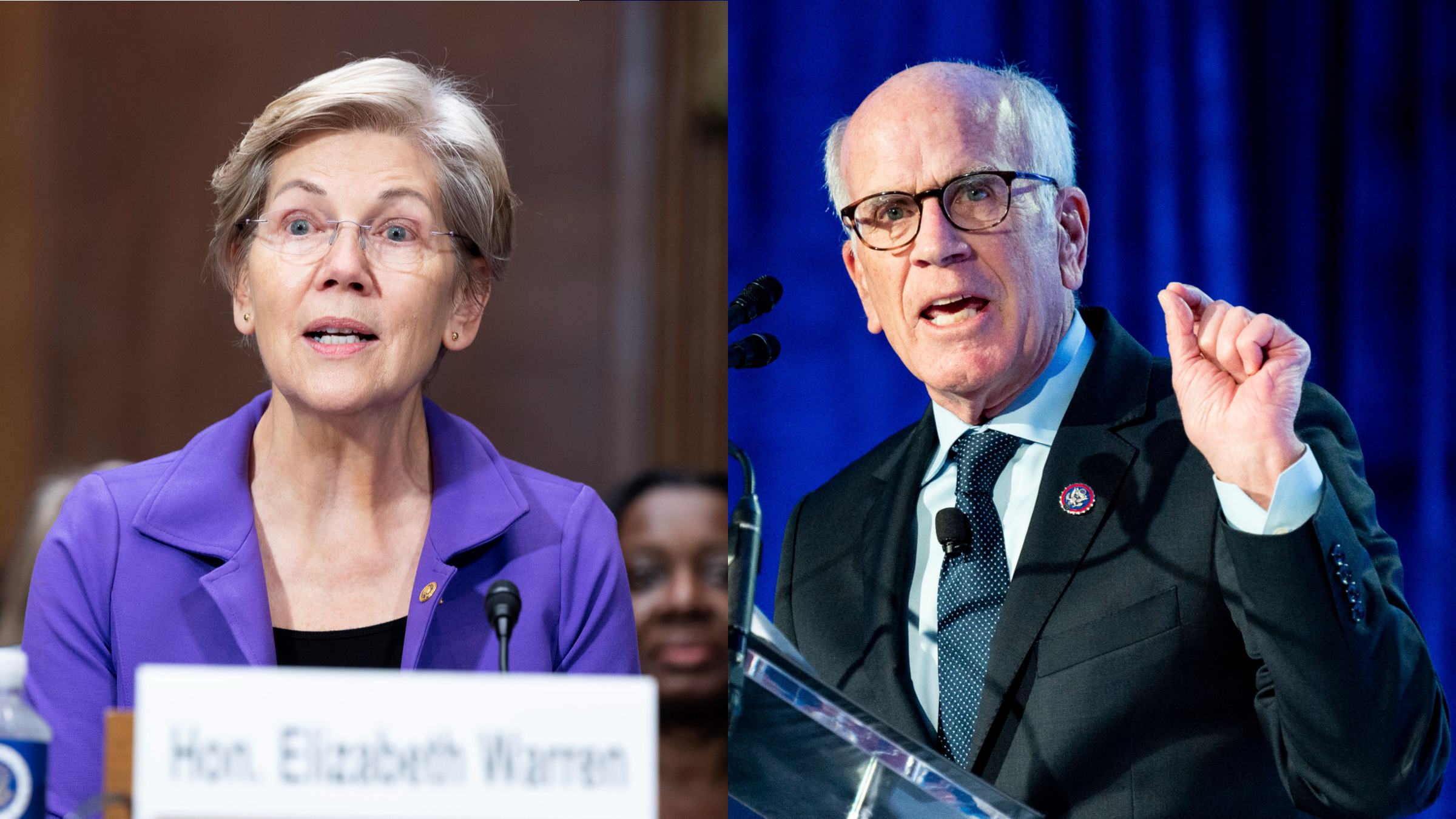 Democratic Sen. Elizabeth Warren (MA) and Senator-elect and Peter Welch (VT) (Michael Brochstein/Sipa USA via AP images)
Pfiz­er's plan for $110+ Covid-19 vac­cines riles up US sen­a­tors
Pfiz­er's Covid-19 vac­cine be­came the best-sell­ing med­ical prod­uct of all time in 2021, haul­ing in al­most $37 bil­lion in just one year.
But as the Big Phar­ma has seen sales de­cline with the chang­ing of the vari­ants and new gov­ern­ment funds run­ning dry, the firm's mR­NA vac­cine will have to switch over to the com­mer­cial mar­ket at some point soon, and be cov­ered by in­sur­ance. Two key sen­a­tors are tak­ing is­sue with that switch, which comes at a much steep­er price — at least $110 per jab, rather than $19.50 per dose at the be­gin­ning of the pan­dem­ic.
De­mo­c­ra­t­ic Sen. Eliz­a­beth War­ren (MA) and Sen­a­tor-elect Pe­ter Welch (VT) sent a let­ter yes­ter­day to Pfiz­er CEO Al­bert Bourla, seek­ing in­for­ma­tion on why this price is in­creas­ing so rapid­ly.
"This price in­crease rep­re­sents pure and dead­ly greed on the part of the com­pa­ny, and could re­sult in the COVID-in­duced fa­tal­i­ties of many unin­sured Amer­i­cans that may be un­able to af­ford the vac­cine," the sen­a­tors wrote. "Even worse, Pfiz­er's price hike could pave the way for oth­er vac­cine man­u­fac­tur­ers like Mod­er­na and No­vavax to raise the prices of their vac­cines, harm­ing Amer­i­cans seek­ing pro­tec­tion from COVID-19 and po­ten­tial­ly wors­en­ing an on­go­ing pub­lic health cri­sis."
In­deed, Mod­er­na has al­ready in­di­cat­ed that it al­so could charge north of $100 per shot as de­mand dries up.
While ac­knowl­edg­ing that Pfiz­er de­serves cred­it for its R&D ac­com­plish­ments in bring­ing the vac­cine, known as Comir­naty, and its an­tivi­ral to mar­ket so quick­ly, War­ren and Welch note the ex­tent that Pfiz­er ben­e­fit­ted from the fed­er­al gov­ern­ment's sup­port, in­clud­ing its re­liance on ba­sic tech fund­ed by the gov­ern­ment and the Ju­ly 2020 ad­vanced pur­chase or­der from the fed­er­al gov­ern­ment that amount­ed to $1.95 bil­lion for 100 mil­lion dos­es.
"Pfiz­er has earned ex­tra­or­di­nary prof­its from the vac­cine," the let­ter says. "Now, Pfiz­er's pro­posed price hikes are es­ti­mat­ed to bring in an ad­di­tion­al $2.5 – $3 bil­lion in an­nu­al rev­enue, mark­ing yet an­oth­er mas­sive cor­po­rate pay­day from the on­go­ing pan­dem­ic."
Among the open ques­tions from the let­ter, the sen­a­tors ask Pfiz­er, "How much prof­it does Pfiz­er es­ti­mate it would earn from the COVID vac­cine in 2023 if it does not in­crease the vac­cine's price? What is the es­ti­mat­ed num­ber of pa­tients that will not be able to af­ford the price in­crease for the new COVID vac­cine?"
A Pfiz­er spokesper­son told End­points News: "We can con­firm re­ceipt of the War­ren-Welch let­ter. We will not get ahead of an of­fi­cial re­sponse in the me­dia."