Pharnext rare dis­ease drug scores in late-stage study, tee­ing up ap­pli­ca­tions at the FDA and EMA
French drug de­vel­op­er Pharnext SAS says their cru­cial late-stage study has come through with sig­nif­i­cant re­sults for a new drug to ad­dress a rare neu­ro­log­i­cal dis­ease that has so far elud­ed treat­ment. The com­pa­ny's stock (EPA: $AL­PHA) soared 25% Tues­day morn­ing af­ter it an­nounced that the ex­per­i­men­tal treat­ment for Char­cot-Marie-Tooth (CMT) dis­ease was com­pelling enough to ap­ply for FDA and EMA ap­proval.
CMT is an in­her­it­ed dis­ease caused by gene mu­ta­tions that re­sult in pe­riph­er­al nerve dam­age, and is char­ac­ter­ized by the pro­gres­sive mus­cle wast­ing of the ex­trem­i­ties as well as sen­so­ry loss. Cur­rent­ly, pa­tients are treat­ed with or­tho­pe­dic de­vices, phys­i­cal ther­a­py and pain killers. There ex­ist no treat­ments that di­rect­ly tar­get the dis­ease, and the most com­mon 1A form of the dis­ease af­fects at least 125,000 peo­ple in the US and EU.
The ex­per­i­men­tal treat­ment, PXT-3003, is com­prised of three ap­proved drugs — ba­clofen, nal­trex­one and sor­bitol. In the Phase III tri­al, two dos­es of the drug were test­ed against a place­bo in pa­tients with mild-to-mod­er­ate CMT type 1A over a 15-month pe­ri­od. The main goal of the study, which en­rolled 323 pa­tients aged 16 to 65 years, was to get at least a 0.3 re­duc­tion in a scale mea­sur­ing pa­tient dis­abil­i­ty called Over­all Neu­ropa­thy Lim­i­ta­tion Scale (ONLS).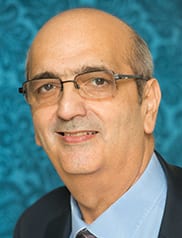 Daniel Co­hen
Da­ta showed a mean re­duc­tion of 0.4-point on the ONLS (95% CI [0.1,0.6], p=0.008) in the high­er dose group com­pared to the place­bo. Sec­ondary end­points con­firmed the su­pe­ri­or­i­ty of the high­er dose, in par­tic­u­lar demon­strat­ing im­prove­ment on a 10-me­ter walk test with a re­duc­tion of 0.5 sec (95%CI [0.1,0.9], p=0.016), Pharnext added.
In the tri­al, 87 pa­tients were giv­en a place­bo, 93 pa­tients were giv­en the low­er dose and 55 pa­tients got the high­er dose. The low­er num­ber of pa­tients giv­en the high­er dose is due to un­ex­pect­ed for­mu­la­tion/sta­bil­i­ty is­sues, the com­pa­ny said, adding that the treat­ment was found to be safe and well tol­er­at­ed.
Un­der the stew­ard­ship of its CEO Daniel Co­hen, who was one of the re­searchers in­stru­men­tal in map­ping the hu­man genome, Pharnext has de­vel­oped its tech­nol­o­gy based on a sim­i­lar mod­el. Its pleother­a­py plat­form iden­ti­fies the ide­al com­bi­na­tion of avail­able med­i­cines to fight tar­gets un­der­ly­ing dis­ease.
Pharnext plans to file for mar­ket­ing ap­proval first with the FDA, Co­hen told End­points News, and ex­pects the drug will of­fi­cial­ly hit the mar­ket by 2020, but in­tends to make the drug avail­able to pa­tients soon­er via ear­ly-ac­cess pro­grams. His ap­proach to pric­ing is al­so strik­ing­ly dif­fer­ent.
"Af­ter many dis­cus­sions with pay­ers, we're think­ing of pric­ing it at 10,000 eu­ros in Eu­rope, and around 40,000 – 50,000 dol­lars in the US, as sug­gest­ed by the pay­ers them­selves," he said.
Co­hen has long sug­gest­ed that he is against the stan­dard in­dus­try ap­proach to rare drug pric­ing, in which treat­ments for rare dis­eases typ­i­cal­ly ex­ceed $100,000 per pa­tient per year.
PXT-3003, which has pro­cured or­phan drug des­ig­na­tions in the US, EU and Chi­na, is al­so be­ing eval­u­at­ed in an on­go­ing fol­low-up ex­ten­sion study that's ex­pect­ed to pro­duce re­sults in the sec­ond half of next year, and a pe­di­atric study is set to com­mence in the first half of 2019. Mean­while, Pharnext's sec­ond drug in de­vel­op­ment, PXT864, is be­ing eval­u­at­ed as a treat­ment for Alzheimer's and Lou Gehrig's dis­ease.