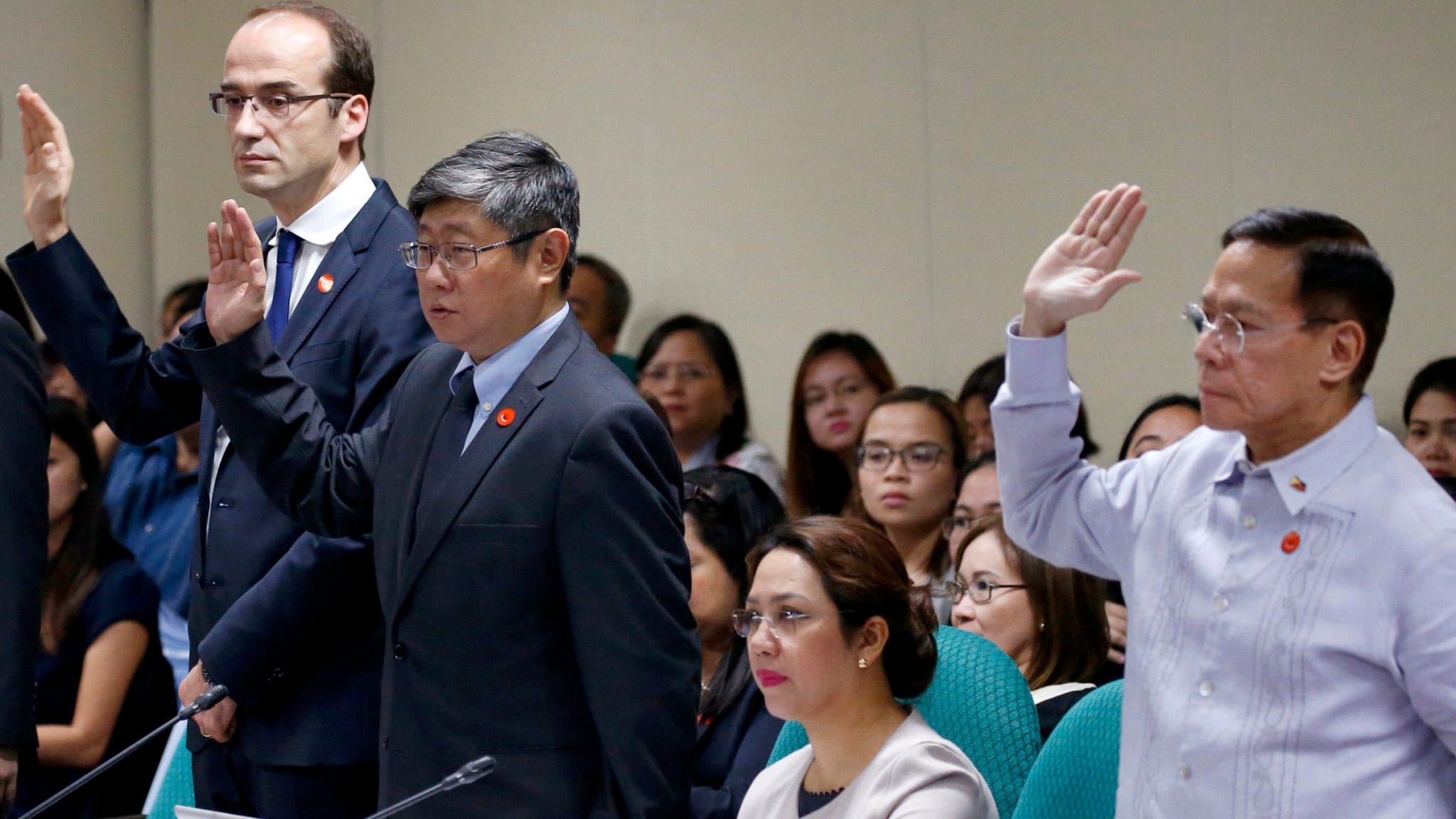 Philip­pines DOJ preps crim­i­nal charges for Sanofi, health of­fi­cials in­volved in the Deng­vax­ia mess
The furor over Sanofi's Deng­vax­ia con­tin­ues to roil the Philip­pines.
More than a year af­ter Sanofi con­ced­ed that the dengue vac­cine might raise the risk of a se­ri­ous re­ac­tion for the 800,000-plus chil­dren who were vac­ci­nat­ed in 2016, of­fi­cials in the De­part­ment of Jus­tice say they have grounds for in­dict­ing Sanofi ex­ecs along­side for­mer Health Sec­re­tary Janette Garin and 9 more health of­fi­cials in­volved in the vac­ci­na­tion pro­gram on crim­i­nal charges of reck­less im­pru­dence re­sult­ing to homi­cide.
Sanofi has con­sis­tent­ly main­tained it did noth­ing wrong in rolling out Deng­vax­ia, but af­ter tout­ing their long run­ning in-house pro­gram and plans to earn bil­lions on the vac­cine around the world, they have noth­ing but a mess to show for it — along with pend­ing crim­i­nal in­dict­ments.
Their state­ment to­day:
We strong­ly dis­agree with the find­ings made against Sanofi and some of its em­ploy­ees and we will vig­or­ous­ly de­fend them. As this is an on­go­ing pro­ceed­ing, it would not be ap­pro­pri­ate for us to com­ment fur­ther at this time.
Even be­fore Sanofi spot­light­ed the risk as­so­ci­at­ed with the vac­cine, in­de­pen­dent in­ves­ti­ga­tors had de­ter­mined on their own that the phar­ma gi­ant had the da­ta in hand to un­der­stand that the vac­cine raised the risk of a se­vere re­ac­tion to any­one who had been vac­ci­nat­ed and then ex­posed to the virus for the first time.
In the first dengue in­fec­tion, peo­ple typ­i­cal­ly get mild flu-like symp­toms as their body gen­er­ates an­ti­bod­ies that fight off the virus, which the vac­cine is al­so de­signed to kick up. Three years ago, Scott Hal­stead and Philip Rus­sell point­ed to those an­ti­bod­ies as a se­vere threat to any­one who then is ex­posed to wild type dengue for the first time. At that point they as­sist the virus in a process called an­ti­body-de­pen­dent en­hance­ment, or ADE. And the most se­vere cas­es can lead to in­ter­nal bleed­ing, a res­pi­ra­to­ry cri­sis, or­gan fail­ure and death.
The threat Deng­vax­ia pos­es was al­so spot­light­ed in a ma­jor study pub­lished in Sci­ence just a few weeks af­ter the Philip­pines got busy vac­ci­nat­ing peo­ple. And the re­searchers, in­clud­ing Neil Fer­gu­son, di­rec­tor of the MRC Cen­ter for Out­break Analy­sis and Mod­el­ing at Im­pe­r­i­al Col­lege Lon­don, of­fered some wide­ly dis­cussed, stark warn­ings of ADE.
"You'd have in­creas­es in hos­pi­tal­ized dengue cas­es," co-au­thor Derek Cum­mings, a pro­fes­sor at the Uni­ver­si­ty of Flori­da, told CNN at the time. "It would be ex­act­ly the op­po­site of what you in­tend to do."
---
Philip­pine Health of­fi­cials and Sanofi Pas­teur ex­ec­u­tives take their oaths be­fore the Philip­pine Sen­ate probe in 2017. ap im­ages