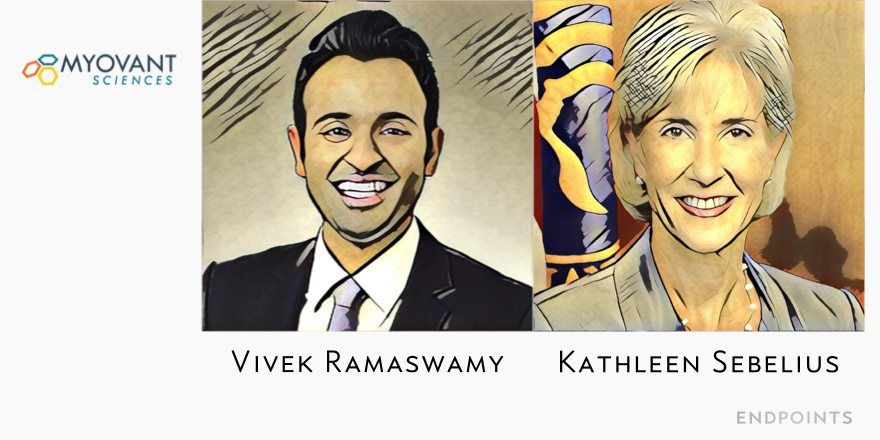 ---
A pair of biotechs are looking to raise more than $250 million through IPOs, slipping into the short queue on the last working day of Q3. One is from a Bermuda-based adventurer with a knack for shaking loose cheap, late-stage assets from pharma's R&D shelves and the other is a venture-backed player with plans to carve out a share of a blockbuster franchise.
The first is Myovant Sciences, another instant-mix biotech from the 30-year-old former hedge fund manager Vivek Ramaswamy. This time, the young financier has conjured a company with a respected scientist at the helm and former HHS Secretary Kathleen Sebelius on the board.
Ramaswamy made waves during the waning days of the biotech boom last year by grabbing a failed Alzheimer's drug from GlaxoSmithKline for a song, then raising an eye-popping $315 million in an IPO Axovant is using to pay for a revised Phase III trial, looking to capitalize on a sliver of positive results spied in the clinic while transforming a shelved therapy into an overnight fortune. Ramaswamy told Forbes that he wants to become the Berkshire Hathaway of biotech. But instead of investing heavily in universally known consumer products, he's grabbing risky drug development programs and looking for a quick score in Phase III.
Investors have been eating it up, so far. And Ramaswamy now has a $172.5 million IPO feast planned for Myovant, which was whipped up last June.
Myovant's assets are coming from Takeda, which is undergoing a top-to-bottom R&D overhaul that shook out relugolix. Picked up at the end of Phase II, Myovant is looking for cash to pay for a Phase III effort that includes a trio of late-stage studies for uterine fibroids, endometriosis-associated pain and prostate cancer. Its second drug is RVT-602, an oligopeptide kisspeptin analog for the treatment of female infertility.
Ramaswamy had to pay GSK $5 million for its Alzheimer's drug, lunch money in the biopharma world, but the S-1 reveals that he didn't need cash for the Takeda drug. According to the S-1, Takeda accepted about $7.7 million worth of stock and a warrant – valued at $5.3 million – that guarantees the Japanese company a 12% equity stake in the company for a limited amount of time.
Takeda, meanwhile, is running a pair of its own Phase III trials for relugolix, which it plans to use for a marketing application in Japan. And Myovant has the right to use Takeda's data in its own NDA in the U.S.
Not a drug developer, Ramaswamy recruited Lynn Seely from Medivation to run the start-up show, which now includes a total of 9 staffers working under Ramaswamy's umbrella group. Seely, the former CMO at Medivation, has plenty of market credibility as a developer, as Pfizer's $14 billion takeover of Medivation in August helped prove.
Like Takeda, Seely was also wooed with stock. Seely picked up 2 million shares (2.6% of the company) when she started and is in line for another million shares in a year, which all vest over time. Sebelius's board position should also add some heft to the company's rep.
Ramaswamy's record Axovant IPO was completed at the tail end of the go-go period for biotech stocks, but he'll have to contend with a different market now, with generalists on the sidelines and insiders expected to do much of the purchasing. Some recent IPOs have been doing well, though, which perhaps indicates that Ramaswamy's timing is still good.
Cambridge, MA-based Ra Pharmaceuticals, which has a big blockbuster in its sights, is facing the same situation. The folks at Ra simply believe that they have a better peptide chemistry platform to make a new and improved C5 inhibitor that will prove safer and more effective than Soliris, the most expensive therapy in the U.S., which is marketed by Alexion. And they're using that argument in an IPO that pencils in an $86 million haul in the S-1.
Like Soliris, their drug is being developed for the rare blood disorder paroxysmal nocturnal hemoglobinuria, or PNH. And the biotech plans to use that lead program, now poised at the threshold of Phase II, to break a path for a pipeline of drugs that address ailments associated with dysfunction of the complement system component of the immune system. That's a rich array of targets, ranging from CNS diseases to rare blood, neurologic, ophthalmologic, renal and inflammatory conditions.
RA Capital Management, Novo Ventures, and Lightstone Ventures led a $58.5 million crossover round last summer, jumping into a syndicate that included new investors Rock Springs Capital and Limulus Venture Partners. A prolific New Enterprise Associates, Novartis Venture Fund, Morgenthaler Ventures and Amgen Ventures funded the startup, which says it has enough money to get through the first half of 2017 without new funding.
Ra Pharma and Myovant are both lining IPOs up alongside CRISPR Therapeutics, a gene editing company which hopes to see some of the same market success experienced by Editas and Intellia.
---
The best place to read
Endpoints News

? In your inbox.

Comprehensive daily news report for those who discover, develop, and market drugs. Join 44,800+ biopharma pros who read Endpoints News by email every day.

Free Subscription
---
---
---