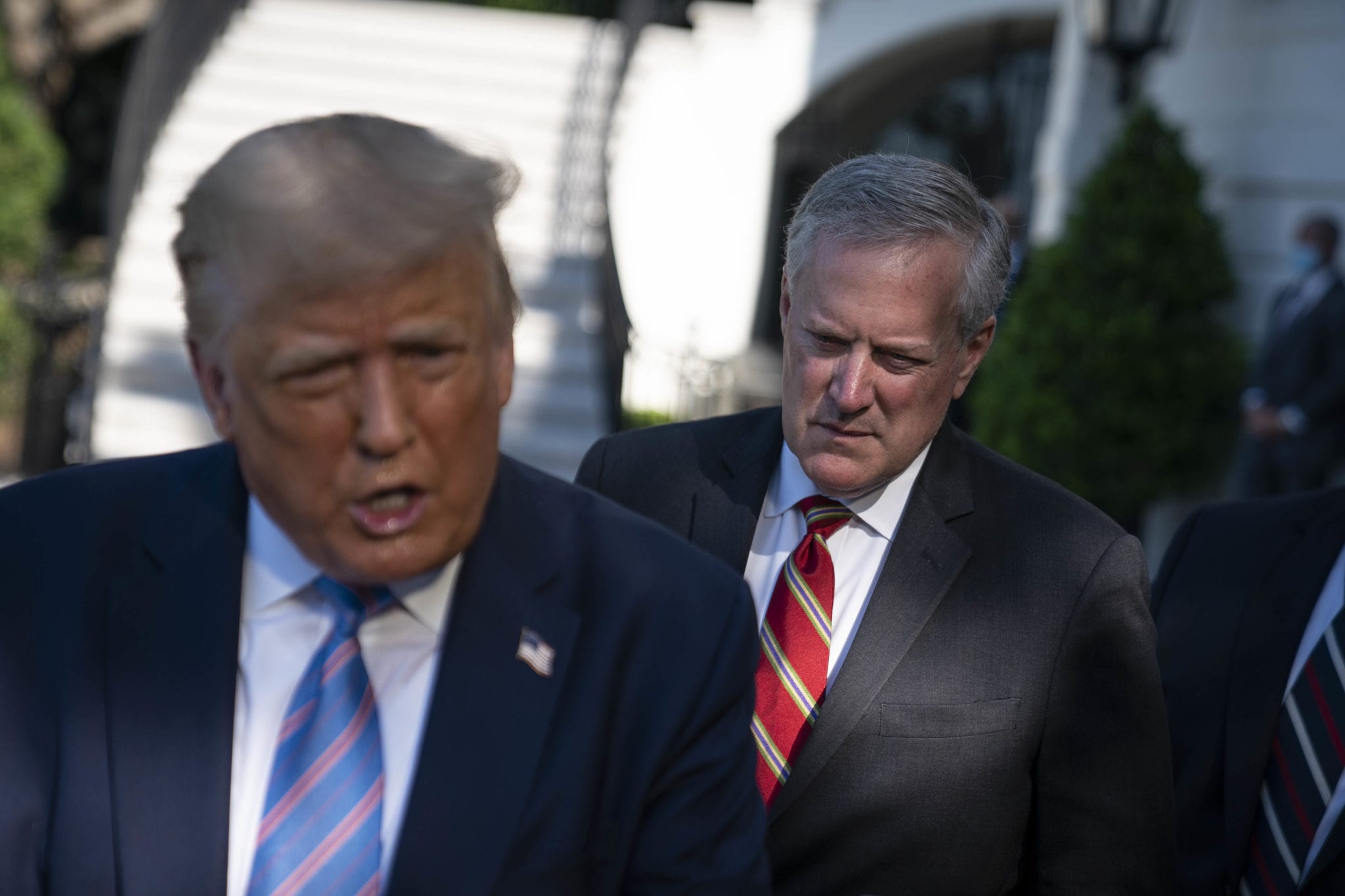 Donald Trump and White House chief of staff Mark Meadows, before boarding Marine One (Getty Images)
Pric­ing deal col­laps­es over Big Phar­ma's re­fusal to is­sue $100 'cash card­s' be­fore the elec­tion — re­port
Late in Au­gust, as ne­go­ti­a­tions on a pric­ing deal with Pres­i­dent Trump reached a boil­ing point, PhRMA pres­i­dent Stephen Ubl sent an email up­date to the 34 bio­phar­ma chiefs that sit on his board. He wrote that if the in­dus­try did not agree to pay for a $100 "cash card" sent to se­niors be­fore No­vem­ber, White House chief of staff Mark Mead­ows was go­ing to tell the news me­dia Big Phar­ma was re­fus­ing to "share the sav­ings" with the el­der­ly — and that all of the blame for failed drug pric­ing ne­go­ti­a­tions would lie square­ly on the in­dus­try.
Drug­mak­ers were on the brink of a deal. Typ­i­cal­ly un­palat­able items like Medicare co-pay­ments and $150 bil­lion in out-of-pock­et con­sumer costs were re­port­ed­ly ad­dressed. Yet it was the cash card de­mand by Mead­ows — Trump's fourth chief-of-staff — that doomed the deal on a Sep­tem­ber 2 phone call be­tween Ubl and the PhRMA board. These de­tails were re­port­ed by the New York Times late on Fri­day, just as the na­tion was gripped with the news of Ruth Bad­er Gins­burg's death.
Priscil­la Van­derVeer, the new vice pres­i­dent of pub­lic af­fairs at PhRMA, told the Times: "We could not agree to the ad­min­is­tra­tion's plan to is­sue one-time sav­ings cards right be­fore a pres­i­den­tial elec­tion."
The ne­go­ti­a­tions were tak­ing place at a time Trump was threat­en­ing to, and even­tu­al­ly did, un­veil a set of four ex­ec­u­tive or­ders aimed at re­duc­ing drug pric­ing. The most con­tro­ver­sial or­der, which seeks to tie some drug prices at lev­els paid in oth­er coun­tries — and of which the le­gal­i­ty is sure to be chal­lenged, was is­sued af­ter ne­go­ti­a­tions with PhRMA col­lapsed.
"Pres­i­dent Trump signed four ex­ec­u­tive or­ders ear­li­er this sum­mer. How­ev­er, he did not re­lease the fi­nal ex­ec­u­tive or­der on 'most-fa­vored na­tion' drug pric­ing, giv­ing drug com­pa­nies a month to come up with a coun­ter­pro­pos­al. Ne­go­ti­a­tions did not pro­duce an ac­cept­able al­ter­na­tive, so the pres­i­dent is mov­ing for­ward," said Judd Deere, a Trump spokesper­son.
Cit­ing four sources fa­mil­iar with the mat­ter, the Times re­ports the com­pa­nies were will­ing, though re­luc­tant, to spend the mon­ey on co-pay as­sis­tance. But there was a "broad con­sen­sus" on PhRMA's board that it was out of line to is­sue $100 cash cards so close to the elec­tion.
The PhRMA board con­sists of 34 mem­bers, cur­rent­ly chaired by BMS' Gio­van­ni Caforio.