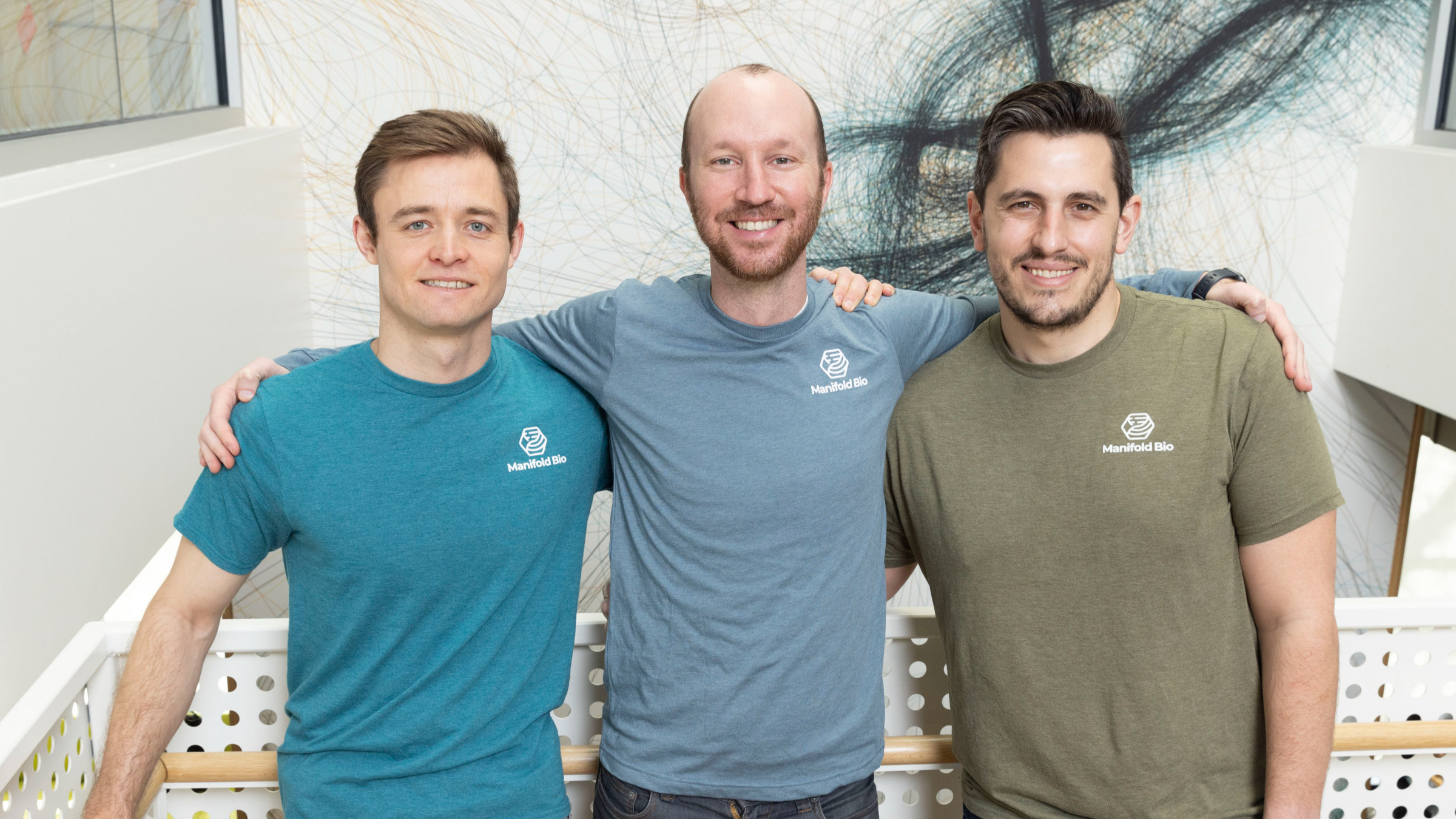 From L to R: Manifold Bio co-founders Gleb Kuznetsov (CEO), Shane Lofgren (head of BD) and Pierce Ogden (CSO)
Pro­tein ther­a­peu­tics biotech us­ing 'pro­tein bar­codes' in drug de­vel­op­ment se­cures new fi­nanc­ing — led by Jeff Hu­ber
Two years af­ter kick­ing things off with $5.4 mil­lion, a George Church spin­out is re­fill­ing its cof­fers to fu­el its ef­forts tack­ling pro­tein ther­a­peu­tics R&D.
Boston biotech Man­i­fold Bio an­nounced the new Se­ries A Thurs­day, led by new VC Tri­atom­ic Cap­i­tal, rais­ing $40 mil­lion to ad­vance its in­ter­nal pipeline and ex­pand its plat­form ca­pa­bil­i­ties. CEO and co-founder Gleb Kuznetsov tells End­points News that the fi­nanc­ing should last the biotech close to 2.5 years, de­pend­ing on how fast the com­pa­ny spends it.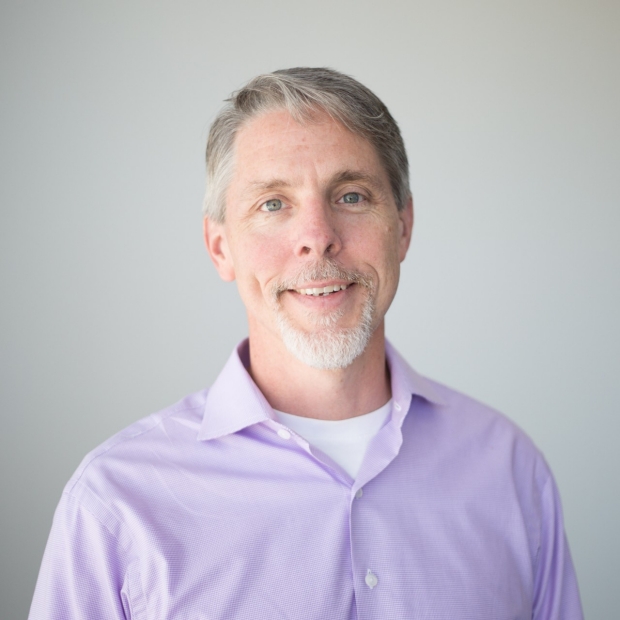 Jeff Hu­ber
The biotech was Tri­atom­ic's first in­vest­ment, Man­i­fold said in a state­ment. The VC was found­ed by none oth­er than Jeff Hu­ber, the for­mer Google ex­ec and once-CEO of Sil­i­con Val­ley can­cer test­ing start­up Grail be­fore it got bought out by Il­lu­mi­na last year. Hu­ber will be join­ing Man­i­fold's board of di­rec­tors.
The com­pa­ny got its start when Kuznetsov and an­oth­er co-founder, Man­i­fold's CSO Pierce Og­den, were grad­u­ate stu­dents in famed ge­neti­cist George Church's lab. Ac­cord­ing to Kuznetsov, the pair were very in­ter­est­ed in pro­teins and pro­tein de­sign — which led them to talk to dif­fer­ent in­dus­try folks about the over­all price and ther­a­peu­tics process, and see­ing if there was a way to in­cor­po­rate more tech­nol­o­gy in­to it.
Kuznetsov orig­i­nal­ly grad­u­at­ed from MIT with a Bach­e­lor's and then a Mas­ter's in Com­put­er Sci­ence and spent a year at Google as a soft­ware en­gi­neer. Sev­er­al years lat­er, he went back to MIT for a PhD in Bio­physics.
"We didn't want to just kind of bring for­ward, you know, a new drug, and, you know, kind of go the stan­dard route of pick­ing one drug and de­vel­op it," Kuznetsov said — ref­er­enc­ing a mind­set he had seen about "you just kind of dog­mat­i­cal­ly test one mol­e­cule in an an­i­mal even­tu­al­ly, and that sort of make it or break it for a pro­gram." That said, that led to Man­i­fold's whole ob­jec­tive: to use tech­nol­o­gy to re­de­fine the pro­tein ther­a­peu­tic dis­cov­ery process.
The biotech first got off the ground in 2020 with $5.4 mil­lion in seed fund­ing.
As for what ex­act­ly Man­i­fold does, Kuznetsov said that the biotech wants to ad­dress what he called "bot­tle­necks" in drug cre­ation, with a spe­cif­ic pipeline fo­cus on can­cer tu­mors. One ex­am­ple was tar­get­ing — how to get a drug to start killing can­cer cells with­out harm­ing the rest of the pa­tient. Speci­fici­ty and com­plex­i­ty of which tar­gets a drug go af­ter were al­so key ques­tions at Man­i­fold.
To tack­le these bot­tle­necks, the biotech us­es "pro­tein bar­cod­ing" to track its drugs.
"From an en­gi­neer­ing per­spec­tive, you want to make these en­gi­neer mol­e­cules nav­i­gate this com­plex mam­malian en­vi­ron­ment and get just to those can­cer cells," the CEO said. Af­ter mak­ing the drug com­po­nents in-house, the biotech then adds the pro­tein bar­codes — tiny bits of pro­tein that track how the drugs work and how ef­fec­tive the pro­tein ther­a­peu­tics are. Kuznetsov then gave an ex­am­ple, say a mouse mod­el that has a can­cer tu­mor.
Af­ter re­searchers put the drug can­di­dates in­to the tu­mor and an­a­lyze the re­sults, they count, us­ing pro­tein bar­codes plus some pro­pri­etary tech, which of the com­pa­ny's drug de­signs end up ac­tu­al­ly be­ing suc­cess­ful.
Be­yond that, Man­i­fold has been in­ves­ti­gat­ing com­bin­ing mul­ti­ple binders to bet­ter tar­get can­cer cells that ex­press dif­fer­ent com­bi­na­tions of tar­gets. How­ev­er, the CEO not­ed that as you add this kind of com­plex­i­ty, the en­gi­neer­ing re­quired goes up too.
Kuznetsov al­so men­tioned that he has worked with Church di­rect­ly for a decade — start­ing in the ge­neti­cist's lab back in 2012 as a re­search en­gi­neer be­fore start­ing his PhD in 2014. And be­cause of that re­la­tion­ship, Church meets with Man­i­fold once a month where the founders "ba­si­cal­ly pri­or­i­tize what we're try­ing to do. And then George brings forth his own view of things," the CEO not­ed.
The biotech, cur­rent­ly 15 strong, is plan­ning on dou­bling in size through­out the Se­ries A.
Kuznetsov added that while the biotech is not cur­rent­ly look­ing at ex­pand­ing its pipeline be­yond on­col­o­gy, it is in dis­cus­sions with a num­ber of oth­er com­pa­nies for pos­si­ble part­ner­ships. The biotech al­so not­ed that it start­ed work­ing on the Se­ries A just ear­li­er this year — and that it on­ly took a few months to se­cure in­vest­ments in light of how the biotech mar­ket has per­formed since Jan­u­ary.
New in­vestors for the Se­ries round in­clude Sec­tion 32, FPV, Hori­zons and Ten­cent. Pre­vi­ous in­vestors that al­so par­tic­i­pat­ed in this round in­clude Fifty Years, Play­ground Glob­al and FAST by GET­TY­LAB.