Pub­lic com­bat over US drug prices cen­ters on Prop 61 as rhetoric heats up to fever pitch
A week ago, Propo­si­tion 61 looked like a sure win­ner for its ad­vo­cates. With sen­ti­ment run­ning strong­ly against Big Phar­ma com­pa­nies, polls showed plen­ty of sup­port for a bal­lot mea­sure in Cal­i­for­nia that would cap drug prices for the state at the lev­el that the Vet­er­ans Ad­min­is­tra­tion reach­es through price ne­go­ti­a­tions.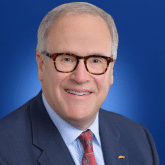 Eli Lil­ly CEO John Lech­leit­er
But with the vote now just hours away, the in­dus­try is see­ing the polling re­sults lean­ing to a dead heat af­ter throw­ing more than $100 mil­lion in­to the fight, which is reach­ing a fever pitch in the hours be­fore fi­nal vot­ing be­gins.
As Eli Lil­ly CEO John Lech­leit­er made crys­tal clear in his Q3 call with an­a­lysts a few days ago, he and oth­er in­dus­try lead­ers are dead set against Propo­si­tion 61 for a va­ri­ety of rea­sons. Here's what he had to say:
Prop 61, we're fight­ing that tooth-and-nail in Cal­i­for­nia. It's not on­ly bad leg­is­la­tion, it's bad for your health. And we're try­ing to im­press that on the vot­ers. What we've found is that the more peo­ple be­come aware of what's at stake here and what's the like­ly out­comes of Propo­si­tion 61, the more they're prone to vote against it and vote it down. So we have a pret­ty big cam­paign un­der­way in Cal­i­for­nia right now to in­crease that lev­el of aware­ness and hope­ful­ly to con­tin­ue to shift vot­ers to­ward a po­si­tion of be­ing against it for a whole va­ri­ety of rea­sons.
One of the ar­gu­ments that's be­ing thrown against the mea­sure is that the VA isn't go­ing to find it so easy to ne­go­ti­ate the big dis­counts it's been win­ning — around 40% — if that num­ber be­comes the cap that state pay­ers are fo­cused on. And the prospect that the end re­sult of Prop. 61 is that vets will pay more as a re­sult has helped turn the tide in Cal­i­for­nia.
But it's im­pos­si­ble to say now who's on top.
Pro­po­nents, mean­while, aren't about to give up now, and they're turn­ing up the al­ready heat­ed rhetoric. In a new re­lease out to­day, they opt­ed to vil­i­fy Lech­leit­er and a group of Big Phar­ma CEOs for their com­pa­nies' past mar­ket­ing in­frac­tions. New 15-sec­ond ads fea­tured 6 phar­ma ex­ecs on "Want­ed" posters: Alex Gorsky at J&J; Ken Fra­zier at Mer­ck; Ian Read at Pfiz­er; Richard Gon­za­lez at Ab­b­Vie; Robert Brad­way at Am­gen and even Brent Saun­ders at Al­ler­gan, cit­ed for a 2010 vi­o­la­tion on pro­mot­ing Botox — long be­fore Saun­ders bought the com­pa­ny.
Or­ga­niz­ers say that the CEOs have "the morals and ethics of junk­yard dogs."
Gar­ry South, a lead strate­gist who's be­ing out­spent by about $10 to $1, cit­ed the sup­port of Bernie Sanders in the fight. He said:
Are you go­ing to trust Sen. Bernie Sanders, the Cal­i­for­nia Nurs­es Assn., AARP and Con­sumer Watch­dog, who strong­ly back Prop. 61? Or are you go­ing to trust the crim­i­nal drug com­pa­nies – con­vict­ed of all sorts of il­le­gal be­hav­ior – who are now spend­ing $126 mil­lion of their ill-got­ten gains to lie about Prop. 61?
What­ev­er hap­pens in Cal­i­for­nia, af­ter the elec­tion these same phar­ma ex­ecs are like­ly to face a gru­el­ing de­bate in Wash­ing­ton DC over drug prices, where ex­ecs from My­lan, Valeant and Tur­ing have al­ready had to face dys­pep­tic law­mak­ers. Right now, the in­dus­try will have to wait and see who comes up a win­ner on elec­tion day Tues­day. But no mat­ter who wins the votes, this is one is­sue that will not be go­ing away any­time soon.
The lat­est emails from Hillary Clin­ton's cam­paign re­leased by Wik­iLeaks in re­cent days un­der­scores that the cam­paign tried to care­ful­ly cal­i­brate its at­tacks on phar­ma. And not all her ad­vis­ers were con­tent with the idea.
This is what Mandy Grun­wald, a se­nior com­mu­ni­ca­tions ad­vis­er, had to say when told that the cam­paign was di­al­ing down the at­tack on bio­phar­ma:
On Medicare, it's not clear that it is ac­tu­al­ly against the law for Medicare to use its pur­chas­ing pow­er to ne­go­ti­ate for low­er prices — the way the VA does. That's what's com­plete­ly crazy. On Ad­ver­tis­ing, you're miss­ing the out­rage that tax­pay­ers are help­ing to pay for those ads we all hate. On in­no­va­tion — boy I think you've gone too far in suck­ing up to these com­pa­nies. Re­mem­ber Joel and An­zo's polling shows that peo­ple think these guys are big­ger vil­lains than Wall Street bankers. We should take it as a point of pride that they are go­ing to at­tack her — but her be­lief is that all com­pa­nies should be held ac­count­able if they're rip­ping off the Amer­i­can peo­ple — whether its drug com­pa­nies or oil com­pa­nies or for prof­it col­leges or wall street….