Push­ing ahead with can­cer drug re­search, Pelo­ton brings its lat­est round to $75M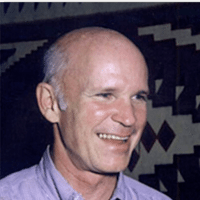 Steven L. McK­night
Dal­las-based Pelo­ton Ther­a­peu­tics has bagged an ex­tra $22.2 mil­lion for its Se­ries D round, bring­ing the to­tal to $74.6 mil­lion.
Much of that mon­ey is be­ing ear­marked for PT2385, an ear­ly-stage drug which Pelo­ton sees as a "first-in-class" small mol­e­cule tar­get­ing hy­pox­ia in­ducible fac­tor-2α (HIF-2α), a tran­scrip­tion fac­tor in­volved in can­cer pro­gres­sion. Their lead pro­gram is cur­rent­ly in a Phase I study for clear cell re­nal cell car­ci­no­ma, or ccR­CC.
John A. Josey
Pelo­ton got start­ed six years ago with an $18 mil­lion round and back­ing from the state's in­vest­ment pro­gram for can­cer ther­a­pies. The biotech was found­ed by Steven L. McK­night, the chair­man of bio­chem­istry at UT South­west­ern. McK­night's high-through­put screen­ing lab was re­spon­si­ble for find­ing the com­pounds that are now part of its pipeline. CEO John A. Josey is the for­mer VP of dis­cov­ery chem­istry at Ar­ray Bio­Phar­ma
The biotech didn't spec­i­fy where the lat­est batch of funds came from, but it lists a big group of back­ers, in­clud­ing The Col­umn Group, Remedi­tex Ven­tures, Tichenor Ven­tures, Top­spin Fund and Nex­tech In­vest.
"This fi­nanc­ing rep­re­sents a strong vote of con­fi­dence in our sci­ence and the val­ue of our pro­grams, in­clud­ing the po­ten­tial of our HIF-2α an­tag­o­nists to im­pact the treat­ment of re­nal and oth­er can­cers," said Josey. "We are pleased with the con­tin­ued sup­port from our in­vestors."