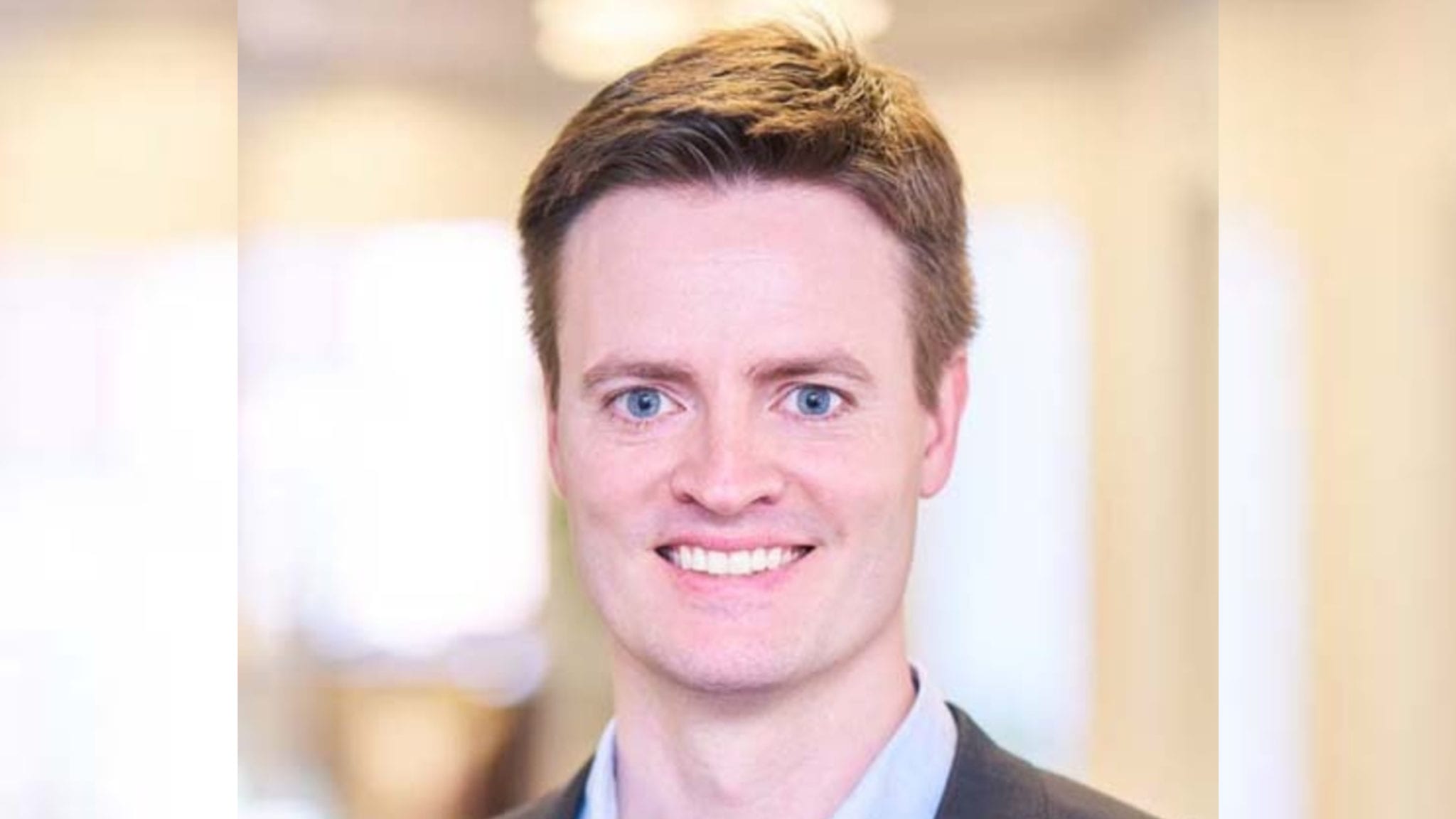 Ben Dake (Source: Aerovate)
RA Cap­i­tal-backed Aerovate launch­es with $72.6M to treat PAH with a re­pur­posed can­cer med
The land­mark can­cer drug ima­tinib has been on the mar­ket since 2001, first sold by No­var­tis as Gleevec and in re­cent years as a gener­ic. Now, a new Boston biotech is aim­ing to re­pur­pose the drug as a treat­ment for pul­monary ar­te­r­i­al hy­per­ten­sion.
Aerovate emerged from stealth Thurs­day and an­nounced a $72.6 mil­lion Se­ries A, which will be used to de­vel­op and run tri­als for its can­di­date AV-101 — a dry pow­der ver­sion of ima­tinib meant to be used with an in­haler. The com­pa­ny emerged from RA Cap­i­tal's in­cu­ba­tor and fund­ing was led by Sofinno­va.
Ima­tinib had been test­ed oral­ly in PAH pa­tients be­fore, CEO Ben Dake tells me. Re­sults from a Phase III tri­al with the oral de­liv­ery ver­sion showed promis­ing ef­fi­ca­cy lev­els, but PAH pa­tients didn't tol­er­ate the drug well.
"Tak­ing an an­ti-pro­lif­er­a­tive can­cer drug and try­ing to fig­ure out a way to make it work in a dif­fer­ent dis­ease made a lot of sense to me and to the team," Dake told End­points News. "But even though it was dif­fi­cult for them to tol­er­ate, it did work well on ex­er­cise ca­pac­i­ty, which is the pri­ma­ry end­point for ap­proval for PAH drugs, as well as he­mo­dy­nam­ics."
One of the key chal­lenges Aerovate faced in de­vel­op­ment was how to de­liv­er the drug ex­act­ly to where it need­ed to be in the lungs. The biotech set­tled on an in­haled method but, due to the na­ture of such ther­a­pies, still had to de­ter­mine pre­cise­ly the right size par­ti­cle and make sure the mol­e­cule doesn't ab­sorb wa­ter.
Ul­ti­mate­ly the com­pa­ny set­tled on ima­tinib and craft­ed a prod­uct that they hope is eas­i­er to use than oth­er PAH treat­ments like a liq­uid neb­u­liz­er, in which pa­tients have to mix the so­lu­tions them­selves and car­ry around a large de­vice. Af­ter set­tling on ima­tinib and pri­or­i­tiz­ing ease of use, Aerovate is con­tent with where it land­ed.
"We had to do quite a bit of work to find a good, sta­ble, well-per­form­ing aerosol," Dake said. "It's not some­thing as sim­ple as grind­ing up a pill."
Aerovate sees it­self as step­ping in PAH pa­tients whose con­di­tions have wors­ened de­spite oth­er ther­a­pies, Dake said. Gen­er­al­ly, some­one with PAH will start on a reg­i­men of PDE5 in­hibitors that di­late blood ves­sels and progress through two or three oth­er pills be­fore po­ten­tial­ly need­ing an IV or sub­cu­ta­neous pump.
At that point, there is no fur­ther treat­ment avail­able. AV-101 aims to fill that gap as Dake says it shifts the ther­a­py par­a­digm from stan­dard of care to dis­ease-mod­i­fy­ing treat­ment.
"We want­ed to be aware of where the ther­a­peu­tic fo­cus was go­ing and not with an old­er-style of drug, and there's oth­er ad­van­tages to dry pow­der but the main one is for pa­tients in that it's easy to use," Dake said. "Where we would come in is where pa­tients are al­ready on a dou­ble ther­a­py or triple ther­a­py, they can add on our in­haler. And that is where the oral [ima­tinib] tri­al was run."
Long-term, Aerovate has oth­er pro­grams it would like to de­vel­op but is fo­cused on bring­ing AV-101 to mar­ket. Josh Resnick, a man­ag­ing di­rec­tor at RA Cap­i­tal and mem­ber of Aerovate's board, said the path to com­mer­cial­iza­tion is "rel­a­tive­ly straight­for­ward" giv­en that the FDA is al­ready fa­mil­iar with the ima­tinib com­pound.
"It's a pa­tient pop­u­la­tion that's well-un­der­stood, it's a set of physi­cians that's well-un­der­stood, so fun­da­men­tal­ly we an­tic­i­pate it to be a first-in-class ther­a­peu­tic in the space and get it in­to the hands of the pa­tients," Resnick said.
Oth­er in­vestors join­ing Sofinno­va are At­las Ven­ture, Cor­morant As­set Man­age­ment, Sur­vey­or Cap­i­tal and Os­age Uni­ver­si­ty Part­ners.