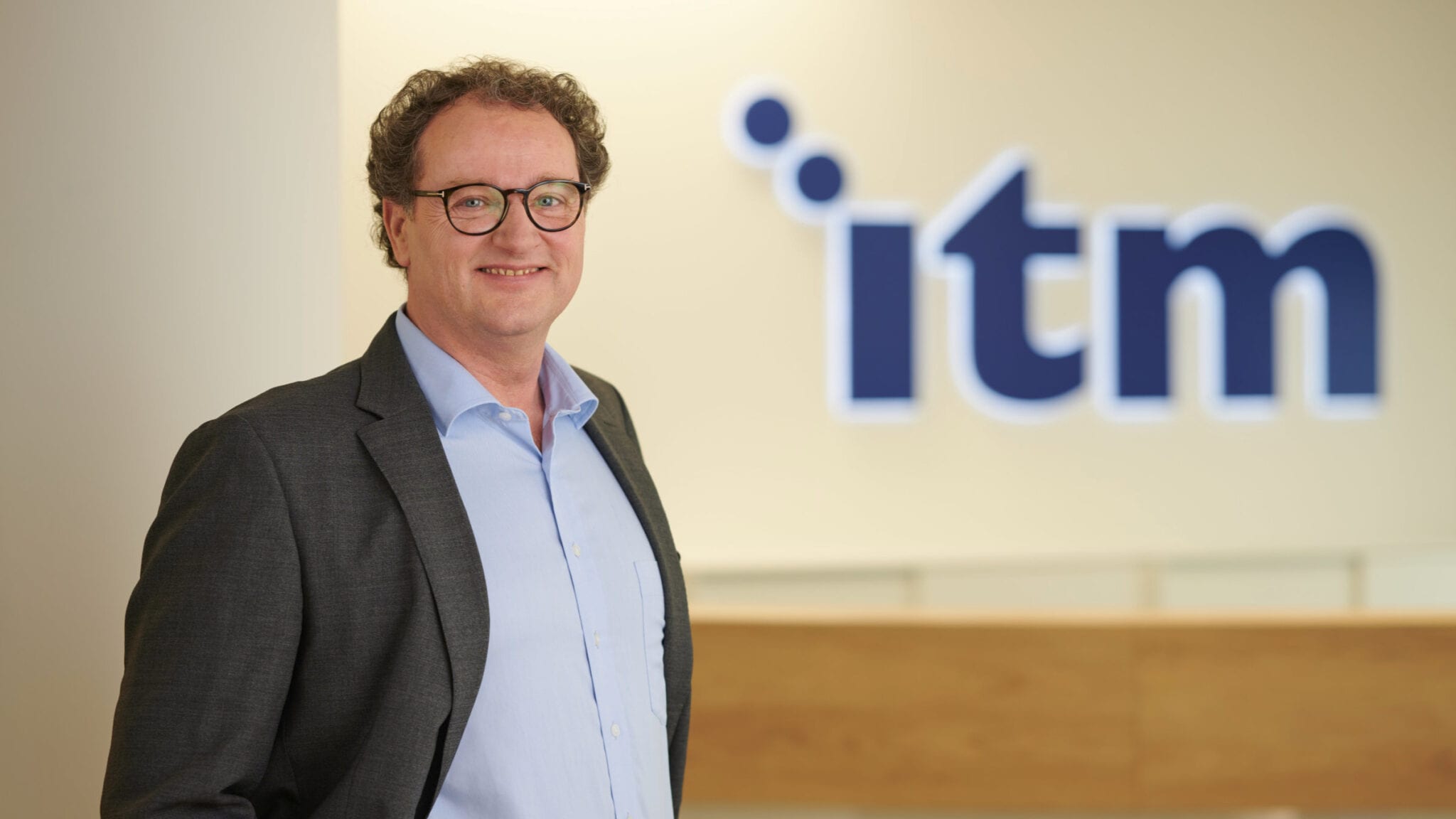 Steffen Schuster, ITM CEO
Ra­dio­phar­ma re­mains hot as Ger­many's ITM rais­es $109M to ad­vance neu­roen­docrine can­cer pro­gram
The world of ra­dio­phar­ma­ceu­ti­cals has been heat­ing up over the last few years, and Thurs­day saw an­oth­er com­pa­ny fo­cused on the field pull in a new nine-fig­ure raise.
Ger­many's ITM, or Iso­topen Tech­nolo­gien München, scored a $109 mil­lion round of loan fi­nanc­ing to push for­ward its pre­ci­sion on­col­o­gy pipeline and fund late-stage de­vel­op­ment for its lead pro­gram. As part of the agree­ment, the loan will con­vert to shares in the event of fu­ture fi­nan­cial or cor­po­rate trans­ac­tions, ITM said.
Be­hind ra­dio­phar­ma is a con­cept sim­i­lar to that of an­ti­body-drug con­ju­gates. Rather than a drug pay­load be­ing de­liv­ered to a spe­cif­ic tar­get, it's a ra­dioac­tive mol­e­cule or iso­tope that's trans­port­ed to where it needs to go. And it's usu­al­ly not an an­ti­body per­form­ing the de­liv­ery, but pep­tides or oth­er types of mol­e­cules.
In ITM's case, they have de­vel­oped their own ther­a­peu­tic ra­dioiso­tope called Lutetium-177, CEO Stef­fen Schus­ter told End­points News, which emits a low amount of ra­dioac­tive en­er­gy. Their lead pro­gram com­bines this mol­e­cule with an edotreotide com­po­nent, which tar­gets re­cep­tors in neu­roen­docrine cells that have gone awry as a re­sult of the can­cer.
Where­as AD­Cs have to be in­ter­nal­ized, the ra­dio­phar­ma­ceu­ti­cals on­ly need to bind to the tu­mor sur­faces, Schus­ter said. ITM's can­di­dates func­tion as what he calls a high­ly-pre­cise "cage," trap­ping the ra­dionu­clide with­in the tar­get­ing mol­e­cule that can then bind to the tu­mor sur­face. The can­di­date — whose full name is N.c.a. 177Lu-Edotreotide — is cur­rent­ly in a Phase III tri­al for gas­troen­teropan­cre­at­ic neu­roen­docrine tu­mors.
Schus­ter is keep­ing his cards close to the vest re­gard­ing da­ta read­outs, but not­ed that they're "pret­ty far" in the 300-per­son study.
Sig­nif­i­cant in­ter­est from in­vestors and Big Phar­ma com­pa­nies have heat­ed up the space re­cent­ly, most no­tably from a hand­ful of ac­qui­si­tions by No­var­tis. There was the Ad­vanced Ac­cel­er­a­tor Ap­pli­ca­tions buy­out from France back in 2017, giv­ing the phar­ma gi­ant its ra­dio­phar­ma plat­form and Luthera for $3.9 bil­lion.
Then came the En­do­cyte ac­qui­si­tion in 2018, where the for­mer­ly small biotech turned a $12 mil­lion li­cens­ing agree­ment in­to a deal with No­var­tis. The drug in­volved there was Lu-PS­MA-617, a ra­dioiso­tope tar­get­ing prostate-spe­cif­ic mem­brane anti­gen, or PS­MA, com­mon­ly found in metasta­t­ic prostate can­cer. No­var­tis shelled out $2.1 bil­lion to get its hand on that drug af­ter En­do­cyte hus­tled it in­to Phase III.
"We see oth­er com­pa­nies in the same space as part­ners and less as com­peti­tors," Schus­ter told End­points. "One thing we have in com­mon with them is more — 'fight' is the wrong word — but we want to demon­strate that our ther­a­pies are bet­ter than some of the chemos which are re­al­ly bad for the pa­tients."
More re­cent­ly, the biotechs Rayze­Bio and Ak­tis se­cured hefty rais­es from promi­nent in­vestors, sig­nal­ing a fur­ther ap­petite for the po­ten­tial be­hind these ther­a­pies. Rayze­Bio has tal­lied $150 mil­lion over two fund­ing rounds, in­clud­ing from an Oc­to­ber launch, while Ak­tis se­cured $72 mil­lion from a syn­di­cate led by MPM Cap­i­tal.
Oth­er play­ers like Fu­sion Phar­ma­ceu­ti­cals and Clo­vis are al­so an­gling for mar­ket en­try, with the for­mer so­lid­i­fy­ing an IPO last June for $212.5 mil­lion.
Where ITM hopes to dif­fer­en­ti­ate it­self is through its man­u­fac­tur­ing ca­pa­bil­i­ties. ITM had been con­vinced of the ef­fec­tive­ness of these drugs since its found­ing in 2004, Schus­ter said, but there sim­ply hadn't been enough sup­ply of ra­dionu­clides. By mak­ing their own drugs, and al­so sell­ing the nec­es­sary com­po­nents to oth­er phar­ma com­pa­nies, ITM is shoot­ing to be a leader in the field on two fronts.
"The Lutetium-177, from our stand­point, is go­ing to be the work­horse for ra­dio­phar­ma­ceu­ti­cals for the next 10 years," Schus­ter said. "We were the ones who start­ed from 2004 on mak­ing this avail­able on scale in big quan­ti­ties to every­body. Not just us, but we sup­ply who was in­ter­est­ed, so we have been in­stru­men­tal over the last [sev­er­al] years to cre­ate this in­dus­try be­cause of the sup­ply of ra­dionu­clides."
ITM's Thurs­day raise was led by Pet­ri­chor Health­care Cap­i­tal Man­age­ment. Fur­ther terms of the deal be­yond de­tails of the con­vert­ible loans were not dis­closed.