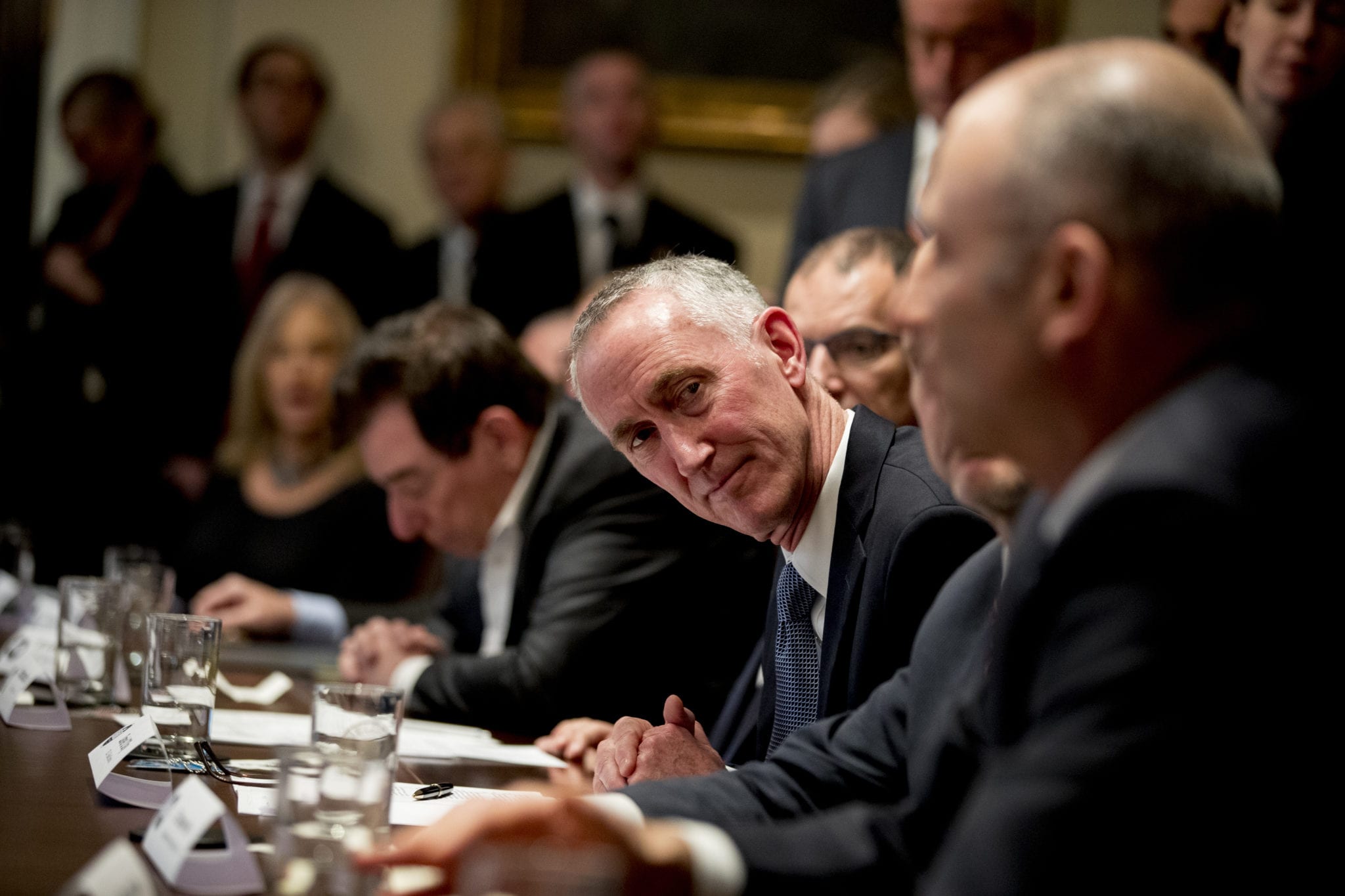 Gilead CEO Daniel O'Day attends a meeting with the President and other biopharma leaders at the White House on March 2, 2020 (AP Photo)
Ramp­ing up glob­al pro­duc­tion of remde­sivir, Gilead CEO Dan O'Day de­tails plans to dis­trib­ute 1.5M dos­es to fight Covid-19 — for free
Gilead is still some days away from turn­ing the card on its first round of da­ta on remde­sivir's abil­i­ty to fight se­vere cas­es of Covid-19, but the big biotech is ramp­ing up an emer­gency sup­ply of a mil­lion cours­es of ther­a­py as it starts free dis­tri­b­u­tion of the drug to tens of thou­sands of pa­tients un­der their com­pas­sion­ate use and ex­pand­ed ac­cess pro­gram as well as clin­i­cal tri­als.
In his lat­est open let­ter post­ed over the week­end, Gilead CEO Dan O'Day out­lined how the com­pa­ny has been suc­cess­ful in cut­ting pro­duc­tion time on remde­sivir while re­pur­pos­ing some of their own fa­cil­i­ties and turn­ing to con­tract man­u­fac­tur­ers to build a near-term sup­ply of 1.5 mil­lion dos­es. They are still work­ing on ef­fi­ca­cy and dos­ing, but that sup­ply could cov­er 140,000 cours­es of treat­ment. That sup­ply, he added, would be more wide­ly avail­able fol­low­ing a po­ten­tial ap­proval.
They're al­so not done. O'Day says that the com­pa­ny is build­ing a glob­al sup­ply chain of raw ma­te­ri­als and its pro­duc­tion ca­pac­i­ty — em­pha­siz­ing the need for a glob­al re­sponse to the pan­dem­ic that has spread like wild­fire around the plan­et.
By this Oc­to­ber, O'Day ex­pects to have a half mil­lion cours­es ready, boost­ing that to a mil­lion by the end of the year.
He writes:
Our ef­forts to in­crease sup­ply con­tin­ue with a strong sense of ur­gency. There is a long way to go and a lot of work to be done but I'm pleased that, de­spite the chal­lenges we have been able to get sup­ply lev­els to where they are to­day in a very short space of time – through the re­source­ful­ness of our teams, cre­ative ap­proach­es and col­lab­o­ra­tion.
O'Day re­cent­ly con­firmed the com­pa­ny's de­vel­op­ment time­line, not­ing that the first da­ta is ex­pect­ed this month. It will be one of the most close­ly-watched da­ta read­outs of the decade.
Ge­of­frey Porges at SVB Leerink be­lieves Gilead could play a ma­jor role in ad­dress­ing the coro­n­avirus pan­dem­ic that has turned the world up­side down in in the last month or 2.
Should remde­sivir pro­duce a 20-30% re­duc­tion in the mor­tal­i­ty from COVID19, or im­prove oth­er mark­ers of clin­i­cal pro­gres­sion such as ven­ti­la­tor days or resid­ual mor­bid­i­ty, then the com­mu­ni­ty at large (world­wide) is like­ly to breath a huge sigh of re­lief at the prospect of mak­ing this dis­ease more man­age­able med­ical­ly and eco­nom­i­cal­ly. The news from the first tri­als of remde­sivir is like­ly to be dis­closed this week, and could be a ma­jor cat­a­lyst for a change in sen­ti­ment in eq­ui­ty mar­kets should the drug be ef­fec­tive.
Gilead has be­come some­thing of a light­ning rod dur­ing the pan­dem­ic, with one of the most ad­vanced ther­a­pies in the clin­ic. Its move to gain an or­phan drug des­ig­na­tion for remde­sivir was roast­ed by con­sumer ad­vo­cates, who saw it as an at­tempt to un­fair­ly prof­it off the cri­sis. And O'Day quick­ly backed away, drop­ping the mar­ket in­cen­tives that the FDA of­fers for rare dis­ease drugs.
Gilead has re­peat­ed­ly been sin­gled out over the years for its pric­ing prac­tices, draw­ing the ire of AIDS ad­vo­cates and more re­cent­ly as­tound­ing pay­ers with their ini­tial stick­er price on a pain­less cure for hep C that quick­ly earned a for­tune — and just as quick­ly melt­ed away as the drug worked as billed.
In set­ting course for ini­tial­ly dis­trib­ut­ing large amounts of the drug for free, Gilead now has a chance to re­form its im­age while help­ing set the course for oth­ers to fol­low.
Gilead re­cent­ly backed away from pro­vid­ing the drug for in­di­vid­ual com­pas­sion­ate use re­quests af­ter get­ting in­un­dat­ed with pleas. And the same day O'Day was post­ing his open let­ter, of­fi­cials at the EMA were urg­ing Gilead to fair­ly dis­trib­ute the drug in the EU.
"Clin­i­cal tri­als re­main the gold stan­dard for the col­lec­tion of ro­bust da­ta on the safe­ty and ef­fec­tive­ness of in­ves­ti­ga­tion­al med­i­c­i­nal prod­ucts, but the CHMP ac­knowl­edges the need for a har­monised ap­proach to com­pas­sion­ate use in the EU to al­low ac­cess to remde­sivir for pa­tients who are not el­i­gi­ble for in­clu­sion in clin­i­cal tri­als", said Har­ald Enz­mann, the chair of the CHMP. "The CHMP en­cour­ages the com­pa­ny to make remde­sivir avail­able in a fair and trans­par­ent way to those Mem­ber States wish­ing to take part in in­ter­na­tion­al clin­i­cal tri­als or treat pa­tients in com­pas­sion­ate use pro­grammes."