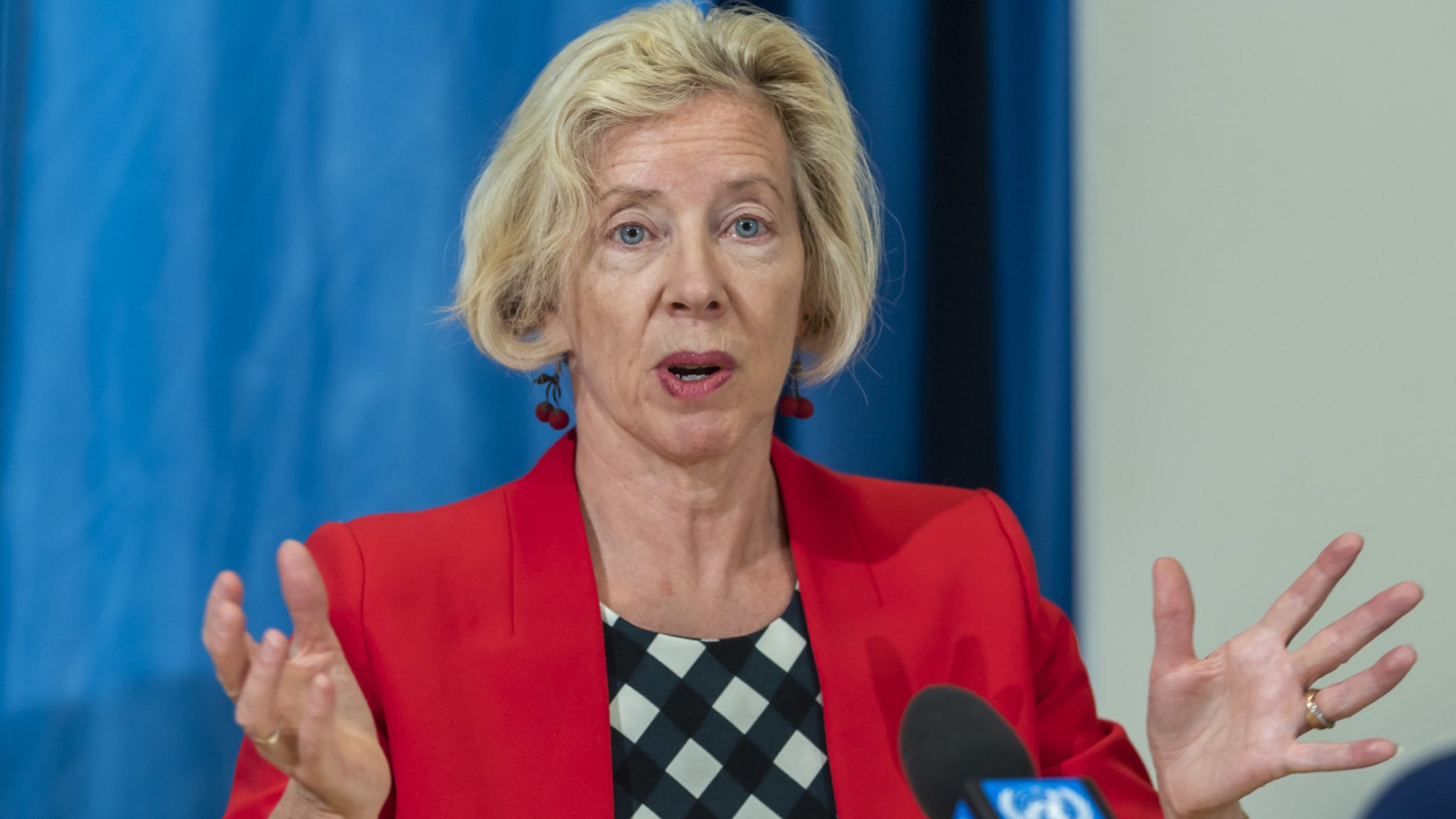 Emer Cooke, EMA executive director (Martial Trazzini/Shutterstock)
Rare blood clot events more com­mon among women re­ceiv­ing As­traZeneca Covid-19 vac­cine, EMA says
The EMA is stick­ing with its state­ment that As­traZeneca's Covid-19 vac­cine is safe and ef­fec­tive, but the agency al­so dis­cussed new da­ta show­ing that younger women are more fre­quent­ly see­ing these very rare cas­es of some­times fa­tal blood clots when com­pared with the gen­er­al pop­u­la­tion, al­though more women al­so re­ceived the vac­cine than men.
EMA ex­ec­u­tive di­rec­tor Emer Cooke said Wednes­day at a press con­fer­ence that the agency's safe­ty com­mit­tee is still re­view­ing the rare events, known as cere­bral ve­nous si­nus throm­bo­sis (CVST), which as of March 22, to­tal 62 out of 9.2 mil­lion As­traZeneca vac­ci­na­tions across the Eu­ro­pean Eco­nom­ic Area (EEA). Four­teen of those 62 cas­es were fa­tal, and 44 oc­curred in the EEA, she not­ed.
The to­tal cas­es show that about 1 in 100,000 re­ceiv­ing the As­traZeneca vac­cine are see­ing these rare and se­vere events in Eu­rope, al­though a causal or as­so­cia­tive link be­tween the vac­cine and the events has not been es­tab­lished, ac­cord­ing to Pe­ter Ar­lett, head of the phar­ma­covig­i­lance and epi­demi­ol­o­gy de­part­ment at the EMA.
The num­ber of rare events for the As­traZeneca vac­cine al­so com­pares with less than 1 in 1 mil­lion for the Pfiz­er and Mod­er­na vac­cines each. But Cooke stressed that dif­fer­ent groups and num­bers of peo­ple have re­ceived each of the vac­cines so it's dif­fi­cult to com­pare them.
The EMA's safe­ty com­mit­tee, known as PRAC, will con­tin­ue to re­view the da­ta as it comes in on a dai­ly ba­sis and make an­oth­er an­nounce­ment on the As­traZeneca vac­cine next week, Cooke not­ed, ex­plain­ing that the EMA's con­clu­sion two weeks ago has not changed and the ben­e­fits of the As­traZeneca vac­cine still out­weigh the risks.
But cas­es of CVST are oc­cur­ring at a high­er rate among those un­der the age of 60 and re­ceiv­ing the As­traZeneca vac­cine. Ar­lett added, "If we look at in­di­vid­u­als un­der 60, then we do see more cas­es of cere­bral ve­nous si­nus throm­bo­sis than we would ex­pect to see from the back­ground."
Cooke al­so not­ed a high­er in­ci­dence among women be­tween the ages of 30 and 45, when com­pared to the gen­er­al pop­u­la­tion. CVST is more com­mon in women in gen­er­al, but about two-thirds of those re­ceiv­ing the As­traZeneca vac­cine in Eu­rope were women, Ar­lett added.
An As­traZeneca spokesper­son told End­points News via email: "While the EMA re­port­ed that the PRAC's in­ves­ti­ga­tion did show some pre­dom­i­nance of cas­es in cer­tain groups in­clud­ing younger women they said it is pre­ma­ture to draw any con­clu­sions on that point right now. PRAC is cur­rent­ly as­sess­ing many pos­si­bil­i­ties in­clud­ing that the high­er pro­por­tion of cas­es seen in young women may be due to a high­er pro­por­tion of women vac­ci­nat­ed or a high­er risk of throm­bot­ic events in this pop­u­la­tion."
The up­date from the EMA comes as Ger­many said it will stop us­ing As­traZeneca's vac­cine on res­i­dents younger than 60. Sev­er­al jour­nal­ists ques­tioned the EMA on the to­tal of 62 CVST cas­es, not­ing that Ger­many alone has re­port­ed 31 cas­es, but Cooke said the 62 events do not ac­count for all of the Ger­man cas­es and the EMA's safe­ty com­mit­tee will look at new­er fig­ures be­fore mak­ing its an­nounce­ment next week.
Cana­da al­so re­cent­ly said it would halt As­traZeneca shots for peo­ple 55 and younger, while Swe­den and Fin­land are on­ly us­ing the vac­cine for those over 65.
For a look at all End­points News coro­n­avirus sto­ries, check out our spe­cial news chan­nel.