Rat­tle and hum: Roche, PTC post up­date on their SMA drug as a shak­en Bio­gen faces yet an­oth­er fran­chise buster
Right on the heels of No­var­tis' lat­est da­ta on its SMA gene ther­a­py for spinal mus­cu­lar at­ro­phy, PTC and its part­ners at Roche/Genen­tech post­ed their own pos­i­tive take on the lat­est da­ta for their oral ri­val ris­diplam. And a shaky Bio­gen will have to take it in­to ac­count as well as they as­sess the fu­ture for their block­buster drug Spin­raza, which has led the way on treat­ing this dis­ease for more than 2 years.
Tot­ting up their lat­est scores, the ris­diplam team chalked up:
9 in­fants (53%) were able to main­tain an up­right head po­si­tion (HINE-2, n=17)
10 in­fants (59%) demon­strat­ed rolling (rolling to the side, prone to supine, or supine to prone) (HINE-2, n=17)
7 in­fants (41%) were able to sit with­out sup­port for at least 5 sec­onds (BSID-III, n=17)
1 in­fant (6%) was able to stand (HINE-2, n=17)
85.7% (18/21) ba­bies were event-free over­all
Three pa­tients had died, though. And while the re­searchers were quick to note that none of the in­fants died as a re­sult of ther­a­py, both Spin­raza and No­var­tis' treat­ment have racked up pro­longed pe­ri­ods with no deaths.
That sets the stage for an FDA ap­pli­ca­tion lat­er this year, as No­var­tis awaits word from the agency any day now on its pitch for a gene ther­a­py.
SVB Leerink's Mani Foroohar looked it over and pro­nounced him­self sat­is­fied.
Topline ris­diplam da­ta re­leased by Roche pri­or to the pre­sen­ta­tions at AAN lat­er this af­ter­noon con­tin­ue to demon­strate an ef­fi­ca­cy and safe­ty pro­file that ap­pears sup­port­ive of reg­is­tra­tion across spinal mus­cu­lar at­ro­phy (SMA) sub­types.
The ju­ry is still out on how this ri­val­ry will play out, but the prospect of a gene ther­a­py as well as an oral drug hit­ting the mar­ket may well have a pro­found ef­fect on Spin­raza. Bio­gen sells this drug for $750,000 for the first year, and then half that for each year there­after. That gives No­var­tis plen­ty of head­room to look for around $2 mil­lion for a claimed once-and-done ther­a­py. And then Roche along­side PTC could cause se­ri­ous dis­rup­tion with what­ev­er price they pick.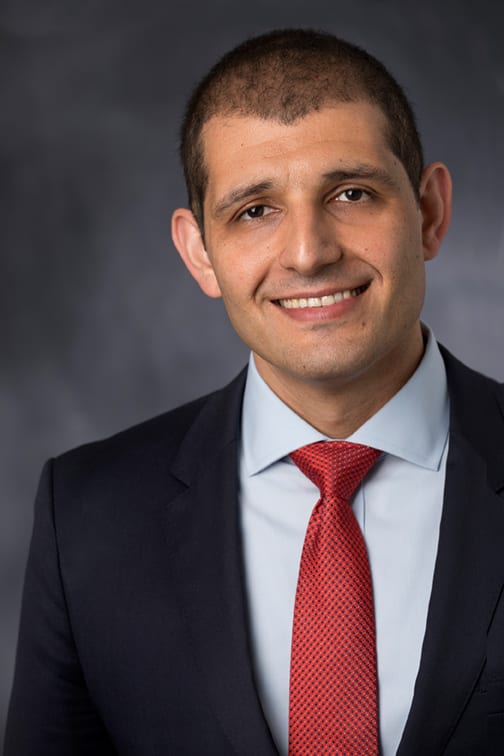 Mani Forhoor
What­ev­er par­ents pre­fer, in­sur­ers will have a lot of say over who gets what.
None of that bodes well for Bio­gen, which can ill af­ford to see its fran­chise eat­en up by ri­vals af­ter its big late-stage Alzheimer's drug ad­u­canum­ab just crashed and burned.
"Bot­tom line — we could see a 1/3, 1/3, 1/3 split of mar­ket over time, Jef­feries an­a­lysts re­cent­ly said that the three drugs could end up di­vid­ing things even­ly. Based on their dis­cus­sions with physi­cians, gene ther­a­py "could be 30-33% share of new SMA Type I-III pa­tients over time. An es­ti­mat­ed 20-25% could look to switch from Spin­raza to gene ther­a­py (de­pends on weight of pa­tient). 2) Sim­i­lar­ly, docs sug­gest 1/3 share for oral ris­diplam, too, af­ter 3-5 years; 3) Com­men­tary by docs sug­gests an even split of opin­ions on the mar­ket as well — from oral pills 'very ap­peal­ing' and 'game chang­er' and 'es­pe­cial­ly at­trac­tive for teens/adults' to oth­er ther­a­pies need more da­ta and like­ly com­bo."