Record lev­els of VC fi­nanc­ing and R&D boom left bio­phar­ma com­pa­nies clam­or­ing for space. How bad is it?
There are mul­ti­ple ways to mea­sure just how vi­brant the life sci­ence in­dus­try is: the in­flux of ven­ture cap­i­tal (now re­treat­ing slight­ly from a record high), the num­ber of new in­cu­ba­tors and star­tups and Big Phar­ma spin­offs (still go­ing strong de­spite slow­ing down), the M&A as well as part­ner­ship deals (mega­bil­lions in cash were ex­changed just last year), and so on. But one met­ric is par­tic­u­lar­ly help­ful if you want to track ac­tiv­i­ties on the ground, and that is re­al es­tate oc­cu­pan­cy.
The big pic­ture: Va­can­cy for lab space is at 7.1% across the 12 ma­jor life sci­ences clus­ters in North Amer­i­ca iden­ti­fied by Cush­man & Wake­field, a re­al es­tate ser­vices com­pa­ny. That's low­er than the of­fice va­can­cy rate (12.4%) in these mar­kets, while rents are gen­er­al­ly high­er.
In the buzzing bio­phar­ma hub of Boston, on­ly 0.8% of lab space is still avail­able for rent, with East Cam­bridge — which hous­es the ven­er­a­ble Kendall Square — re­port­ing a va­can­cy rate of 0.0%. A cou­ple of oth­er neigh­bor­hoods are al­so ful­ly oc­cu­pied, ac­cord­ing to the re­port.
At the same time, Boston al­so has the high­est ask­ing rent among the mar­kets sur­veyed at $108 per square foot, an all-time high.
Rent vs va­can­cy com­par­i­son in Boston (Cred­it: Cush­man & Wake­field)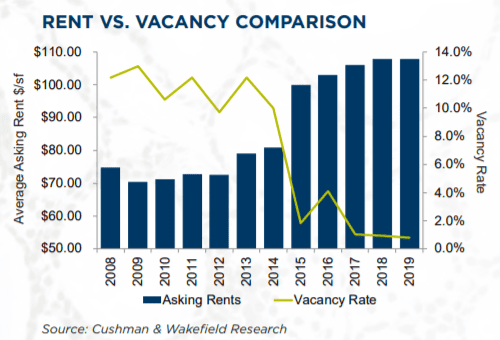 Click on the im­age to see the full-sized ver­sion
The re­al­i­ty has not es­caped those liv­ing in it. Arie Bellde­grun, the biotech en­tre­pre­neur best known for his work at Kite Phar­ma, has launched a new re­al es­tate ven­ture with de­vel­op­er Tish­man Spey­er. Break­through Prop­er­ties' first cam­pus — de­signed to fos­ter a sense of com­mu­ni­ty — is slat­ed to open in the Sea­port com­plex next year.
"There is plen­ty of life sci­ences sup­ply un­der con­struc­tion or pro­posed," Cush­man & Wake­field not­ed. "The lab mar­ket could grow by 55% to 32 msf by 2024. While the mar­ket is in­cred­i­bly tight, it is one of the few mar­kets in the coun­try that is build­ing ag­gres­sive­ly enough to pla­cate de­mand."
When you zoom out to the broad­er mar­ket of San Fran­cis­co, the area just trail­ing Boston in the cost of rent­ing a lab space, has a va­can­cy of just 7.5% — mid­dle of the pack, high­er than Chica­go (1.3%), Seat­tle (6%) and even the Wash­ing­ton DC area (4.1%). But drill down to San Fran­cis­co Coun­ty and you'll find an­oth­er 0.0%.
To put the av­er­age rent of $84 in­to per­spec­tive, the San Fran­cis­co Busi­ness Times re­cent­ly re­port­ed that lease rates were in the $30 range a decade ago in the high­ly cov­et­ed vicin­i­ty of South San Fran­cis­co, where Genen­tech and Gilead call home.
What does this mean for the oth­er cities vy­ing for bio­phar­ma hub sta­tus?
Philadel­phia cur­rent­ly claims the third spot on the list for most lab space, and you can ex­pect it to keep ex­pand­ing with a key fo­cus around its "Cel­li­con Val­ley" brand. Then there's San Diego and New Jer­sey, which could soon reach sat­u­ra­tion if there's no new con­struc­tion. And where New York City falls far be­hind in terms of space, it plans to make up with in­cen­tives and the lure of its tal­ent pool.
"With the strong un­der­ly­ing fun­da­men­tals it looks like the life sci­ences era is here," Cush­man & Wake­field con­clud­ed.