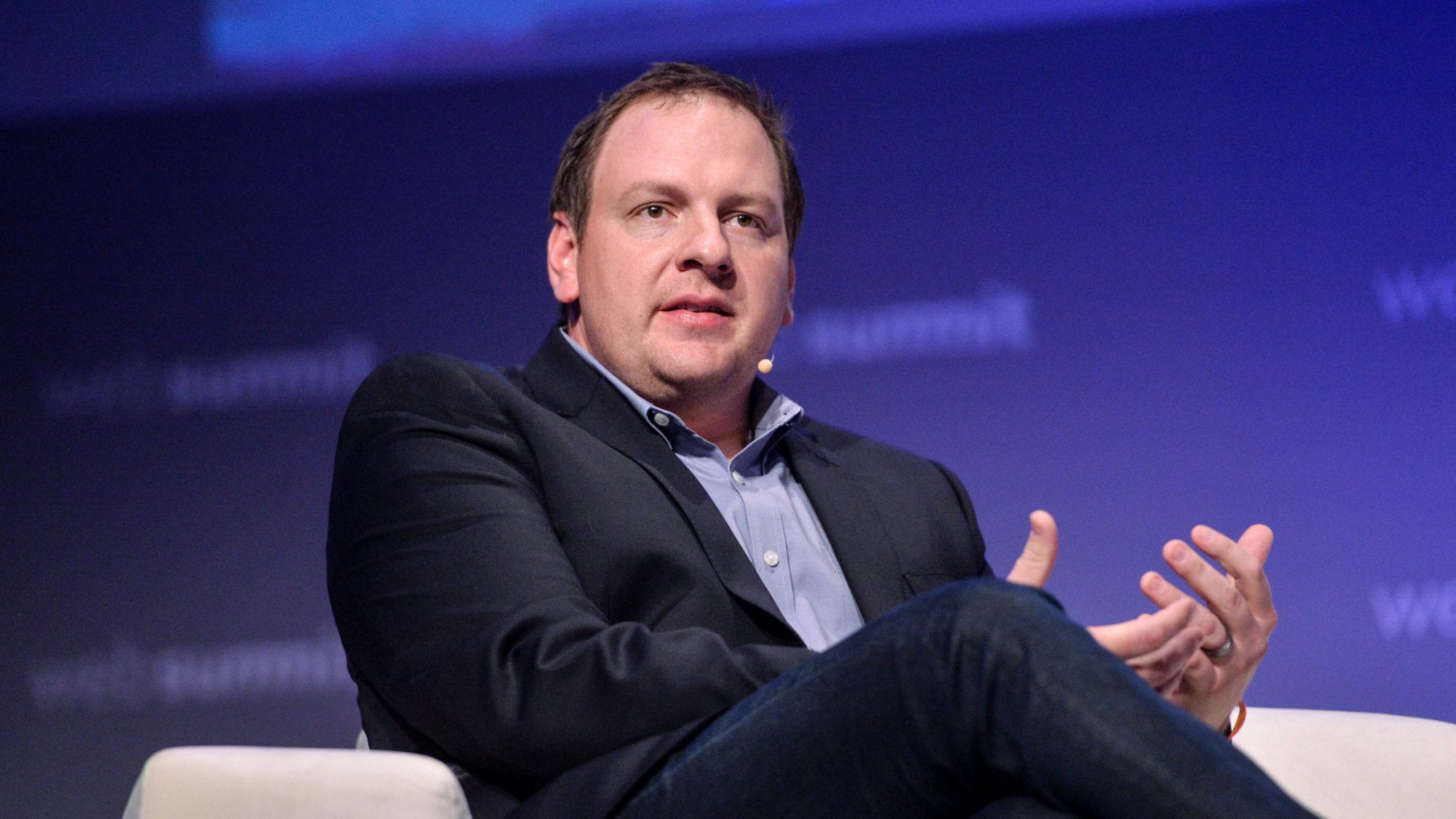 Chris Gibson, Recursion CEO (Vaughn Ridley/Sportsfile for Web Summit via Getty Images)
Re­cur­sion nabs $239M and an up to $1B part­ner­ship with Bay­er as AI race heats up
Some biotechs strug­gle for cash. Re­cur­sion, late­ly, seems to be swim­ming in it.
To­day, hav­ing al­ready raised over $180 mil­lion in the last two years, the Salt Lake City-based AI drug de­vel­op­er an­nounced a $239 mil­lion Se­ries D. That's more than any US or Eu­ro­pean biotech has raised in a round this year and more than all but two biotechs raised last year. (Mab­well, a Shang­hai-based an­ti­body de­vel­op­er, raised $278 mil­lion in a Se­ries A in April.)
The round came with an im­por­tant point of val­i­da­tion for Re­cur­sion and a po­ten­tial long-term source of rev­enue: a new part­ner­ship with Bay­er. That deal, cen­tered on fi­brot­ic dis­eases, will pay Re­cur­sion $30 mil­lion up­front for the part­ner­ship, along with $100 mil­lion in mile­stones for each of up to 10 pro­grams the com­pa­nies could pur­sue. So it's an up to $1 bil­lion deal, even if it's van­ish­ing­ly un­like­ly to reach that. Leaps by Bay­er, the Ger­man phar­ma's ven­ture arm, al­so led the Se­ries D, con­tribut­ing a $50 mil­lion eq­ui­ty in­vest­ment.
The in­vest­ment-part­ner­ship rep­re­sents one of the largest rounds, if not the sin­gle largest round, for an ar­ti­fi­cial-in­tel­li­gence fo­cused biotech and ce­ments Re­cur­sion as one of the ma­jor play­ers in a nascent field that has pro­duced many small star­tups but few heavy­weights. It al­so points to where Big Phar­ma and ma­jor VCs may spread their fo­cus as ma­chine learn­ing ap­proach­es ad­vance. The first small com­pa­nies to make head­lines and sign deals used ma­chine learn­ing to screen vast li­braries of mol­e­cules in search of ones that can hit tar­gets that drug com­pa­nies have long tried to hit. More re­cent­ly, though, a cou­ple up­starts have raised sig­nif­i­cant cash and scored promi­nent part­ner­ships us­ing ad­vanced com­pu­ta­tion­al tools to study cells more close­ly and come up with new tar­gets them­selves.
"What Re­cur­sion does is re­al­ly hard so I wouldn't say there is go­ing to be a del­uge of com­pa­nies," Zachary Bogue, founder of ear­ly Re­cur­sion backer DCVC, told End­points News. "But this idea of bi­ol­o­gy as a plat­form and us­ing AI as a drug dis­cov­ery is the new fron­tier in biotech."
Rough­ly, that's what Re­cur­sion does. In a 100,000 square-foot ware­house in down­town Salt Lake City, ro­bots take petri dish­es of dif­fer­ent cell types and knock out dif­fer­ent genes, tak­ing con­stant pic­tures in the process. Hu­mans can't eas­i­ly tell the dif­fer­ence be­tween most of those pic­tures, but com­put­ers can, and with enough im­ages and hun­dreds of dif­fer­ent mea­sure­ments on each, they can pick up pat­terns to in­di­cate what can make a cell sick and which genes, when tar­get­ed, can make them healthy. They can then iden­ti­fy and tweak mol­e­cules or com­pounds that hit those tar­gets.
So far, they've used that ap­proach to iden­ti­fy mol­e­cules to bring in­to clin­i­cal de­vel­op­ment for sev­er­al rare neu­ro­log­i­cal con­di­tions and hered­i­tary can­cer syn­drome, pulling com­pounds from Ohio State, Take­da, and co-founder Dean Li's labs. But the com­pa­ny lists a bevy of pre­clin­i­cal dis­ease ar­eas on its pipeline, and Re­cur­sion CEO Chris Gib­son said that, with the Bay­er deal, they would be­gin to look to part­ner with big com­pa­nies where clin­i­cal de­vel­op­ment is more com­plex, such as in neu­rol­o­gy and on­col­o­gy.
"We've been talk­ing about this in­ter­nal­ly as the be­gin­ning of a sec­ond act for the com­pa­ny," he said in an in­ter­view with End­points.
Oth­er com­pa­nies have scored large amounts of cap­i­tal with sim­i­lar ap­proach­es. Most no­tably, Daphne Koller's start­up In­sitro has nabbed two $100 mil­lion-plus rounds in a span of 13 months, plus a Gilead col­lab­o­ra­tion on NASH. In Jan­u­ary, star Cana­di­an re­searcher Bren­dan Frey's Deep Ge­nomics raised $40 mil­lion in­to the clin­ic. Mean­while, the rhetoric from the hand­ful of drug phar­ma ex­ec­u­tives who talk open­ly about ma­chine learn­ing, such as Glax­o­SmithK­line's Hal Bar­ron, has cen­tered on ap­proach­es that help un­cov­er not just new mol­e­cules but al­so new tar­gets.
Un­der the deal with Bay­er, Re­cur­sion will use their sys­tem to build mod­els for dif­fer­ent fi­brot­ic dis­eases, fol­low­ing guid­ance from Bay­er fi­bro­sis ex­perts at the phar­ma. They will then use Bay­er's li­brary of small mol­e­cules and their own in­ter­nal abil­i­ty to screen and de­vel­op mol­e­cules to come up with pre­clin­i­cal can­di­dates. Around that point, Gib­son said, they'll hand things off to Ger­many.
Al­though Leaps by Bay­er de­scribed their $50 mil­lion con­tri­bu­tion to the Se­ries D as "our big bet in terms of dig­i­tal drug dis­cov­ery," Bay­er it­self has al­so in­vest­ed in the mol­e­cule-screen­ing side of the AI biotech world, as have oth­er ma­jor com­pa­nies. In Jan­u­ary, Bay­er and the UK-based Ex­sci­en­tia signed a dis­cov­ery col­lab­o­ra­tion for up to €240 mil­lion. Ex­sci­en­tia has al­so teamed with Sum­it­o­mo, Sanofi and Cel­gene, the last of which in­clud­ed a $25 mil­lion up­front pay­ment. Atom­wise and In­sil­i­co have al­so signed mul­ti­ple big-name part­ner­ships, al­though they have been large­ly mile­stone-heavy, with lit­tle up­front dis­closed.