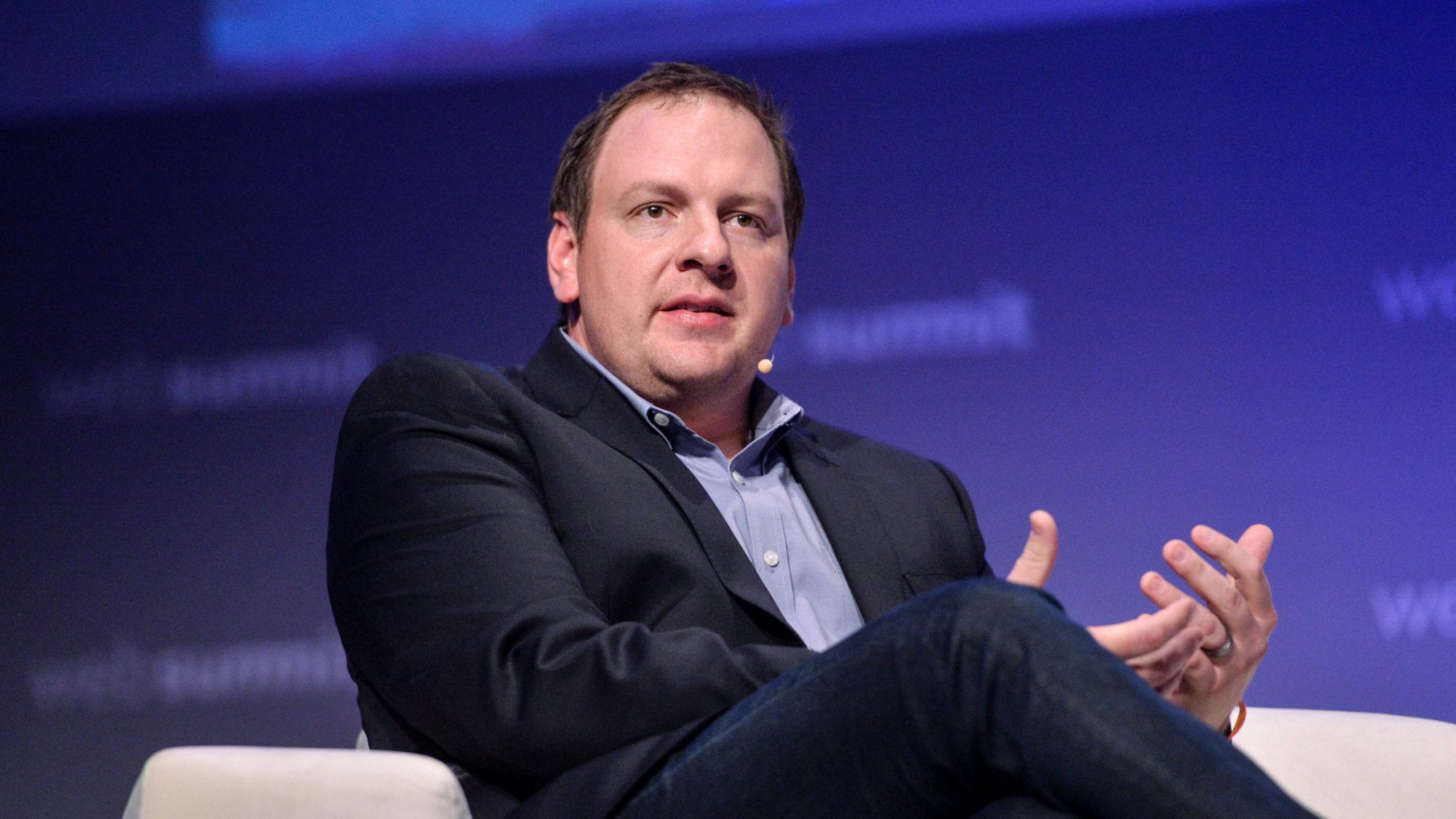 Chris Gibson, Recursion CEO (Vaughn Ridley/Sportsfile for Web Summit via Getty Images)
Re­cur­sion will take its AI plat­form pub­lic in lat­est IPO fil­ing, while rare heart mu­ta­tion biotech jumps on SPAC train
Ed­i­tor's note: In­ter­est­ed in fol­low­ing bio­phar­ma's fast-paced IPO mar­ket? You can book­mark our IPO Track­er here.
The IPO mar­ket con­tin­ues to churn, with a promi­nent AI drug de­vel­op­er be­com­ing the lat­est biotech to reg­is­ter with the SEC.
Re­cur­sion Phar­ma­ceu­ti­cals filed its S-1 pa­per­work late Mon­day, com­ing about six months af­ter com­plet­ing a $239 mil­lion Se­ries D round and se­cur­ing a deal with Bay­er worth up to $1 bil­lion. The Salt Lake City-based biotech is pen­cil­ing in a $100 mil­lion IPO raise for now, but could have its sights set on a much high­er fig­ure.
Biotech IPOs have re­mained hot in the first quar­ter fol­low­ing a record year in 2020, when the in­dus­try saw 91 pub­lic de­buts with a col­lec­tive $16.5 bil­lion raised, per Nas­daq. Through the first two and a half months of 2021, the in­dus­try has raised a com­bined $3.81 bil­lion among 22 biotechs that have priced, per the End­points News tal­ly.
And af­ter a brief cool down to­ward the end of Feb­ru­ary, the mar­ket start­ed heat­ing back up again last week when four biotechs priced, mark­ing the sec­ond-busiest week of 2021. That ti­tle, how­ev­er, be­longs to the first cal­en­dar week of Feb­ru­ary, when 10 com­pa­nies went pub­lic.
Re­cur­sion's Se­ries D marked one of the largest, if not the sin­gle largest, fund­ing rounds for an ar­ti­fi­cial-in­tel­li­gence-fo­cused biotech. The Bay­er deal al­so sig­ni­fied an im­por­tant rev­enue stream for the biotech, with Bay­er promis­ing up to $100 mil­lion in mile­stones for each of up to 10 pro­grams the com­pa­nies could pur­sue.
The com­pa­ny's AI ap­proach cen­ters around a 100,000 square-foot ware­house in down­town Salt Lake City, where ro­bots take Petri dish­es of dif­fer­ent cell types and knock out dif­fer­ent genes. They're con­stant­ly tak­ing pic­tures in the process, with the dif­fer­ences be­ing too small for a hu­man eye to dif­fer­en­ti­ate. But their com­put­ers can, and by do­ing so pick up pat­terns to in­di­cate what can make a cell sick and which genes, when tar­get­ed, can make them healthy.
With­in its S-1, Re­cur­sion sig­naled a broad de­vel­op­ment push across its pipeline. The biotech plans to fo­cus the funds on Phase II tri­als for four of its pro­grams: REC-4881 for fa­mil­ial ade­no­ma­tous poly­po­sis, REC-3599 for GM2 gan­gliosi­do­sis, REC-2282 for neu­rofi­bro­mato­sis type 2 and REC-994 for cere­bral cav­ernous mal­for­ma­tion.
There are al­so plans to use some of the mon­ey on six of the biotech's pre­clin­i­cal can­di­dates, in­clud­ing Bat­ten dis­ease, sol­id and hema­to­log­i­cal ma­lig­nan­cies and the lead mol­e­cule for the treat­ment of C. dif­fi­cile col­i­tis.
Rare heart mu­ta­tion biotech Ren­o­va­cor rides $116M SPAC to Nas­daq
An­oth­er biotech has gone pub­lic via the SPAC route, which like tra­di­tion­al IPOs, has seen a hefty rise in the in­dus­try over the last year.
Tues­day's win­ner is Ren­o­va­cor, pulling off a re­verse-merg­er with Chardan Cap­i­tal Mar­kets' sec­ond blank check com­pa­ny. Once the deal clos­es in the sec­ond quar­ter, Ren­o­va­cor will see pro­ceeds of $116 mil­lion and list on Nas­daq un­der the new tick­er $RCOR.
SPACs con­tin­ue to be all the rage on Wall Street, with sev­er­al no­table back­ers list­ing new hold­ing com­pa­nies and tak­ing them pub­lic re­cent­ly. Fore­site and Per­cep­tive both launched new SPACs ear­li­er this year, and Richard Bran­son took bio­phar­ma by storm when his blank check com­pa­ny merged with 23andMe in Feb­ru­ary.
Ren­o­va­cor's raise is ex­pect­ed to help the biotech ad­vance its lead pro­gram in­to Phase I/II stud­ies, which is an AAV‑based gene ther­a­py for pa­tients suf­fer­ing from di­lat­ed car­diomy­opa­thy due to mu­ta­tions in the BAG3 gene. An IND sub­mis­sion is ex­pect­ed for mid-2022 with the tri­al be­gin­ning "short­ly there­after," the com­pa­ny said.
DCM pa­tients are typ­i­cal­ly treat­ed with a cock­tail of treat­ments in­clud­ing ACE in­hibitors, be­ta-block­ers, wa­ter pills and blood thin­ners. Ren­o­va­cor's ex­per­i­men­tal ther­a­py is en­gi­neered to re­place the gene to re­store func­tion.
The biotech had raised $11 mil­lion in a Se­ries A back in Au­gust 2019.