Re­gen­eron makes a block­buster case for its PhI­II drug pipeline
While Bio­gen is strug­gling to get its pipeline to per­form, Re­gen­eron ex­ecs put on a demon­stra­tion to­day on how a biotech com­pa­ny with a sec­ond-tier R&D bud­get can per­form bet­ter on the late-stage front than much big­ger com­pa­nies spend­ing much more on re­search. And it led off with bull­ish re­marks on a pair of would-be block­busters, in­clud­ing their top Phase III drug dupilum­ab.
Dur­ing their sec­ond quar­ter re­view, the ex­ec­u­tive team not­ed:
— Sar­ilum­ab is up for an Oc­to­ber 30 PDU­FA date at the FDA, with a re­cent Eu­ro­pean fil­ing at the EMA to fol­low up on. Peak sales es­ti­mates top $1 bil­lion for this drug, which beat megablock­buster Hu­mi­ra in a head-to-head study on rheuma­toid arthri­tis. This will like­ly be the sec­ond drug part­nered with Sanofi to hit the mar­ket – the first was the PC­SK9 drug Pralu­ent, which has had a slow up­take since its in­tro­duc­tion.

— It's dupilum­ab, though, that is get­ting the full red car­pet treat­ment at Re­gen­eron. The IL-4/IL-13 block­ing drug – al­so part­nered with Sanofi – is ex­pect­ed to get ap­proved in the first half of 2017. Most an­a­lysts note that with stel­lar Phase III da­ta from a slate of atopic der­mati­tis stud­ies, along with the FDA's break­through drug des­ig­na­tion to help speed things along, that ap­proval is like­ly to land ear­ly. Peak sales es­ti­mates tend to hov­er around $2.5 bil­lion a year, mak­ing it a con­tender to be­come a top 2017 drug. Some op­ti­mistic sell-siders have pushed their peak es­ti­mates to $4 bil­lion or $5 bil­lion.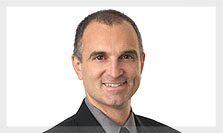 R&D chief George Yan­copou­los
"Dupilum­ab is re­al­ly a fran­chise un­to it­self," says R&D chief George Yan­copou­los in the Q2 call with an­a­lysts to­day. The pos­i­tive da­ta in atopic der­mati­tis has spurred their be­lief that the drug has "huge" po­ten­tial. There's al­ready sig­nif­i­cant pent­up de­mand from pa­tients who ei­ther don't re­spond to cur­rent­ly avail­able reme­dies or can't tol­er­ate them, says Re­gen­eron's ex­ec­u­tive team. There's al­so no oth­er com­pe­ti­tion in the late-stage pipeline to con­tend with.
"This re­al­ly has a chance to pro­vide some­thing to pa­tients that don't have any oth­er al­ter­na­tives at this point," says Yan­copou­los. And the com­pa­ny is push­ing ahead in asth­ma and oth­er in­di­ca­tions, look­ing to push the bound­aries on its fran­chise po­ten­tial.
— Then there's REGN 2810, a PD-1 check­point drug al­so part­nered with Sanofi which is al­ready in a pos­si­ble piv­otal study. This is part of an­oth­er am­bi­tious col­lab­o­ra­tion deal with Sanofi, which is look­ing to fi­nal­ly get things go­ing in the can­cer are­na.
Re­gen­eron al­so has a brand new al­liance of its own with Adicet and its CEO, Aya Jakobovits, who earned a big en­dorse­ment from Yan­copou­los.
"We re­al­ly be­lieve in peo­ple and we be­lieve in syn­er­gies," says the R&D chief, tout­ing a match-up on Adicet's off-the-shelf ap­proach to de­vel­op­ing cell ther­a­pies. "We have had a long­stand­ing in­ter­est to work with Aya Jakobovits. We have enor­mous re­spect for her and her ca­pa­bil­i­ties."
Be­yond that, though, Yan­capou­los wasn't say­ing much about the tech­nol­o­gy and what dis­tin­guish­es it from ri­vals in the field.
— And fi­nal­ly there's fas­inum­ab (REGN475), an an­ti-NGF pain drug for os­teoarthri­tis, which is up against some com­pe­ti­tion af­ter Pfiz­er and Eli Lil­ly got things go­ing again af­ter a long pause to as­sess safe­ty is­sues. Pa­tients had a bad habit of blow­ing out their joints af­ter tak­ing the drug, and de­vel­op­ers had to be care­ful to ex­clude pa­tients at risk.
Put it all to­geth­er, and Re­gen­eron's rel­a­tive­ly mod­est $1.5 bil­lion R&D bud­get – aug­ment­ed by Sanofi – is out­per­form­ing most of its peers, and many much larg­er com­pa­nies that have yet to nail down a suc­cess­ful R&D strat­e­gy.